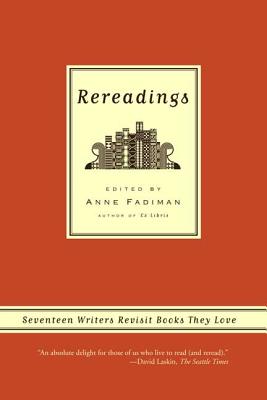 Rereadings (Paperback)
Seventeen writers revisit books they love
Farrar, Straus and Giroux, 9780374530549, 272pp.
Publication Date: September 5, 2006
Other Editions of This Title:
Hardcover (9/1/2005)
* Individual store prices may vary.
Description
Is a book the same book—or a reader the same reader—the second time around? The seventeen authors in this witty and poignant collection of essays all agree on the answer: Never.
The editor of Rereadings is Anne Fadiman, and readers of her bestselling book Ex Libris will find this volume especially satisfying. Her chosen authors include Sven Birkerts, Allegra Goodman, Vivian Gornick, Patricia Hampl, Phillip Lopate, and Luc Sante; the objects of their literary affections range from Pride and Prejudice to Sue Barton, Student Nurse.
These essays are not conventional literary criticism; they are about relationships. Rereadings reveals at least as much about the reader as about the book: each is a miniature memoir that focuses on that most interesting of topics, the protean nature of love. And as every bibliophile knows, no love is more life-changing than the love of a book.
About the Author
Anne Fadiman is the author of The Wine Lover's Daughter, a memoir about her father (FSG, 2017). Her first book, The Spirit Catches You and You Fall Down (FSG, 1997), won the National Book Critics Circle Award, the Los Angeles Times Book Prize, and the Salon Book Award. Fadiman has also written two essay collections, At Large and At Small and Ex Libris, and is the editor of Rereadings: Seventeen Writers Revisit Books They Love (all published by FSG). She is the Francis Writer-in-Residence at Yale.
Praise For Rereadings: Seventeen writers revisit books they love…
"An absolute delight for those of us who live to read (and reread) . . . Fadiman has done such a fine job of selecting and arranging these pieces that they become a kind of composite literary coming-of-age memoir from the geeky, horny adolescent madly thumbing Franny and Zooey or Lord Jim in some shag-carpeted suburban basement bedroom to the sadder but wiser critic, novelist, poet who gazes wistfully at the ghost of a younger self rising from the pages of a once-loved book." —David Laskin, The Seattle Times
"A delightful glimpse into the relationship between reader and book." —Teresa K. Weaver, The Atlanta Journal-Constitution
"f you're a fan of Anne Fadiman's Ex Libris—and who among right-thinking people isn't?—then your heart will skip a beat over her new anthology, Rereadings . . . thoroughly enjoyable essays" —Claire Dederer, Newsday
"A deep and wonderfully complex story about relationships . . . Anne Fadiman's diverse collection of essays encourages readers to rethink the way we see our favorite books and ultimately the way we see ourselves through them." —Jill Marr, Pages