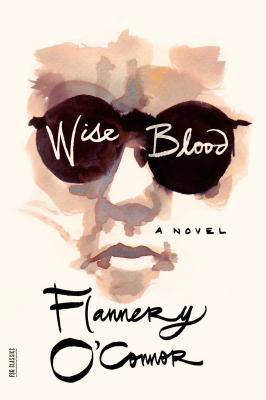 Wise Blood
A Novel (FSG Classics)
Paperback

* Individual store prices may vary.
Other Editions of This Title:
Digital Audiobook (7/12/2010)
Compact Disc (8/1/2010)
Description
The American short story master Flannery O'Connor's haunting first novel of faith, false prophets, and redemptive wisdom.

Wise Blood, Flannery O'Connor's astonishing and haunting first novel, is a classic of twentieth-century literature. It is the story of Hazel Motes, a twenty-two-year-old caught in an unending struggle against his inborn, desperate fate. He falls under the spell of a "blind" street preacher named Asa Hawks and his degenerate fifteen-year-old daughter, Sabbath Lily. In an ironic, malicious gesture of his own non-faith, and to prove himself a greater cynic than Hawks, Motes founds the Church Without Christ, but is still thwarted in his efforts to lose God. He meets Enoch Emery, a young man with "wise blood," who leads him to a mummified holy child and whose crazy maneuvers are a manifestation of Motes's existential struggles.

This tale of redemption, retribution, false prophets, blindness, blindings, and wisdom gives us one of the most riveting characters in American fiction.
Praise For Wise Blood: A Novel (FSG Classics)…
"This is a tale in which pathos tips into pathology and violence, answered by a penance of self-mutilation and suffering. Yet the prose is absolutely brilliant, sentence by sentence, simile by simile, and so relentlessly inventive it feels comic." —Marilynne Robinson, New York Times Book Review

"No other major American writer of our century has constructed a fictional world so energetically and forthrightly charged by religious investigation." —Brad Leithauser, The New Yorker

"I was more impressed by Wise Blood than any novel I have read for a long time. Her picture of the world is literally terrifying. Kafka is almost the only one of our contemporaries who has achieved such effects. I have tremendous admiration for the work of this young writer." —Caroline Gordon
Farrar, Straus and Giroux, 9780374530631, 256pp.
Publication Date: March 6, 2007
About the Author
Flannery O'Connor was born in Savannah, Georgia, in 1925. When she died at the age of thirty-nine, America lost one of its most gifted writers at the height of her powers. O'Connor wrote two novels, Wise Blood (1952) and The Violent Bear It Away (1960), and two story collections, A Good Man Is Hard to Find (1955) and Everything That Rises Must Converge (1964). Her Complete Stories, published posthumously in 1972, won the National Book Award that year, and in a 2009 online poll it was voted as the best book to have won the award in the contest's 60-year history. Her essays were published in Mystery and Manners (1969) and her letters in The Habit of Being (1979). In 1988 the Library of America published her Collected Works; she was the first postwar writer to be so honored. O'Connor was educated at the Georgia State College for Women, studied writing at the Iowa Writers' Workshop, and wrote much of Wise Blood at the Yaddo artists' colony in upstate New York. She lived most of her adult life on her family's ancestral farm, Andalusia, outside Milledgeville, Georgia.