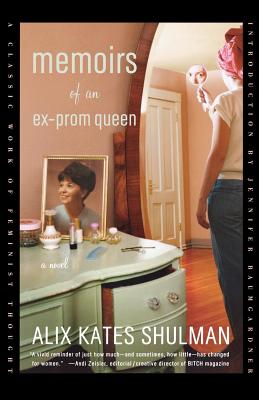 Memoirs of an Ex-Prom Queen (Paperback)
A Novel
Farrar, Straus and Giroux, 9780374530792, 296pp.
Publication Date: March 6, 2007
Other Editions of This Title:
Paperback (10/1/2019)
* Individual store prices may vary.
Description
Alix Kates Shulman's Memoirs of an Ex–Prom Queen created a profound impact on the cultural landscape when it was originally published in 1972. A sardonic portrayal of one white, middle-class, Midwestern girl's coming-of-age, the novel takes a wry and prescient look at a range of experiences treated at the time as taboo but which were ultimately accepted as matters of major political significance: sexual harassment, job discrimination, the sexual double standard, rape, abortion restrictions, the double binds of marriage and motherhood, and the frantic quest for beauty.
The book went on to sell more than a million copies and is regarded today as a classic, one of the first and best pieces of fiction born of the women's liberation movement. With many of its concerns still with us today, this witty and devastating novel continues to resonate with readers, and Sasha Davis has proved herself a prom queen for the ages.
About the Author
Alix Kates Shulman is the author of the feminist classic Memoirs of an Ex-Prom Queen and three other novels; memoirs including the award-winning Drinking the Rain; and two books on the anarchist Emma Goldman. She lives in New York City.

Along with Amy Richards, Jennifer Baumgardner authored Manifesta: Young Women, Feminism, and the Future (FSG, 2000) and Grassroots (FSG, 2005) and founded the progressive speakers' bureau Soapbox. Baumgardner is also the author of Look Both Ways (FSG, 2007), among other books.
Praise For Memoirs of an Ex-Prom Queen: A Novel…
"One of the more fun (explicitly) feminist novels ever written. It's replete with dirty losses of virginity in parking lots and sexy snorkeling, and I highly recommend." —Lizzie Skurnick, Jezebel
"Memoirs of an Ex-Prom Queen is a vivid reminder of just how much—and sometimes, how little—has changed for women in the last 35 years. Typing prowess and wedding-night virginity may no longer be expected, but Shulman's tale of Sasha Davis's struggle to find herself amid conflicting cultural messages about beauty, brains, and sex will be resonant for many more years to come." —Andi Zeisler, editorial/creative director of Bitch magazine
"Extremely relevant—I loved it! Growing up female in America forces many to become obsessed with how they look and how others see them, yet these cultural pressures and their effect on young woman are too rarely taken seriously and it was valuable and comforting to read a book that recognizes this and puts it in perspective. I only wish I'd found Alix Shulman's classic earlier." —Sophie Pollitt-Cohen, co-author of The Notebook Girls
"An extraordinary novel . . . Sad and witty, expertly conceived and executed . . . Important." —Peter Prescott, Newsweek
"This story, told with astringent wit, explores every facet and cliché of what it means to grow up female and beautiful." —San Francisco Chronicle
"A vicious little gem of a novel." —Cosmopolitan