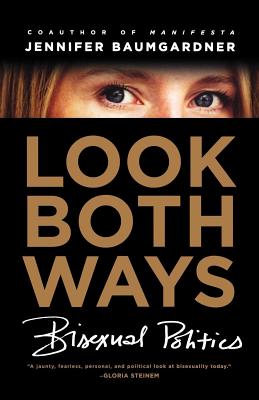 Look Both Ways: Bisexual Politics (Paperback)
Bisexual Politics
Farrar Straus Giroux, 9780374531089, 244pp.
Publication Date: March 4, 2008
Description
"A necessary read for those looking to expand their understanding of both bisexuality and the contributions of Third Wave feminism." Rebecca Walker, "Bookforum"
""
"Revealing, smart, titillating . . . "Look Both Ways" cuts] straight to the heart of many young women's fraught relationship to both feminism and their own femininity." Jessica Clark, In These Times
"Baumgardner's voice remains as compelling as ever, not only because she writes with the candor of your closest friend, but because she herself appears to be learning and questioning along with the reader." Fiorella Valdesolo, "Nylon"
""
"Baumgardner is generally thoughtful and honest, with a refreshing sense of humor about herself and her politics. . . . Baumgardner's prose, at its best, is warm, unpretentious and funny . . . And as a memoirist, she is impressively willing to make herself vulnerable. . . . Her arguments for sexual complexity and openness are compelling, as are her claims that bisexual experiences can supply a kind of stereoscopic vision." Rebecca Tuhus-Dubrow, "Salon.
About the Author
Jennifer Baumgardner, co-author of Manifesta and Grassroots, frequently writes and lectures on feminism, activism, and popular culture for magazines and on college campuses around the country.
Praise For Look Both Ways: Bisexual Politics…
"Jennifer Baumgardner's Look Both Ways is a jaunty, fearless, personal and political look at bisexuality today. Because she knows that sex is a way we communicate, not just procreate, she gives us a glimpse of a freer future in which sexuality is less about who is talking and more about what is said." --Gloria Steinem
Advertisement