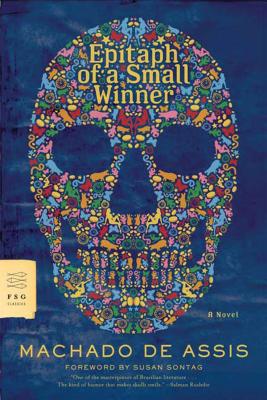 Epitaph of a Small Winner
A Novel (FSG Classics)
Paperback

* Individual store prices may vary.
Description
In these memoirs, Braz Cubas, a wealthy nineteenth-century Brazilian, examines (from beyond the grave) his rather undistinguished life in 160 short chapters that are filled with philosophical digressions and exuberant insights. A clear forerunner of Gabriel García Márquez and Jorge Luis Borges, Epitaph for a Small Winner, first published in 1880, is one of the wittiest self-portraits in literary history as well as "one of the masterpieces of Brazilian literature" (Salman Rushdie).
Praise For Epitaph of a Small Winner: A Novel (FSG Classics)…
"Epitaph of a Small Winner is probably one of those thrillingly original, radically skeptical books that will always impress readers with the force of private discovery." —From the foreword by Susan Sontag

"Machado de Assis was a literary force, transcending nationality and language, comparable certainly to Flaubert, Hardy, or James...Epitaph of a Small Winner is clearly one of those books which we call definitive. It is there, complete, done: a study of ironic disillusionment couched in the most delicate suavity of despair..." —The New York Times Book Review

"No satirist, not even Swift, is less merciful in his exposure of the pretentiousness and the hypocrisy that lurk in the average good man and woman. Machado, in his deceptively amiable way, is terrifying." —The New Republic

"A masterpiece of Epicurean irony." —The New York Times
Farrar, Straus and Giroux, 9780374531232, 240pp.
Publication Date: April 29, 2008
About the Author
Machado de Assis (1839-1908) is considered one of Brazil's greatest novelists. He was born in Rio de Janeiro, and among his many novels are Philosopher or Dog? and Epitaph of a Small Winner.

Susan Sontag was the author of four novels, including The Benefactor, Death Kit, The Volcano Lover, and In America, which won the 2000 National Book Award for fiction; a collection of stories, I, etcetera; several plays, including Alice in Bed; and nine works of essays, among then On Photography, which won the National Books Critics Circle Award for criticism. In 2001, Sontag was awarded the Jerusalem Prize for the body of her work. She died in New York City in 2004.