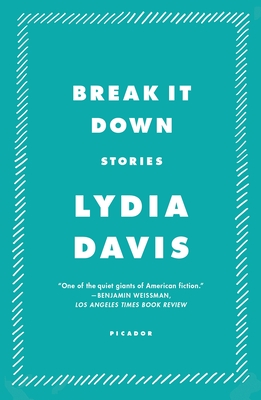 Break It Down
Stories (FSG Classics)
Paperback

* Individual store prices may vary.
Description
The thirty-four stories in this seminal collection powerfully display what have become Lydia Davis's trademarks—dexterity, brevity, understatement, and surprise. Although the certainty of her prose suggests a world of almost clinical reason and clarity, her characters show us that life, thought, and language are full of disorder. Break It Down is Davis at her best. In the words of Jonathan Franzen, she is "a magician of self-consciousness."
Praise For Break It Down: Stories (FSG Classics)…
"Autobiographical in texture, introspective in tone, these stories are grounded in sufficient detail to offer a peephole into a distinct fictional world; and in doing so, they attest to the author's gift as an observer and archivist of emotion."—The New York Times

"An American virtuoso of the short story form."—Salon

"Davis is one of the most precise and economical writers we have."—Dave Eggers, McSweeney's

"The best prose stylist in America."—Rick Moody

"[Davis has] a capacity to make language unleash entire states of existence."—Siddhartha Deb, The New York Times

"All who know [Davis's] work probably remember their first time reading it. It kind of blows the roof off of so many of our assumptions about what constitutes short fiction. I read it on the F train from 6th Avenue to Park Slope—it's a long ride and that book isn't all that long—and by the end I felt liberated. She'd broken all of the most constraining rules. Some of her stories have plots but most don't. Some are in the range of acceptable short story length, most aren't. Many straddle a line between philosophy, poetry, and fiction, categories that seem meaningless because her stories just work. There is rarely a plot as we expect from plot. The characters in the course of the story don't undergo a fundamental change. The plot, rather, stems from the narrator's trying to get at some truth. [Davis's] stories are as often as not mental exercises, a brain trying to conclude. Because truth is what she's after. There is an unrelenting and merciless truth presented, or at least fumbled for, in everything [she] writes...Davis is one of the most precise and economical writers we have."—Dave Eggers, McSweeney's
Picador, 9780374531447, 192pp.
Publication Date: September 16, 2008
About the Author
Lydia Davis is the author of The End of the Story: A Novel and several story collections. Her collection Varieties of Disturbance: Stories was a finalist for the 2007 National Book Award. She is the recipient of a MacArthur fellowship, the American Academy of Arts and Letters' Award of Merit Medal, and was named a Chevalier of the Order of the Arts and Letters by the French government for her fiction and her translations of modern writers, including Maurice Blanchot, Michel Leiris, and Marcel Proust. Lydia Davis is the winner of the 2013 Man Booker International Prize.