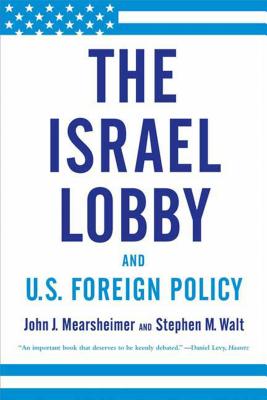 The Israel Lobby and U.S. Foreign Policy
Paperback

* Individual store prices may vary.
Other Editions of This Title:
Digital Audiobook (9/3/2007)
Description
The Israel Lobby," by John J. Mearsheimer of the University of Chicago and Stephen M. Walt of Harvard's John F. Kennedy School of Government, was one of the most controversial articles in recent memory.

Originally published in the London Review of Books in March 2006, it provoked both howls of outrage and cheers of gratitude for challenging what had been a taboo issue in America: the impact of the Israel lobby on U.S. foreign policy.

Now in a work of major importance, Mearsheimer and Walt deepen and expand their argument and confront recent developments in Lebanon and Iran. They describe the remarkable level of material and diplomatic support that the United States provides to Israel and argues that this support cannot be fully explained on either strategic or moral grounds. This exceptional relationship is due largely to the political influence of a loose coalition of individuals and organizations that actively work to shape U.S. foreign policy in a pro-Israel direction. Mearsheimer and Walt provocatively contend that the lobby has a far-reaching impact on America's posture throughout the Middle East—in Iraq, Iran, Lebanon, and toward the Israeli-Palestinian conflict—and the policies it has encouraged are in neither America's national interest nor Israel's long-term interest. The lobby's influence also affects America's relationship with important allies and increases dangers that all states face from global jihadist terror.

Writing in The New York Review of Books, Michael Massing declared, "Not since Foreign Affairs magazine published Samuel Huntington's 'The Clash of Civilizations?' in 1993 has an academic essay detonated with such force." The publication of The Israel Lobby and U.S. Foreign Policy is certain to widen the debate and to be one of the most talked-about books in foreign policy.
Praise For The Israel Lobby and U.S. Foreign Policy…
"Controversial." —Terry Gross, Fresh Air, NPR

"It could not be more timely." —David Bromwich, The Huffington Post

"The strategic questions they raise now, particularly about Israel's privileged relationship with the United States, are worth debating." —David Remnick. The New Yorker

"Ruthlessly realistic." —William Grimes, The New York Times

"The argument they present is towering and clear and about time." —Philip Weiss, Mondoweiss.com

"Mearsheimer, a political scientist at the University of Chicago, and Walt, on the faculty at Harvard, set off a political firestorm." —Jay Solomon, The Wall Street Journal.com

"Promises controversy on a scale not seen since Samuel Huntington's Clash of Civilizations sought to reframe a new world order." —Stefan Halper, National Interest.com

"Deals with Middle East policymaking at a time when America's problems in that region surpass our problems anywhere else . . . People are definitely arguing about it. It's also the kind of book you do not have to agree with on every count (I certainly don't) to benefit from reading." —MJ Rosenberg, Israel Policy Forum Newsletter
Farrar, Straus and Giroux, 9780374531508, 496pp.
Publication Date: September 2, 2008
About the Author
John J. Mearsheimer is the R. Wendell Harrison Distinguished Service Professor of Political Science and the co-director of the Program on International Security Policy at the University of Chicago. He has published several books, including The Tragedy of Great Power Politics.

Stephen M. Walt is the Belfer Professor of International Affairs at the John F. Kennedy School of Government at Harvard University, and was academic dean of the Kennedy School from 2002 to 2006. He is the author of Taming American Power: The Global Response to U.S. Primacy, among other books.
Coverage from NPR