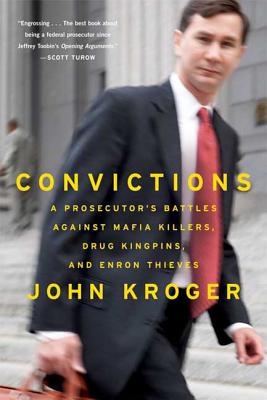 Convictions (Paperback)
A Prosecutor's Battles Against Mafia Killers, Drug Kingpins, and Enron Thieves
Farrar, Straus and Giroux, 9780374531775, 480pp.
Publication Date: May 12, 2009
Other Editions of This Title:
Hardcover (4/29/2008)
* Individual store prices may vary.
Description
As an Assistant United States Attorney, John Kroger pursued high-profile cases against mafia killers, drug kingpins, and Enron executives. In Convictions, Kroger reveals how to flip a perp, how to conduct a cross, how to work an informant, how to placate a hostile judge. Starting from his time as a green recruit and ending at the peak of his career, he steers us through the complexities and ethical dilemmas in the life of a prosecutor, where the battle in the courtroom is only the culmination of long and intricate investigative work.
About the Author
John Kroger is the Attorney General of Oregon. A graduate of Yale University and Harvard Law School, he previously served as a United States Marine, federal prosecutor, and law professor.
Praise For Convictions: A Prosecutor's Battles Against Mafia Killers, Drug Kingpins, and Enron Thieves…
"Engrossing . . . The best book about being a federal prosecutor since Jeffrey Toobin's Opening Arguments." —Scott Turow
"Exhaustive and fair-minded . . . Kroger's assessment of the federal prosecutor's problematic, overly powerful role in the legal system is well rendered and crisply delivered." —Kirkus Reviews
"A thoughtful, compulsively readable assessment of the American justice system's struggles with the greatest social evils of our time . . . [Kroger] accomplishes more in a few hundred pages than many professional journalists and legal scholars achieve in a thousand." —Matt Buckingham, Willamette Week
"I have read dozens of books by and about prosecutors. Kroger's is one of the best." —Steve Weinberg, The Oregonian
"The extraordinarily intimate account of a prosecutor's coming-of-age . . . Essential reading." —Terri Jentz, author of Strange Piece of Paradise
"Kroger wins here as he did in the courtroom--with simplicity and candor, passion and integrity, and a ferocious, persuasive intelligence." —Susan Choi, author of American Woman