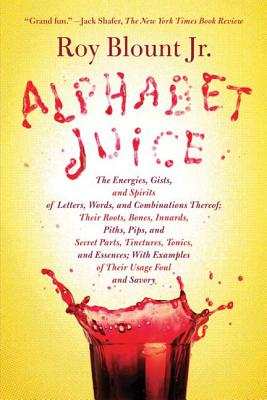 Alphabet Juice (Paperback)
The Energies, Gists, and Spirits of Letters, Words, and Combinations Thereof; Their Roots, Bones, Innards, Piths, Pips
Farrar Straus Giroux, 9780374532048, 364pp.
Publication Date: September 29, 2009
Description
"If everybody's first English teacher were Roy Blount Jr., we might still be trillions in debt, but we would be so deeply in love with words and their magic . . . that we'd hardly notice." --Chris Tucker, The Dallas Morning News
After forty years of making a living using words in every medium except greeting cards, Roy Blount Jr. still can't get over his ABCs. In Alphabet Juice, he celebrates the juju, the crackle, the sonic and kinetic energies, of letters and their combinations. He has a strong sense of right and wrong, but he is not out to prescribe proper English. His passion is for questions such as these: Did you know that both mammal and matter derive from baby talk? Have you noticed how wince makes you wince?
Three and a half centuries ago, Thomas Blount produced his Glossographia, the first dictionary to explore derivations of English words. This Blount's Glossographia takes that pursuit to new levels. From sources as venerable as the OED and as fresh as Urbandictionary.com, and especially from the author's own wide ranging experience, Alphabet Juice derives an organic take on language that is unlike, and more fun than, any other.
"Amusing, bemusing, and smart as hell." --Daniel Okrent, Fortune
"Danced in Blount's arms, English swings smartly." --Jack Shafer, The New York Times Book Review
"Gracefully erudite and joyous." --Katherine A. Powers, The Boston Sunday Globe
About the Author
Roy Blount Jr. is the author of twenty previous books, covering subjects from the Pittsburgh Steelers to Robert E. Lee to what dogs are thinking. He is a regular panelist on NPR's Wait, Wait . . . Don't Tell Me! and is a member of the American Heritage Dictionary Usage Panel. Born in Indianapolis and raised in Decatur, Georgia, Blount now lives in Western Massachusetts with his wife, the painter Joan Griswold.
Praise For Alphabet Juice: The Energies, Gists, and Spirits of Letters, Words, and Combinations Thereof; Their Roots, Bones, Innards, Piths, Pips…
"Grand fun." —Jack Shafer, The New York Times Book Review "If your eyes have only skimmed over the long subtitle of Alphabet Juice and just vaguely registered that the book has something to do with words, please go back and read the entire subtitle again, slowly. This time listen to the syncopation of the clauses, as well as the alliterative music of the p's and t's, then note the juxtaposition of high and low style ('combinations thereof,' 'innards'), the punchy yet unexpected nouns ('gists,' 'pips'), that touch of genteel sexual innuendo ('secret parts'), and the concluding flourish of the gustatory. Like Roy Blount Jr. himself, his new book's subtitle neatly balances real learning with easy-loping charm." —Michael Dirda, The Washington Post "Quotes, quips, euphemisms, rhymes and rhythms, literary references ('Lo-lee-ta') and puns: "The lowest form of wit, it used to be said, but that was before Ann Coulter." Throughout, the usage advice is sage and also fun, since the writer's own wild wit, while bent and Blount, is razor sharp." —Publishers Weekly (starred review) "A knowledgeable handbook that is also chock-full of funny, colorful opinions on marriage, movies, and Monet." —Booklist "Roy Blount Jr.'s Alphabet Juice—a relatively short encyclopedic compendium of English usage—pretends to be a practical guide a la Strunk and White or Lynne Truss. But it has more in common with Voltaire's Philosophical Dictionary.  The author might prefer a comparison to Ambrose Bierce's Devil's Dictionary. Blount shares with Bierce and Twain a gift for misdirection, an inclination to pull off the fanciest of tricks right in front of us, all the while decrying fanciness. Alphabet Juice pegs knowledgeable as "one ugly word." But Blount is one of our most deeply and broadly knowledgeable writers, and his new book is a personal document, a neo-Platonic manifesto exalting the natural music of language ("Doesn't dog sound like what the English expect from a dog?"). Blount's bull's-eye, which he hits unerringly, is the ecstatic center where talking, writing and singing meet. . . . So Blount has figured out a way to have his fancy cake and eat it, too, with a plastic fork like a regular joe. And guess what? He's sharing the cake, and it's the best cake you ever tasted." —Paste "I love Roy Blount. I think you should, too. He makes you laugh out loud—a lot (every couple of pages in this book). Human laughter comes in all sizes, colors, flavors and states of emotional dress, from outraged ("The Daily Show") to infantile (Bugs Bunny and Daffy Duck) to raunchy and lowdown ("Californication.") Blount elicits the laughs of generosity and enlightenment; it's the spectacle of a fellow citizen maintaining benevolence while still remaining better and more straightforward than the rest us. (How exactly did our three candidates for Twainhood—Blount, Vonnegut and Keillor—get to be such decent chaps, given the darkness of their inspiration?)" —The Buffalo News "Roy Blount Jr. is a famous American humorist. But that clipped description is kind of like saying that Paris is simply an inland French city: The outline is accurate as far as it goes, but it leaves out all of the captivating details. " —The Boston Globe "A book that's as much fun to read backward as forward, Alphabet Juice is also a one-of-a-kind work of literature that will help you write better. It's like The Elements of Style, only updated and hilarious." —Ian Frazier, author of Lamentations of the Father  "Roy Blount Jr. is one of the most clever [see sly, witty, cunning, nimble] wordsmiths cavorting in the English language, or what remains of it. Alphabet Juice proves once again that he's incapable of writing a flat or unfunny sentence." —Carl Hiaasen, author of Nature Girl "A few words about Alphabet Juice: Hilarious! Brilliant! Provocative! Okay, one more—Suaviloquent!" — Daniel Klein, co-author of Plato and a Platypus Walk into a Bar "Alphabet Juice is the book Roy Blount Jr. was born to write, which, considering his prodigious talent, is saying a lot. Did you know that the word laugh is linguistically related to chickens and pie? This is the book that any of us who urgently, passionately love words—love to read them, roll them over the tongue, and learn their life stories—were lucky enough to be born to read." —Cathleen Schine, author of The New Yorkers
Advertisement