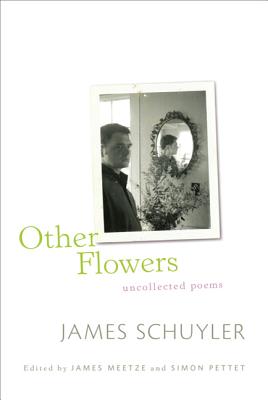 Other Flowers: Uncollected Poems (Hardcover)
Uncollected Poems
Farrar Straus Giroux, 9780374532093, 220pp.
Publication Date: March 16, 2010
* Individual store prices may vary.
or
Not Currently Available for Direct Purchase
Description
A COLLECTION OF UNPUBLISHED POEMS FROM ONE OF THE MOST DISTINCTIVE POETIC VOICES OF THE TWENTIETH CENTURY
"of an evening real as paint on canvas. "
"The kind that makes me ache to have the gift "
"for dusting off cliches: "
"not, make it new, but, see it, hear it, freshly. "
"The context (good morrow, haven't we met in this context "
" before?) "
"in which, squelch, a brush lifted a load "
"of pigment from the thick glass palette, and, concentrated, "
"as though he saw neither the work in hand nor the subject, "
"the painter began."
" " from "A Blue Shadow Painting"
"Other Flowers "brings together 165 unseen poems from James Schuyler, one of the twentieth century's most acclaimed writers. This carefully arranged edition presents a broad range of Schuyler's work, spanning from the early 1950s until his death in 1991. These poems exhibit Schuyler's virtuosity in drawing from real life, interpersonal history, nature, and pop culture to create reverberant portraits of the everyday. To read these poems is to rediscover the fresh clarity and grandeur of even the smallest things. "Other Flowers "confirms Schuyler's status as one of the most important figures in contemporary poetics.
About the Author
JAMES SCHUYLER (1923-1991) received the Pulitzer Prize for poetry for The Morning of the Poem in 1981.
Praise For Other Flowers: Uncollected Poems…
From Los Angeles Times--March 14, 2010 "To read Schuyler is, almost inevitably, to be struck with the desire to be a poet."--Troy Jollimore From Publishers Weekly--March 22, 2010 "The publication of these poems by the seminal New York School poet is a cause for celebration; none of them was included in any of Schuyler's published collections, and there is much to savor, as well as valuable insight into the poet's process of composition. From early poems in which Schuyler sensitively describes his youth in the Midwest and East Aurora, N.Y., to highly charged observations of the streetscapes, seasons, and social life of New York City, both longtime readers of Schuyler and those new to his work will find an abundance of surprising, moving material. Most of the poems are less than a page long, but nearly all are packed with visual and emotional punch, exploding with color and sensation: 'Downriver, by the delicately webbed gasometers/ and the antennae, frailly tensile,/ lumber kindles into golden flames/ curling like shavings from a plane.' The editors have included useful notes, which give dates of composition where possible, and brief descriptions of the many poets, painters, and neighborhoods that Schuyler wrote his poems to and about. Occasionally rough and half-realized, yet always alive, this book constitutes an exciting poetic discovery."
From Booklist--April 1, 2010
"The last 1950s New York School poet to publish a book collection—as late as 1969—Schuyler (1923-1991) was as productive as any of the other three, Frank O'Hara, Kenneth Koch, and John Ashbery. The proof is in the poems in this book, none of them lesser work, including a great deal of exceptionally attractive earlier (1950s and 1960s) pieces. Schuyler had the knack for writing about his own experiences so carefully that he's never overbearing or self-important. His poetry, especially early on, is about the resonances of how things look, sound, and feel, at rest and in motion. He was a great friend of the artist Fairfield Porter (1907-75), and few artworks in language and paint, respectively, so rewardingly complement one another as Schuyler's poems and Porter's domestic interiors and landscapes. Schuyler probably shared Porter's love for a maxim of Renoir's: "Make everything more beautiful." At any rate, he located beauty even in the hospitals to which recurring mental illness brought him. Perhaps he's the best New York School poet." —Ray Olson
From
Library Journal
--March 1, 2010 "Discovered among Schuyler's papers at the University of California, San Diego, in 2005, the 165 uncollected and previously unpublished poems found here expand the late poet's known canon (
Collected Poems
, 1993) by nearly a third.
Among his New York School peers-who are named frequently throughout-Schuyler's warmth and unabashed sense of wonder at the mundane ("A nothing day full of/ wild beauty") aligned him most closely in spirit with Frank O'Hara, whose gee-whiz spontaneity and sense of the seized moment he shared
. Schuyler's empathic connections to weather ("The rain begins with a thousand pinpricks"), flowers, music, the city, travel, and most of all his friends held modernist irony at bay, and he often wore his heart on his sleeve when addressing loved ones ("You are so good to me/ that even my own feelings don't make me feel guilty.").
Though Schuyler toyed with traditional forms such as sestinas and sonnets, he was quick to improvise, his poems brimming with jazzy non sequiturs
("the dirty photographs apostrophize mon-/soons. Swimming snakes shake the lake"). VERDICT
A treasure trove for students of the New York School poets that should appear in most university library collections
." —Fred Muratori
Advertisement