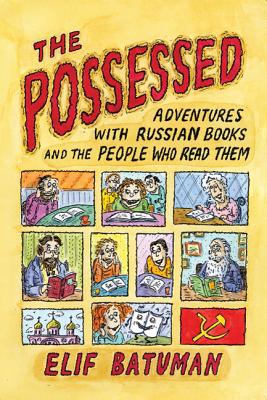 The Possessed
Adventures with Russian Books and the People Who Read Them
Paperback

* Individual store prices may vary.
Other Editions of This Title:
Digital Audiobook (3/13/2017)
Description
One of The Economist's 2011 Books of the Year

From the author of Either/Or and The Idiot, Elif Batuman's The Possessed presents the true but unlikely stories of lives devoted—Absurdly! Melancholically! Beautifully!—to the Russian Classics.

No one who read Batuman's first article (in the journal n+1) will ever forget it. "Babel in California" told the true story of various human destinies intersecting at Stanford University during a conference about the enigmatic writer Isaac Babel. Over the course of several pages, Batuman managed to misplace Babel's last living relatives at the San Francisco airport, uncover Babel's secret influence on the making of King Kong, and introduce her readers to a new voice that was unpredictable, comic, humane, ironic, charming, poignant, and completely, unpretentiously full of love for literature.

Batuman's subsequent pieces—for The New Yorker, Harper's Magazine, and the London Review of Books— have made her one of the most sought-after and admired writers of her generation, and its best traveling companion. In The Possessed we watch her investigate a possible murder at Tolstoy's ancestral estate. We go with her to Stanford, Switzerland, and St. Petersburg; retrace Pushkin's wanderings in the Caucasus; learn why Old Uzbek has one hundred different words for crying; and see an eighteenth-century ice palace reconstructed on the Neva.

Love and the novel, the individual in history, the existential plight of the graduate student: all find their place in The Possessed. Literally and metaphorically following the footsteps of her favorite authors, Batuman searches for the answers to the big questions in the details of lived experience, combining fresh readings of the great Russians, from Pushkin to Platonov, with the sad and funny stories of the lives they continue to influence—including her own.
Praise For The Possessed: Adventures with Russian Books and the People Who Read Them…
"In her comic, poignant, beguiling book, Batuman succeeds marvelously in illuminating her version of love." —Reese Kwon, Virginia Quarterly Review

"At every step along the way, Batuman's observations are wonderfully vivid." —Julia Keller, Chicago Tribune

"Odd and oddly profound . . . Among the charms of Ms. Batuman's prose is her fond, funny way of describing the people around her . . . Perhaps Ms. Batuman's best quality as a writer though--beyond her calm, lapidary prose--is the winsome and infectious delight she feels in the presence of literary genius and beauty. She's the kind of reader who sends you back to your bookshelves with a sublime buzz in your head." —Dwight Garner, The New York Times Book Review

"It's not surprising that some people never get over these books, and Batuman, for her part, goes to get a Ph.D. in Russian literature. Meanwhile, she travels through a country just poignant and absurd enough to showcase her capacious sense of humor (which has room for Isaac Babel, romantic mishaps, and missing luggage) . . . The main attraction is Elif Batuman herself." —Benjamin Moser, Harper's Magazine

"Hilarious, wide-ranging, erudite, and memorable, The Possessed is a sui generis feast for the mind and the fancy, ants and all. And, unlikely though this may sound, by the time you've reached the end, you just may wish that you, like the author, had fallen down the rabbit hole of comp lit grad school. Batuman's exaltations of Russian literature could have ended up in scholarly treatises gathering dust in university stacks." —Liesel Schillinger, The New York Times Book Review

"A hugely entertaining mix of scholarly spelunking . . . and subtle personal revelation . . . Batuman, a gifted and almost painfully funny raconteur, encounters literary royalty and astronomer kings, as well as many epically borderline personalities who attend academic conferences. As it turns out, investigating how the lives of the masters informed their art leads to the revelation that oftentimes, it's art that gives shape to life." —Megan O'Grady, Vogue ("People Are Talking About")

"While some parts of the essays read like spy thrillers, others are more like episodes of Curb Your Enthusiasm, with academic stealing one another's parking spaces and then giving the finger . . . Batuman does what all great essayists do--she fills her readers with a passion for the subject at hand while simultaneously exploring its complexity." —Simon Van Booy, Bookforum

"Batuman's audaciously funny debut . . . unravels the language, plots, and personal lives of the country's greatest writers. Part travelogue, part memoir, this book is ultimately about what happens when an unlikely infatuation becomes a life's work." —Kristy Davis, O, The Oprah Magazine

"A good personal-academic essay blends the best qualities of [memoir and literary criticism]: the charm, humor, digressions, and confessions of personal writing with the intelligence, curiosity, and analytical boldness of lit crit. Batuman . . . [gets] the ratios pretty much exactly right." —Sam Anderson, New York Magazine

"Batuman writes with superb wit . . . There's something melancholy, as well as beautiful, in using literature not just to illuminate experience but actually to create it. . . If Susan Sontag had coupled with Buster Keaton, their prodigiously gifted love child might have written this book." —Richard Rayner, Los Angeles Times Book Review

"I'm no great partisan of the Russian novel . . . So when I rave to you, dear readers, about Elif Batuman's hilarious and charming THE POSSESSED, understand that the author has entirely bewitched me despite my relative indifference to her subject. Ten pages in, I already knew I'd read her on pretty much anything. Which is not to say that THE POSSESSED failed to enlighten me about both Russian books and the people who adore them . . . I'm hooked." —Laura Miller, Salon

"A deeply funny, fiercely intelligent portrait of the not-always-rational pursuit of knowledge. Though Batuman lavishes attention on the specifics of her passion--and may indeed inspire you to spend the rest of this winter holed up with a thick Russian novel--her book is really about the process of learning itself. It's a relatable, absorbing account of what it feels like to be infatuated with ideas, and to let them lead you to ever more weird and wonderful places." —Eryn Loeb, Time Out New York

"The seven essays here are expansive, wide-ranging, almost impossible to categorize, merging criticism and personal experience, scholarship and life. Although bounded by the author's devotion to Russian literature, THE POSSESSED is really a kind of autobiography in reading, in which the characters are Tolstoy, Isaac Babel and Pushkin." —David Ulin, The Los Angeles Times (Faces to Watch in 2010)

"Wonderfully grotesque, like a cross between Borges and Borat . . . Shows how the life of literary scholarship is really lived--at its most ridiculous, and at its most unexpectedly sublime." —Adam Kirsch, Slate

"Possibly the best thing to come out of a graduate program in recent years . . . By writing about her personal experiences with such charm, Batuman manages to make literature accessible in a way few critics can: She loves the Russians, and because, over the course of the book, you come to love her a little bit, you come to love the Russians as well. She's an example of not just how to appreciate literature, but how to live life through literature--without losing yourself." —Dallas Morning News

"A rare gem: a genuine affirmation of deep reading--of caring about ideas and being carried of by them--from an exceptional writer who's not event 35." —San Francisco Weekly

"It's not often that one laughs out loud while reading a book of literary criticism. In seven delightfully quirky essays that combine travelogue and memoir with criticism, Elif Batuman's The Possessed takes us on an unconventional odyssey through the world of Russian literature . . . Part sleuth, part pundit, Batuman both plays the game of literary exegesis and skewers it." —Christian Science Monitor

"It's hard not to fall for [Batuman's] witty, insightful accounts of the things she'll do for Russian literature." —Bookslut

"If you're honest with yourself, you'll admit that when you hear 'Russian literature,' you think of college classes you wish you'd cut--and books that can seem as long as a Siberian winter. But in this delightful debut, Elif Batuman makes you look at Russian literature from a fresh perspective, using an unusual blend of memoir and travelogue as she delves into lives and personalities of such Russian literary giants as Isaac Babel, Fyodor Dostoevsky and Leo Tolstoy." —Scott Martel, Cleveland Plain Dealer

"In her delightful debut nonfiction book, The Possessed, writer Elif Batuman explores the eccentrics, the obsessives and the romantics like herself who study the dark works of Tolstoy, Dostoevsky and Pushkin." —Newark Star-Ledger

"Can the practice of literary scholarship and the art of literary criticism generate true tales of hilarity, pathos, and revelation? Yes, if you're Elif Batuman, a writer of extraordinary verve and acumen who braids together academic adventures, travelogues, biography, and autobiography to create scintillating essays." —Booklist

"When reading Elif Batuman's The Possessed, her debut book of essays, it's easy to feel as though you are witnessing a love affair . . . the result is an intellectual thrill--both for her and her readers." —The Economist

"Bright prose, spot-on wit, and extraordinary pithiness." —Brooklyn Rail
Farrar, Straus and Giroux, 9780374532185, 304pp.
Publication Date: February 16, 2010
About the Author
Elif Batuman has been a staff writer at The New Yorker since 2010. She is the author of The Possessed: Adventures with Russian Books and the People Who Read Them and The Idiot. The recipient of a Whiting Writers' Award, a Rona Jaffe Foundation Writers' Award, and a Paris Review Terry Southern Prize for Humor, she also holds a PhD in comparative literature from Stanford University.