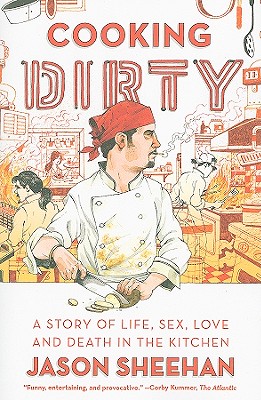 Cooking Dirty: A Story of Life, Sex, Love and Death in the Kitchen (Paperback)
A Story of Life, Sex, Love and Death in the Kitchen
Farrar, Straus and Giroux, 9780374532277, 368pp.
Publication Date: July 6, 2010
* Individual store prices may vary.
or
Not Currently Available for Direct Purchase
Description
"Cooking Dirty "is a rollicking account of life "on the line" in the neighborhood restaurants--far from culinary school, cable TV, and the Michelin Guide--where most of us eat out when we eat out. It takes the kitchen memoir to a rough and reckless place.
From his first job scraping trays at a pizzeria at age fifteen, Jason Sheehan had the full range of kitchen experiences: in a French colonial bistro and an all-night diner; a crab shack just off the interstate and a fusion restaurant in a former hair salon. Restaurant work, as he describes it in exuberant, sparkling prose, is "the last true American meritocracy. No one cares about your past or what you do on the outside. Can you cook? That's all anyone cares about." The kitchen crew is a fraternity with its own rites: sneaking cigarettes in the walk-in freezer, having sex in the basement, surviving the wartime urgency of the dinner rush. Cooking is a series of personal challenges, from the first perfectly done mussel to the satisfaction of surgically sliced foie gras. And the kitchen itself, as Sheehan tells it, is a place in which life's mysteries are thawed, sliced, broiled, barbecued, and fried--a place where people from the margins find their community and their calling.
About the Author
Jason Sheehan the food writer for "Westword," won a James Beard Award in 2003. His essay "There's No Such Thing as Too Much Barbecue" was reprinted in "This I Believe." His work has appeared in "Best American Food Writing "five times.
Praise For Cooking Dirty: A Story of Life, Sex, Love and Death in the Kitchen…
"If chefs are the new rock stars, Jason Sheehan is like a grunge guitarist of the old school." —John Freeman, NPR
"Funny, entertaining, and provocative." —Corby Kummer, The Atlantic Food Channel
"T
he best of [the new chef memoirs] by a mile . . .
by a former chef of no particular distinction named Jason Sheehan, now an extraordinarily good food writer . . .
Cooking Dirty
is his account of a career spent largely at what he calls 'the low end of the culinary world': late-night shifts at diners, bars and neighborhood joints. Some of it is pure drudgery—like prepping a 'literal ton of corned-beef briskets' at an Irish pub the week before St. Patrick's Day—but when the orders start pouring in, the pace and chaos and heat in even a low-end kitchen somehow fuse into a kind of mass lunatic joy. 'I am God of the box,' he writes, 'the brain-damaged Lord Commander of a kingdom of fifty feet by five and made entirely of stainless steel, industrial tile, knives, sweat and fire.' "—
Time
"'Cooking Dirty,'
a broad, prickly, affecting memoir
chronicling his recollections of his first 30-odd years . . .
Young and ambitious and in full voice
, Sheehan no doubt has many adventures ahead to gather for his next memoir (or three). I'd expect them." —Tucker Shaw,
Denver Post
"For food critic Sheehan, who spent almost 20 years on the restaurant kitchen front lines, cooking is war. His rough, tough, and riveting culinary biography details the scars he earned in his journey through life and gives readers a true taste of a real cook's working world." —
Library Journal
(Best Book of 2009 selection)
Advertisement