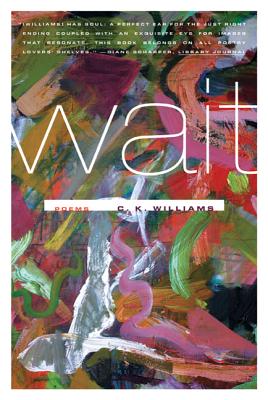 Wait
Poems
Paperback

* Individual store prices may vary.
Description
Wait finds C. K. Williams by turns ruminative, stalked by "the conscience-beast, who harries me," and "riven by idiot vigor, voracious as the youth I was / for whom everything always was going too slowly, too slowly." Poems about animals and rural life are set hard by poems about shrapnel in Iraq and sudden desire on the Paris métro; grateful invocations of Herbert and Hopkins give way to fierce negotiations with the shades of Coleridge, Dostoyevsky, and Celan. What the poems share is their setting in the cool, spacious, spotlit, book-lined place that is Williams's consciousness, a place whose workings he has rendered for fifty years with inimitable candor and style.

"Williams manages to consistently maintain the gentle, witty, and honest voice that he has spent a lifetime crafting." —Rachel A. Burns, The Harvard Crimson
Praise For Wait: Poems…
"In his first new collection since his monumental Collected Poems, Pulitzer-winner and septuagenarian Williams delivers his best book in a decade, and one of his best outright. Like W.S. Merwin's late-career masterpiece The Shadow of Sirius, this is the kind of book that only a lifetime--of experience and writing--can yield." —Publishers Weekly, starred review

"[Williams] has soul: a perfect ear for the just right ending coupled with an exquisite eye for images that resonate. This book belongs on all poetry lovers' shelves." —Diane Scharper, Library Journal

"Williams' poems enter the brain with such force and velocity, you don't so much read as ride them. But for all their propulsion, every element stays in sharp focus: mindscapes of fractal intricacy." —Donna Seaman, Booklist (starred review)
Farrar, Straus and Giroux, 9780374532765, 144pp.
Publication Date: April 26, 2011
About the Author
C. K. Williams (1936–2015) published twenty-two books of poetry including, Flesh and Blood, which won the National Book Critics Circle Award; Repair, which won the Pulitzer Prize in Poetry; and The Singing, winner of the National Book Award. Williams was awarded the Ruth Lilly Poetry Prize in 2005. He wrote a critical study, On Whitman; a memoir, Misgivings; and two books of essays, Poetry and Consciousness and In Time: Poets, Poems,and the Rest.