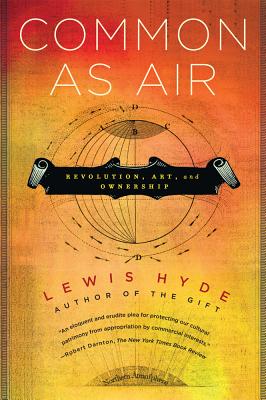 Common as Air
Revolution, Art, and Ownership
Paperback

* Individual store prices may vary.
Other Editions of This Title:
Hardcover (8/17/2010)
Hardcover (3/1/2012)
Description
Common as Air offers a stirring defense of our cultural commons, that vast store of art and ideas we have inherited from the past and continue to enrich in the present. Suspicious of the current idea that all creative work is "intellectual property," Lewis Hyde turns to America's Founding Fathers—men such as Adams, Madison, and Jefferson—in search of other ways to imagine the fruits of human wit and imagination. What he discovers is a rich tradition in which knowledge was assumed to be a commonwealth, not a private preserve.
For the founders, democratic self-governance itself demanded open and easy access to ideas. So did the growth of creative communities such as that of eighteenth-century science. And so did the flourishing of public persons, the very actors whose "civic virtue" brought the nation into being.
In this lively, carefully argued, and well-documented book, Hyde brings the past to bear on present matters, shedding fresh light on everything from the Human Genome Project to Bob Dylan's musical roots. Common as Air allows us to stand on the shoulders of America's revolutionary giants and thus to see beyond today's narrow debates over cultural ownership. What it reveals is nothing less than a vision of how to reclaim the commonwealth of art and ideas that we were meant to inherit.
Praise For Common as Air: Revolution, Art, and Ownership…
"Lewis Hyde has written a stunning book. Drawing from science, law, and art, and looking deep into the intentions of the founding fathers, Common as Air is essential reading, no matter where you stand in the ongoing debate about the ownership of art and ideas." —Anna Deavere Smith
"Lewis Hyde's Common As Air [is] an eloquent and erudite plea for protecting our cultural patrimony from appropriation by commercial interests . . . Hyde builds his argument by telling stories, and he tells them well. His book brims with vignettes, which may be familiar but complement one another in ways that produce original insights. Instead, he tells stories with a moral. If we reassessed our history, he teaches, we would reassert our citizenship in a Republic of Letters that was crucial to the creation of the American Republic--and that is more important than ever in the age of the Internet." —Robert Darnton, The New York Times Book Review
"Lewis Hyde, MacArthur Fellow and professor at Kenyon and Harvard, offers a brilliant and absorbing account of the development of restrictive and enduring private ownership of shared experience . . . His argumentation is dazzling, dense with lucid ideas, erudition, wry humor . . . Like his elegant 1983 underground bestseller, The Gift, about social codes of giving and accepting, Common as Air will surely inspire thoughtful responses for even longer than its own copyright endures." —Matt Kramer, Star-Tribune
"Drawing on deep historical research, Common As Air discusses the reasons why Thomas Jefferson, Benjamin Franklin, and their peers were wary of perpetual patents and copyrights. The Founders viewed them as state-sanctioned monopolies that deterred the progress of learning, creativity, and innovation. This is the reason why they carved out room in the U.S. Constitution for intellectual property, the first country to do so." —Kembrew McLeod, The Atlantic
"In [Common As Air], Hyde discusses the property we once held in common--from land to books to certain kinds of scientific discoveries--and demonstrates how this arena has steadily eroded." —Bill Eichenberger, The Plain Dealer (Cleveland)
"Deeply researched and powerfully felt, this book presents a compelling case for an alternate paradigm, and showcases the originality that readers cherished in The Gift." —Brendan Driscoll, Booklist
Farrar, Straus and Giroux, 9780374532796, 352pp.
Publication Date: October 25, 2011
About the Author
Lewis Hyde is the author of Trickster Makes This World: Mischief, Myth, and Art, The Gift: Imagination and the Erotic Life of Property, and a book of poems, This Error Is the Sign of Love. He is Thomas Professor of Creative Writing at Kenyon College.