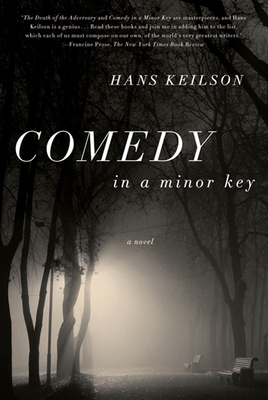 Comedy in a Minor Key
A Novel
Paperback

* Individual store prices may vary.
Other Editions of This Title:
Digital Audiobook (9/29/2010)
Paperback (11/1/2010)
Hardcover (7/20/2010)
Description
A penetrating study of ordinary people resisting the Nazi occupation—and, true to its title, a dark comedy of wartime manners—Comedy in a Minor Key tells the story of Wim and Marie, a Dutch couple who first hide a Jew they know as Nico, then must dispose of his body when he dies of pneumonia. This novella, first published in 1947 and now translated into English for the first time, shows Hans Keilson at his best: deeply ironic, penetrating, sympathetic, and brilliantly modern, an heir to Joseph Roth and Franz Kafka. In 2008, when Keilson received Germany's prestigious Welt Literature Prize, the citation praised his work for exploring "the destructive impulse at work in the twentieth century, down to its deepest psychological and spiritual ramifications."

Published to celebrate Keilson's hundredth birthday, Comedy in a Minor Key—and The Death of the Adversary, reissued in paperback—will introduce American readers to a forgotten classic author, a witness to World War II and a sophisticated storyteller whose books remain as fresh as when they first came to light.
Praise For Comedy in a Minor Key: A Novel…
"For busy, harried or distractible readers who have the time and energy only to skim the opening paragraph of a review, I'll say this as quickly and clearly as possible: The Death of the Adversary and Comedy in a Minor Key are masterpieces, and Hans Keilson is a genius . . . Although the novels are quite different, both are set in Nazi-occupied Europe and display their author's eye for perfectly illustrative yet wholly unexpected incident and detail, as well as his talent for storytelling and his extraordinarily subtle and penetrating understanding of human nature. But perhaps the most distinctive aspect they share is the formal daring of the relationship between subject matter and tone. Rarely has a finer, more closely focused lens been used to study such a broad and brutal panorama, mimetically conveying a failure to come to grips with reality by refusing to call that reality by its proper name . . . Rarely have such harrowing narratives been related with such wry, off-kilter humor, and in so quiet a whisper. Read these books and join me in adding him to the list, which each of us must compose on our own, of the world's very greatest writers." —Francine Prose, The New York Times Book Review

"This first-ever English translation of Keilson's gripping 1947 novel about a Dutch couple hiding a Jewish perfume merchant in their home during WWII marks a welcome reintroduction to the author's unfortunately obscure oeuvre . . . Beautifully nuanced and moving, Keilson's tale probes the more concealed, subtle forces that annihilate the human spirit." —Publishers Weekly

"[Comedy in a Minor Key's] design is so neat, spare, and geometric that to think of it is like tapping a spoon to a crystal glass." —Yelena Akhtiorskaya, The Forward

"A brisk, engaging work of Holocaust literature that deserves to be better known." —Brendan Driscoll, Booklist

"What Keilson had experienced, body and soul, went into this precisely composed book, which succeeds in capturing the tragedy of countless anonymous victims alongside the grotesquerie of the individual tragic case." —Ulrich Weinzierl, Frankfurter Allgemeine Zeitung
Farrar, Straus and Giroux, 9780374532857, 144pp.
Publication Date: August 2, 2011
About the Author
Hans Keilson is the author of Comedy in a Minor Key and The Death of the Adversary. Born in Germany in 1909, he published his first novel in 1933. During World War II he joined the Dutch resistance. Later, as a psychotherapist, he pioneered the treatment of war trauma in children. He died in 2011 at the age of 101.

Damion Searls is an American writer and translator. He grew up in New York and studied at Harvard University and the University of California, Berkeley. He specializes in translating literary works from Western European languages such as German, Norwegian, French, and Dutch. Among the authors he has translated are Marcel Proust, Rainer Maria Rilke, Robert Walser, Ingeborg Bachmann, Thomas Bernhard, Kurt Schwitters, Peter Handke, Jon Fosse, and Nescio.