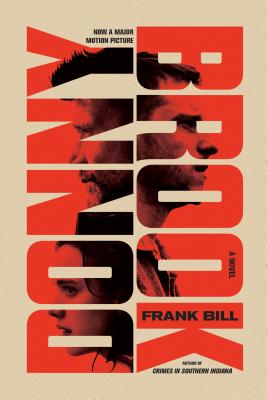 Donnybrook
A Novel
Paperback

* Individual store prices may vary.
Other Editions of This Title:
Digital Audiobook (3/4/2013)
Description
Now A Major Motion Picture
The raw and as-insane-as-anticipated first novel from Frank Bill, author of Crimes in Southern Indiana

The Donnybrook is a three-day bare-knuckle tournament held on a thousand-acre plot out in the sticks of southern Indiana. Twenty fighters. One wire-fence ring. Fight until only one man is left standing while a rowdy festival of onlookers—drunk and high on whatever's on offer—bet on the fighters.
Jarhead is a desperate man who'd do just about anything to feed his children. He's also the toughest fighter in southeastern Kentucky, and he's convinced that his ticket to a better life is one last fight with a cash prize so big it'll solve all his problems.
Meanwhile, there's Chainsaw Angus—an undefeated master fighter who isn't too keen on getting his face punched anymore, so he and his sister, Liz, have started cooking meth. And they get in deep. So deep that Liz wants it all for herself, and she might just be ready to kill her brother for it. One more showdown to take place at the Donnybrook.
As we travel through the backwoods to get to the Donnybrook, we meet a cast of nasty, ruined characters driven to all sorts of evil, all in the name of getting their fix—drugs, violence, sex, money, honor. Donnybrook is exactly the fearless, explosive, amphetamine-fueled journey you'd expect from Frank Bill's first novel . . . and then some.
Praise For Donnybrook: A Novel…
"Yes, the mayhem quotient is off the charts in Bill's debut novel, but there is much more to Donnybrook than characters maimed and murdered in nightmarish ways. The cast is memorable, the dialogue crackles, the tension is unrelenting — and it all happens for a reason. . . You'll be riveted by the depravity while marveling at Bill's skill at telling this testosterone-fueled tale." —Dave Astor, The Washington Post
"Bill is a master of conveying life in rural, blue-collar Middle America without pandering to or stereotyping his subjects. Rather, he writes with striking compassion for the kind of casually violent people you'd want on your side during the apocalypse." —Brittany Shoot, The Rumpus

"In the world of faces punched, crank snorted, guts shot, and whiskey pounded, Frank Bill is king, and Donnybrook sets him up as the poet laureate of the apocalypse. Steeped in nonstop action, dark human need, and the coming end of civility in America, this novel is a stunning debut from an author more than willing to hold society still while it stares in the mirror." —Christopher Krovatin, Revolver
"Bill is one hell of a storyteller." —Kirkus

"With an authority that reveals his many years in these rural towns, Frank Bill shows us in vivid details the places and sensations of life on the fringe . . . Above and beyond the fighting and betrayal—the broken arms, shattered teeth, and bloodstained canvas—Bill is able to make us care about these men. . . With an unflinching eye, Frank Bill has created a dark world, one of desperation and loss, showing us a part of the country, and humanity, that we would be smart to avoid." —Richard Thomas, The Nervous Breakdown
"Bill's work is stark and visual . . . He crafts the book's many fight scenes with the grace of a choreographer, placing each character in the right place at the right time . . . The thought of what might come next [after Donnybrook] speaks to Bill's ability to hook his readers and keep them coming back. Just don't expect to leave him without taking a beating." —Jeremy Estes, PopMatters
FSG Originals, 9780374532895, 256pp.
Publication Date: March 5, 2013
About the Author
Frank Bill is the author of the novel Donnybrook and the story collection Crimes in Southern Indiana, one of GQ's favorite books of 2011 and a Daily Beast best debut of 2011. He lives and writes in Southern Indiana.
or
Not Currently Available for Direct Purchase