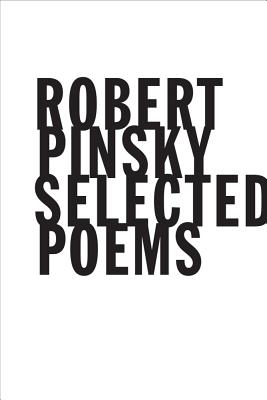 Selected Poems
Paperback

* Individual store prices may vary.
Other Editions of This Title:
Hardcover (4/12/2011)
Description
Intense verbal music with a jazz feeling; invention against the grain of expectation; intelligence racing among materials with the variety of a busy street—these have been the qualities of Robert Pinsky's work since his first book, Sadness and Happiness (1975), celebrated for setting a new direction in American poetry. At that time, responding to a question about that book, Pinsky said: "I would like to write a poetry which could contain every kind of thing, while keeping all the excitement of poetry."
That ambition was realized in a new way with each of his books, including the book-length personal monologue An Explanation of America; the transformed autobiography of History of My Heart; the bestselling translation The Inferno of Dante; and, most recently, the savage, inventive Gulf Music. That variety and renewal are represented in this brilliantly chosen volume.
Praise For Selected Poems…
"Simply said, Robert Pinsky is one of the few literary artists working in our language whose work is unquestionably major work." —Louise Glück
"[Pinksy's] poems are striking in their desire to open wide ... and contain everything, to refuse absolutely to reject anything ... Pinsky's poems rarely lend themselves to easy and decisive interpretation. (For this reason they tend to grow rather than wither with rereading.) One might say of his work, as one would say of jazz, that the point is less to interpret or understand it than to enjoy the sound and energy and mad improvisation ... Sadness and happiness, beauty and ugliness, peace and violence--each has its place in Pinsky's capacious poetry, for its universe is the one in which we all live." —Troy Jollimore, The Washington Post
"One might say that Pinsky has attended well Hamlet's advice to the players, and, in the very tempest of his passion and inspiration, acquires and begets a temperance to give all smoothness. The pleasures of Pinsky's poems are found in their capable smoothness, their balance, and, here and there, little fillips that smack the ear and jar the mind." —Donald Brown, The Quarterly Conversation
"Pinsky is an important figure. He is also, as Tony Hoagland has rightly observed, 'a much stranger poet than is generally acknowledged.' This abiding strangeness, this ability to perpetually surprise us with his jittery music, oddball catalogues, and outright collage-making--gestures that at the same time are impeccably crafted and as often-as-not shaped into stately couplets and tercets--are one source of Pinsky's significance. He has also, as the new volume eloquently attests, remade himself several times as a poet, and with each change moved closer to a goal of being at once wholly idiosyncratic and highly accessible. He is an exceedingly personal writer--this trait especially manifests itself in his capacities as an elegist--while at the same time very concerned with public subjects that too many of his generational peers have chosen to neglect . . . he temples of the ancient Sumerians employed various priests and functionaries, but one of the most important occupations was that of 'chief lamenter,' the reciter and singer of hymns. The chief lamenters' function and artistry were civic, but the best of them must have had voices and individual styles comparable to the idiosyncratic majesty of Robert Pinsky. The past, he tells us in one poem, is a 'haunted ruin,' like the 'billion corridors / of the semi-conductor.' And that is Pinsky: he stands with sandaled feet on the ziggurat steps, while under his arm he carries an iPad. And . . . this lamenter-in-chief knows that his story must also be our own." —David Wojahn, Tikkun
"[A] sense of an American gathering extends throughout the volume, into the angry political poems of Gulf Music (2007), a reference to Hurricane Katrina, through the prose blocks of 'An Alphabet of My Dead,' and back to what may still be Pinsky's most famous poem, the book-length An Explanation of America (1979), excerpted here, whose clearly argued triads of blank verse compared the United States after Vietnam to the republic in earlier days--and to imperial Rome. However well Pinsky fits a wide modern audience, he is also someone whose poems should last." —Publisher's Weekly
"For 36 years, Robert Pinsky has been writing his exciting, musical poetry . . . his poems bubble up and dissolve like fireworks, like something written across a stretch of blue sky, seen from the warm sand. 'What is Imagination,' he asks in 'Ode to Meaning,' 'But your lost child born to give birth to you?' This is one exuberant collection. Baseball, desire, jazz--only poetry could hold them all." —Susan Salter Reynolds, Los Angeles Times
"This edition of Pinsky's poems is as satisfying as a cross-section of his remarkable 35-year career could be. Its inverted chronological order allows one to trace the emergence of a public, civic-minded poet to his early concerns about the human mind and heart, 'the legendary muscle that wants and grieves.' The poems in this book long ago established Pinsky as an ambassador for poetry, but this book reminds us that his poems still deserve the most attention of all." —Dave Lucas, Plain Dealer (Cleveland)
"Robert Pinsky's Selected Poems invites us to read his career in reverse, to start with his most recent books and move back through the decades to his first . . . The book is therefore shaped more like a detective story than a traditional chronological narrative. The question is not where is the young poet is going, but rather, how did the older poet get to where he is. As Pinsky is one of the best American poets around, it is a question worth asking . . . Pinsky has gotten fiercer as he has gotten older, and the later poems suggest ways to read or reread the earlier ones. Pinsky has become something of a public figure . . . who has not sacrificed the complexities of poetic construction for a false, aw-shucks simplicity. His Selected Poems shows how this was always where he wanted to be. It is a generous selection in all senses of that word. It is a tribute to its quality that it is, at 200 pages, still too short." —David Kaufman, Tablet
Farrar, Straus and Giroux, 9780374533168, 224pp.
Publication Date: March 27, 2012
About the Author
A former Poet Laureate of the United States, Robert Pinsky was born and raised in Long Branch, New Jersey. In addition to his books of poetry and The Inferno of Dante, he has written prose works, including The Life of David and The Sounds of Poetry.
or
Not Currently Available for Direct Purchase