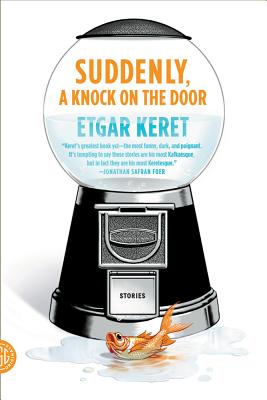 Suddenly, a Knock on the Door
Stories
Paperback

* Individual store prices may vary.
Other Editions of This Title:
Digital Audiobook (4/23/2012)
Description
Bringing up a child, lying to the boss, placing an order in a fast-food restaurant: in Etgar Keret's new collection, daily life is complicated, dangerous, and full of yearning. In his most playful and most mature work yet, the living and the dead, silent children and talking animals, dreams and waking life coexist in an uneasy world. Overflowing with absurdity, humor, sadness, and compassion, the tales in Suddenly, a Knock on the Door establish Etgar Keret—declared a "genius" by The New York Times—as one of the most original writers of his generation.
Praise For Suddenly, a Knock on the Door: Stories…
"Keret's greatest book yet--the most funny, dark, and poignant. It's tempting to say these stories are his most Kafkaesque, but in fact they are his most Keretesque." —Jonathan Safran Foer

"Etgar Keret's stories are funny, with tons of feeling, driving towards destinations you never see coming. They're written in the most unpretentious, chatty voice possible, but they're also weirdly poetic. They stick in your gut. You think about them for days. " —Ira Glass, host and producer of This American Life

"Strangeness abounds. Keret fits so much psychological and social complexity and metaphysical mystery into these quick, wry, jolting, funny, off-handedly fabulist miniatures, they're like literary magic tricks: no matter how closely you read, you can't figure out how he does it." —Donna Seaman, Booklist (March 15)

"His pieces elicit comparison to sources as diverse as Franz Kafka, Kurt Vonnegut and Woody Allen . . . [Keret is] a writer who is often very funny and inventive, and occasionally profound." —Kirkus Reviews (March 15)

"Israeli author Keret writes sometimes appealingly wacky, sometimes darkly absurdist stories that translate well to America . . . Sophisticated readers should check this out." —Library Journal, pre-pub alert

"In this slim volume of flash fiction and short stories, Israeli author/filmmaker Keret (The Nimrod Flipout; the film Jellyfish) writes with alternating Singeresque magical realism and Kafkaesque absurdity." —Publishers Weekly

"This collection of short stories brims with invention . . . Etgar Keret is a great short story writer whose work is all the greater because it's funny . . . [He] most becomes himself in comedy shorts, telling tales of the absurd and the surreal . . . As one of the 20th century's great comic writers--and one of Keret's true precursors--might have said, so it goes . . . To complain about Keret being Keret is like complaining about Chekhov being Chekhov." —Ian Sansom, The Guardian

"[Keret] deserves full marks for chutzpah . . . His work zings with imaginative conceits, clever asides and self-conscious twists. Yet there is also an easygoing quality to his writing that makes the 37 stories collected here instantly likeable . . . his stories assume an anecdotal style that gives them an air of spontaneity, as if he were relating them over a cup of coffee in one of the Tel Aviv cafes frequented by his characters . . . Keret's willingness to develop quirky concepts (one story features a magic, talking goldfish) would seem to grant him a place alongside such idiosyncratic writers as Robert Walser, Franz Kafka, Kurt Vonnegut and Italo Calvino. But if his work is sometimes reminiscent of these writers, it also carves out its own territory." —James Ley, The Sydney Morning Herald

"A brilliant writer . . . completely unlike any writer I know. The voice of the next generation." —Salman Rushdie

"Keret can do more with six . . .paragraphs than most writers can with 600 pages." —Kyle Smith, People
FSG Originals, 9780374533335, 208pp.
Publication Date: March 27, 2012
About the Author
Etgar Keret was born in Tel Aviv in 1967. His stories have been featured on This American Life and Selected Shorts. As screenwriters/ directors, he and his wife, Shira Geffen, won the 2007 Palme d'Or for Best Debut Feature (Jellyfish) at the Cannes Film Festival. His books include The Nimrod Flipout and Suddenly, a Knock on the Door.
or
Not Currently Available for Direct Purchase