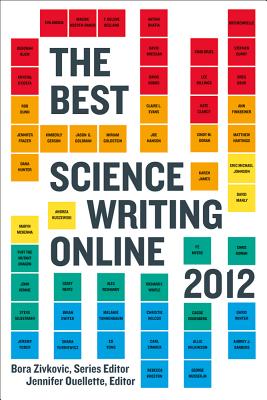 The Best Science Writing Online (Paperback)
Scientific American, 9780374533342, 328pp.
Publication Date: September 18, 2012
* Individual store prices may vary.
or
Not Currently Available for Direct Purchase
Description
Showcasing more than fifty of the most provocative, original, and significant online essays from 2011, The Best Science Writing Online 2012 will change the way we think about science-- from fluids to fungi, poisons to pirates. Featuring noted authors and journalists as well as the brightest up-and-comers writing today, this collection provides a comprehensive look at the fascinating, innovative, and trailblazing scientific achievements and breakthroughs of 2011, along with elegant and thoughtprovoking new takes on favorite topics. This is the sixth anthology of online essays edited by Bora Zivkovic, the blogs editor at Scientific American, and with each new edition, Zivkovic expands his fan base and creates a surge of excitement about upcoming compilations. Now everyone's favorite collection will reach new horizons and even more readers. Guest-edited and with an introduction by the renowned science author and blogger Jennifer Ouellette, The Best Science Writing Online 2012 marries cutting-edge science with dynamic writing that will inspire us all.
About the Author
Bora Zivkovic is the editor of the blog network at Scientific American and organizes the globally renowned Science-Online events. He lives in Pittsboro, North Carolina. Jennifer Ouellette is the author of The Calculus Diaries and other titles, and maintains the Cocktail Party Physics blog. She lives in Los Angeles, California.
Praise For The Best Science Writing Online…
"[The Best Science Writing Online 2012] is full—stuffed—with excellent science writing, more than enough to keep you reading . . . Buy it. It is worth your time." —Wired Science Blogs
"A collection of fun and interesting science, from online writers around the world." —The Guardian (blog)

"[A] potent mix of critical analyses, witty personal reflections, absorbing feature profiles, illuminating commentary on the intersection of science and social policy, and even long-form investigative journalism, covering everything from the last space shuttle launch to fluid dynamics to gender politics." —Brain Pickings
"A collection of solid science writing celebrating a diversity of topics, writer credentials and styles. Proof that science writing online is healthy and growing. For naive surfers, an anthology like this will help separate the wheat from the chaff."—Kirkus
Praise for previous editions:
"[C]onsistently picks the best of the best blogs. Read it." —Ivan Oransky, MD, Executive Editor, Reuters Health and Blogger, Embargo Watch and Retraction Watch 
"This is the best of the science blogosphere 2010, selected by experts, and features something for anyone and everyone curious about the natural world." —Sheril Kirshenbaum, author of The Science of Kissing and Discover's The Intersection blog 
"Some of the smartest, best informed, and—yes—most entertaining writing about science today can be found in the vibrant community of science bloggers. Each year [the] series performs an invaluable service by pulling together some of the highlights—proof that the best blog posts can and should be savored long after they've scrolled off the bottom of the screen." —Scott Rosenberg, author of Say Everything and Dreaming in Code, and co-founder of Salon.com
"In each post I found honesty, passion, imagination, curiosity and creativity shining through in a way that the disinterested 'article mill' of traditional journalism is rarely able to match." —Al Dove, scientist and blogger
"A fun, enlightening read that's bound to have a little something for everybody who loves science." —Maggie Koerth-Baker, BoingBoing.net "If you are overwhelmed by the surge in science-related blogging and don't know where to start, then this compilation may help you steer a course through the sea of perspectives on offer—or inspire you to start a blog yourself." —Nature 
Advertisement