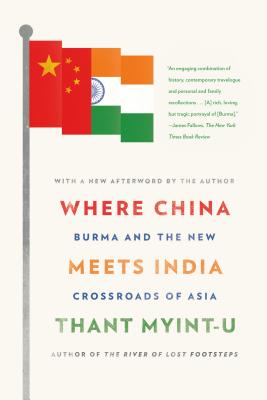 Where China Meets India
Burma and the New Crossroads of Asia
Paperback

* Individual store prices may vary.
Other Editions of This Title:
Paperback, Chinese (1/12/2019)
Hardcover (9/13/2011)
Description
Thant Myint-U's Where China Meets India is a vivid, searching, timely book about the remote region that is suddenly a geopolitical center of the world.
From their very beginnings, China and India have been walled off from each other: by the towering summits of the Himalayas, by a vast and impenetrable jungle, by hostile tribes and remote inland kingdoms stretching a thousand miles from Calcutta across Burma to the upper Yangtze River.
Soon this last great frontier will vanish—the forests cut down, dirt roads replaced by superhighways, insurgencies crushed—leaving China and India exposed to each other as never before. This basic shift in geography—as sudden and profound as the opening of the Suez Canal—will lead to unprecedented connections among the three billion people of Southeast Asia and the Far East.
What will this change mean? Thant Myint-U is in a unique position to know. Over the past few years he has traveled extensively across this vast territory, where high-speed trains and gleaming new shopping malls are now coming within striking distance of the last far-flung rebellions and impoverished mountain communities. And he has explored the new strategic centrality of Burma, where Asia's two rising, giant powers appear to be vying for supremacy.
At once a travelogue, a work of history, and an informed look into the future, Where China Meets India takes us across the fast-changing Asian frontier, giving us a masterful account of the region's long and rich history and its sudden significance for the rest of the world.
Praise For Where China Meets India: Burma and the New Crossroads of Asia…
"[A] blend of personal reminiscence, history--enlivened with an eye for the telling anecdote--travelogue and polemic." —The Economist
"[Where China Meets India] possesses a heartfelt and welcome optimism, giving voice to a desire for connections that exceeds all notions of foreign policy, geopolitics or business and becomes, instead, about people encountering each other in all their glorious difference." —Siddhartha Deb, The Guardian
"Thant Myint-U makes clear in Where China Meets India [that] Burma's days as a neglected backwater are over." —Tim Johnston, Financial Times
"This is probably the best book written on Myanmar after 1988. It is a must-read not only for diplomats, political analysts and CEOs of multinationals but also for readers who enjoy racy narrative, fascinating accounts of a bygone era, of Shangri-La, kings and generals, intrigue and heroism, the Tarons, remnants of the only known pigmy race in mainland Asia, and the lives of common people in some of the remotest parts of the region in and around Myanmar." —Bhaskar K Mitra, Business Standard
"Thant's knowledge of Burma's history, peoples, cultures, and kingdoms brings focus to his travels through the area. The constant interplay between his experiences and knowledge of the region make this book a gem, with myriad rare insights." —Publishers Weekly
"An illumining look at a country torn between two emerging superpowers . . . In a whirlwind tour through Burma's history, politics, culture and geography, Myint-U makes a successful case for its importance in South Asia's future." —Kirkus Reviews
"Interweaving the history and geography of Burma (Myanmar) with a travel memoir, Thant (The River of Lost Footsteps: A Personal History of Burma) narrates the compelling story of his journey through this rapidly evolving region rich in culture and heritage . . . A highly readable and entertaining foray into the complex history of this ancient land, this book will be of interest to lovers of history and travel writing." —Allan Cho, Library Journal
"'Asia' is already the 21st century's most contested term. For some it represents a block comprising most of the world's population, for others a region rife with historical rivalries. In this engaging narrative, Thant Myint-U shows us how Asia is still under construction, with new ports, canals, railroads and passageways are knitting together a continent. Most interestingly, these new Silk Roads enjoin the world's two most populous nations, China and India, via Burma, a land of incredible diversity and promise, but also despair and risk. If the presumed geopolitical rivalries in Asia are to be averted, it will be by following Thant's road-map." —Parag Khanna, author of The Second World: Empires and Influence in the New Global Order and How to Run the World
"Where China Meets India is a rare find, an ambitious, comprehensive work that is at once entertaining and illuminating by a leading scholar on Burma." —Andrew Pham, author of The Eaves of Heaven: A Life in Three Wars
Farrar, Straus and Giroux, 9780374533526, 400pp.
Publication Date: September 18, 2012
About the Author
Thant Myint-U, formerly a diplomat with the United Nations, now lives and writes in Bangkok, travelling from there to Burma, India, and China. He is the author of a personal history of Burma, The River of Lost Footsteps (FSG, 2006).