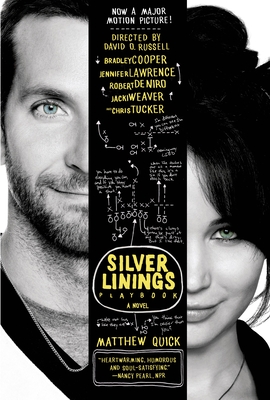 The Silver Linings Playbook
A Novel
Paperback

* Individual store prices may vary.
Other Editions of This Title:
Digital Audiobook (9/1/2008)
Compact Disc (9/1/2008)
Paperback, Chinese (1/4/2020)
Paperback, Japanese (1/25/2013)
MP3 CD (9/1/2008)
Compact Disc (9/1/2008)
Description
A New York Times bestseller, The Silver Linings Playbook was adapted into the Oscar-winning movie starring Bradley Cooper and Jennifer Lawrence. It tells the riotous and poignant story of how one man regains his memory and comes to terms with the magnitude of his wife's betrayal.

During the years he spends in a neural health facility, Pat Peoples formulates a theory about silver linings: he believes his life is a movie produced by God, his mission is to become physically fit and emotionally supportive, and his happy ending will be the return of his estranged wife, Nikki. When Pat goes to live with his parents, everything seems changed: no one will talk to him about Nikki; his old friends are saddled with families; the Philadelphia Eagles keep losing, making his father moody; and his new therapist seems to be recommending adultery as a form of therapy.

When Pat meets the tragically widowed and clinically depressed Tiffany, she offers to act as a liaison between him and his wife, if only he will give up watching football, agree to perform in this year's Dance Away Depression competition, and promise not to tell anyone about their "contract." All the while, Pat keeps searching for his silver lining.

In this brilliantly written debut novel, Matthew Quick takes us inside Pat's mind, deftly showing us the world from his distorted yet endearing perspective. The result is a touching and funny story that helps us look at both depression and love in a wonderfully refreshing way.
Praise For The Silver Linings Playbook: A Novel…
"Matthew Quick has created quite the heartbreaker of a novel in The Silver Linings Playbook." —from the Kirkus First Fiction Issue

"Matthew Quick is a natural storyteller, and his Silver Linings Playbook--honest, wise, and compassionate--is a story that carries the reader along on a gust of optimism. Without shying away from the difficulties of domestic life, it charts a route past those challenges, and leaves us with a lingering sense of hope. More than a promising debut or an inspiring love story, this novel offers us the gift of healing." —Roland Merullo, author of In Revere, In Those Days

"You don't have to be a Philadelphia Eagles' fan (or even from Philadelphia) to appreciate talented newcomer Matthew Quick's page-turning paean to the power of hope over experience--the belief that this will all work out somehow, despite the long odds that life deals us. Tender, soulful, hilarious, and true, The Silver Linings Playbook is a wonderful debut." —Justin Cronin, PEN/Hemingway Award-winning author of Mary and O'Neil and The Summer Guest

"The hero of Matthew Quick's first novel is Pat Peoples, amnesiac optimist and absolute original, whose dysfunctional journey takes him from big-league fandom to competitive dance and a host of other modern preoccupations. This is a funny, touching performance on the part of Mr. Quick--and the beginning, I hope, of a big career." —Dave King, author of The Ha-Ha

"Entertaining and heartfelt and authentic, The Silver Linings Playbook magically binds together love, madness, Philadelphia Eagles football, faith, family and hard-earned hope into a story that is both profound and wonderfully beguiling. This is a splendid novel, written by a big-time talent." —Martin Clark, author of The Many Aspects of Mobile Home Living and The Legal Limit

"I loved The Silver Linings Playbook. It is warm, funny, and moving." —Shawn McBride, author of Green Grass Grace
Sarah Crichton Books, 9780374533571, 304pp.
Publication Date: October 16, 2012
About the Author
In the six months that followed his leaving teaching and the Philadelphia area, Matthew Quick floated down the Peruvian Amazon and formed 'The Bardbarians' (a two-man literary circle), backpacked around Southern Africa, hiked to the bottom of a snowy Grand Canyon, soul-searched, and finally began writing full-time. His debut novel, The Silver Linings Playbook, was adapted into the Oscar-winning movie starring Bradley Cooper and Jennifer Lawrence.

Matthew earned his Creative Writing MFA through Goddard College. He has since returned to the Philadelphia area, where he lives with his wife and their greyhound.
How does the book redefine happy endings? What makes Pat so determined to believe that every cloud has a silver lining?
As Pat heals from his brain injuries and trauma, in what ways is he sometimes more mentally stable than his family and friends? Is his optimism—combined with his belief that God is a filmmaker—a sign of his sanity? How was your reading affected by the fact that the "bad place" was a neural health facility rather than a psychiatric hospital?
Discuss the relationships Pat and Jake have with their father, Patrick Senior. What does their father teach them about being a man? Why is it so hard for him to show emotion?
How does Cliff use the Eagles' playbook to teach Pat about the real world? How do the Eagles bring unity to Pat's family? What makes Hank Baskett the ideal rookie to serve as Pat's inspiration?
In "A Hive Full of Green Bees," what does Pat discover about himself during the violent incident with the Giants fan (Steve)? How did you feel about Jake while he was taunting Steve?
What keeps Pat's obsession with Nikki alive? What does Cliff ultimately help him understand about the nature of love and attraction?
Tiffany and Pat's mother, Jeanie, have different approaches to his recovery. Tiffany believes that direct confrontation is best; Jeanie wants to protect Pat from anything that might upset him, including his brother's marriage to Caitlin. Which approach is better?
How did your impressions of Nikki and Tiffany shift throughout the novel?
Did Dance Away Depression have any healing effect on Pat? What did Tiffany want him to hear when she chose "Total Eclipse of the Heart" as their song?
What role does Danny play, along with Aunt Jasmine, in rescuing Pat emotionally on Christmas Day? When have you had a similar encounter with a friend who appeared at exactly the right moment?
How did you react when Pat finally remembers why Kenny G pushes him over the edge? What does his trauma have in common with Tiffany's?
Discuss Pat's take on literature, particularly The Scarlet Letter, The Bell Jar, The Adventures of Huckleberry Finn, and The Catcher in the Rye. How does his approach to literature change as his worldview changes? What would it be like to have Pat as a member of your book club?
In "An Acceptable Form of Coping," Cliff and Pat disagree about whether sad books should be required reading for students. Pat says that such books teach kids to be pessimistic. Cliff says, "Life is hard, Pat, and children have to be told how hard life can be . . . so they will be sympathetic to others." What's your opinion? What books were you drawn to when you were younger?
Discuss the book's closing scene. How has The Silver Linings Playbook inspired you in your life?