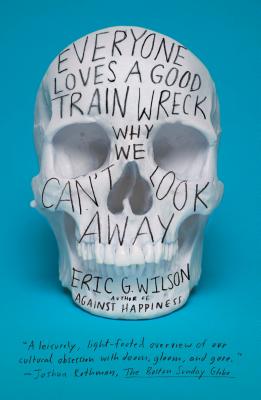 Everyone Loves a Good Train Wreck
Why We Can't Look Away
Paperback

* Individual store prices may vary.
Other Editions of This Title:
Hardcover (2/14/2012)
Description
Why can't we look away?

Whether we admit it or not, we're fascinated by evil. Dark fantasies, morbid curiosities, Schadenfreude: as conventional wisdom has it, these are the symptoms of our wicked side, and we succumb to them at our own peril. But we're still compelled to look whenever we pass a grisly accident on the highway, and there's no slaking our thirst for gory entertainments like horror movies and police procedurals. What makes these spectacles so irresistible?
In Everyone Loves a Good Train Wreck, the scholar Eric G. Wilson sets out to discover the source of our attraction to the gruesome, drawing on the findings of biologists, sociologists, psychologists, anthropologists, philosophers, theologians, and artists. A professor of English literature and a lifelong student of the macabre, Wilson believes there's something nourishing in darkness. "To repress death is to lose the feeling of life," he writes. "A closeness to death discloses our most fertile energies."
His examples are legion and startling in their diversity. Citing everything from elephant graveyards and Susan Sontag's On Photography to the Tiger Woods sex scandal and Steel Magnolias, Wilson finds heartening truths wherever he confronts death. In Everyone Loves a Good Train Wreck, the perverse is never far from the sublime. The result is a powerful and delightfully provocative defense of what it means to be human—for better and for worse.
Praise For Everyone Loves a Good Train Wreck: Why We Can't Look Away…
"Eric G. Wilson's smart, probing new book . . . sets out to explain what lies beneath our collective fascination with death and suffering . . . Everyone Loves a Good Train Wreck isn't some holier-than-thou polemic out to cure us of our dark leanings . . . Instead, it simply aims to help readers gain 'a fulfilling response to two of life's greatest, most pressing and persistent questions. What is the meaning of suffering? What is the significance of death? . . . The book's slim, peripatetic chapters cover an awful lot of erudite territory, as Wilson draws ideas and research from a delightful grab bag of academics, artists and thinkers. Aristotle, Freud, Kant, Goya and Hardy all make appearances, alongside an assortment of sociopaths and serial murderers." —John Wilwol, NPR.org
"Wilson is provocative, entertaining and above all honest." —Chris Tucker, The Dallas Morning News
"A leisurely, light-footed overview of our cultural obsession with doom, gloom, and gore." —Josh Rothman, The Boston Globe
"Compelling . . . Wilson keeps hearing a voice within that tells him to 'look.' He follows this instinct, energized by the idea that his thoughtful connoisseurship of the world's darkness is good--noble, even. Wilson draws on philosophers, poets, psychologists, filmmakers and more to build a case that 'an eager, open-minded interest in the macabre' provides 'a special invitation to think about life's meanings' . . . Wilson's guidance is personal, engaging, and convincing . . . The book offers heaps of terribly tantalizing topics." —Chris Jozefowicz, Rue Morgue
"Mixing anecdotes, arguments and his own quirky persona, the author of Against Happiness delivers a provocative meditation on morbid curiosity and the pleasure of seeing others suffer." —The Times-Picayune (New Orleans)
"Wilson explores [his theme] with zeal and a great deal of wit. It's hard, as one reads this fascinating book, not to see quite a bit of ourselves." —David Pitt, Booklist
"[Everyone Loves a Good Train Wreck] reassures: enjoying grotesque, horrible, frightening images is a natural impulse. From fairy tales to crime dramas, they hit us where we are most human." —Kate Tuttle, The Boston Globe
"Ruminations of an exceptionally intelligent academic on why people--himself among the guilty parties--seem to search out and enjoy instances of human pain and suffering . . . [Wilson] does a thorough job of examining the people who can't look away." —Nona Nelson, The Roanoke Times
"[Wilson is] fluent and comfortable, whether he is poking for clues in the bewildering complexity of Edmund Burke's sublime, as experienced in the stomach-dropping irresistibilty of, say, a tornado; the Jungian shadow, that archive of everything we hate about ourselves, those destructive crazes and unadmitted tendencies without recognition of which we would not be whole; or the simple, malicious pleasure of another's misfortunes." —Peter Lewis, The Barnes & Noble Review
"Invoking everything from horror movies and television news footage of the Sept. 11 attacks to Dante's tormented verse and Goya's paintings of cannibals, Wilson makes a strong case that humans are natural-born rubberneckers . . . A hybrid of memoir, journalim and theory, [Everyone Loves a Good Train Wreck] investigates what this impulse tells us about ourselves and how it might inspire constructive reactions like compassion . . . Everyone Loves a Good Train Wreck necessarily deals with a host of grim subjects, yet there are also instances of unqualified beauty." —Kevin Canfield, Star-Tribune (Minneapolis)
"In the teeming ranks of the American Professoriat, you could argue that Eric G. Wilson is among those most palpably needed by the world at large . . . Everyone Loves a Good Train Wreck is a personal book that touches on 'death tourism,' Hannibal Lecter, Maurice Sendak, Tipper Gore, Francisco Goya, serial killers (a handwritten note by Jeffrey Dahmer can fetch $1,700, he cheerfully informs us), Tiger Woods sex scandals, and Mel Gibson's The Passion of the Christ, all embedded in an Alexandrian library of literary allusions that can be encompassed in less than 200 pages." —Jeff Simon, Buffalo News
Sarah Crichton Books, 9780374533700, 224pp.
Publication Date: February 19, 2013
About the Author
Eric G. Wilson is the Thomas H. Pritchard Professor of English at Wake Forest University in Winston-Salem, North Carolina. He is the author of Everyone Loves a Good Train Wreck: Why We Can't Look Away, Against Happiness: In Praise of Melancholy, The Mercy of Eternity: A Memoir of Depression and Grace, and five books on the relationship between literature and psychology.