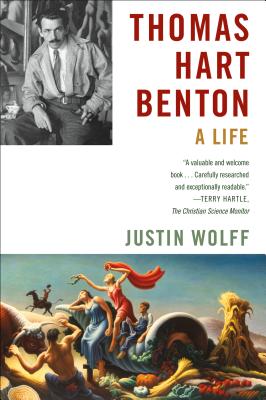 Thomas Hart Benton: A Life (Paperback)
A Life
Farrar, Straus and Giroux, 9780374533748, 416pp.
Publication Date: March 19, 2013
* Individual store prices may vary.
or
Not Currently Available for Direct Purchase
Description
" An] energetic and revelatory biography." Donna Seaman, "The Kansas City Star"
""
Born in Missouri at the end of the nineteenth century, Thomas Hart Benton would become the most notorious and celebrated painter America had ever seen. The first artist to make the cover of "Time," he was a true original: an heir to both the rollicking populism of his father's political family and the quiet life of his Appalachian grandfather.
By the mid-1930s, Benton's heroic murals were featured in galleries, statehouses, public buildings, and museums, and magazines commissioned him to report on the stories of the day. Yet even as the nation learned his name, he was often scorned by critics and political commentators, many of whom found him too nationalistic and his art too regressive. Even Jackson Pollock, his once-devoted former student, would turn away from him in dramatic fashion. A boxer in his youth, Benton was quick to fight back, but the widespread backlash had an impact and foreshadowed many of the artistic debates that would dominate the coming decades.
In this definitive biography, Justin Wolff places Benton in the context of his tumultuous historical moment as well as in the landscapes and cultural circles that inspired him. "Thomas Hart Benton" with compelling insights into Benton's art, his philosophy, and his family history rescues a great American artist from myth and hearsay, and provides an indelibly moving portrait of an influential, controversial, and often misunderstood man.
About the Author
Justin Wolff is an associate professor of art history at the University of Maine. He is the author of Richard Caton Woodville: American Painter, Artful Dodger.
Praise For Thomas Hart Benton: A Life…
"Wolff . . . makes the artist interesting, largely by taking a balanced view of him. He neither praises nor critically buries Benton but rather, and with what feels like an undercurrent of empathy, works hard to give him his day in court . . . Some biographies edit out ambiguity; they want us to love or loathe their subjects. Wolff takes the opposite tack. He lays out all of Benton's contrarieties [and] argues them through . . . The Benton who emerges is not appealing, but neither is he simple, even though he spent much of his energy trying to be." —Holland Cotter, The New York Times Book Review

"Thomas Hart Benton may be the artist for our times. He'd fit right into the tea party and Occupy Wall Street, anywhere left, right or center where folks gather to protest big business and big government . . . [Justin Wolff] plants the artist in the politics of his time and deftly traces the artistic influences that eventually brought Benton to his mature style, one based upon what he saw with his own eyes but bursting with muscular energy. Wolff also paints a sensitive portrait of a man often full of self-doubt yet as stubborn as a Missouri mule . . . [He writes] with remarkable evenhandedness and clarity." —Bill Marvel, The Dallas Morning News

"A valuable and welcome book . . . Carefully researched and exceptionally readable . . .  Thanks to Thomas Hart Benton: A Life . . .  we have the chance to renew our understanding and appreciation of this seminal figure and his legacy. Wolff convincingly demonstrates that Benton was a gifted artist who played a central role as American art moved into the modern era." —Terry Hartle, The Christian Science Monitor

"[An] energetic and revelatory biography . . . By making judicious and entertaining use of Benton's letters and autobiographies, along with an array of eyewitness testimonies, Wolff portrays Benton as insecure and arrogant, gruff and sensitive, pugnacious and charming . . . Wolff's biography succeeds in recalibrating our appreciation for a quintessential American artist and his perpetually provoking art." —Donna Seaman, The Kansas City Star

"Fascinating . . . While many people are familiar with Benton's oeuvre, the artist himself has largely eluded examination. Wolff rectifies the oversight rather well, giving us a portrait of this complicated, fascinating, often contradictory man that is crisp, well informed and satisfyingly complete." —Michael J. Bonafield, Star-Tribune (Minneapolis)

"Impressive . . . Thoughtful . . . Wolff's biography moves deftly from Benton's family history, to Benton's own description of his aesthetic principles, to deft readings of Benton's signature works . . . The achievement of Wolff's biography is to step behind Benton and peer over his shoulder as he tried to paint the America he thought he desired." —Joseph Campana, Los Angeles Review of Books

"A balanced and insightful reassessment of [a] major, controversial and at times neglected American painter and muralist . . . Justin Wolff has created a scholarly mural of Benton, revealing to us the many facets of the man and the artist within the context of the American and world culture of his time." —Lawrence Wayne Markert, The Roanoke Times

"Justin Wolff . . . presents a study of Benton's life and work that is both learned and lively." —Jules Wagman, St. Louis Post-Dispatch

"Wolff writes with the muscular energy of Benton's earthy paintings while performing the more tempered precision of informed and fair analysis as he deciphers the contentiousness and ambiguities of this pugnacious individualist and ornery populist . . . Wolff's is the most illuminating portrait yet of this contrary artist in search of authenticity."—Donna Seaman, Booklist (starred review)

"[A] comprehensive and critically astute biography . . . A lucid and engaging study of the artist's life in its historical context." —Publishers Weekly

"Wolff fully and fairly explores Benton's early training and work at home and in Europe, his successes in the 1930s, and his fall from critical—if not public—favor in the 1940s and the postwar period . . . Based on firm research, this book is also accessibly written and is recommended for general readers as well as specialists." —Jack Perry Brown, Library Journal

"Justin Wolff's new life of Benton is immensely readable, effortlessly erudite, and, best of all, very perceptive about the ways mature artists become (and stay) artists. He gives us Thomas Hart Benton—paradoxical, combative, underappreciated, and ultimately brilliant—in illuminating detail." —Richard Ford

"This is the kind of book one slows down to savor. Justin Wolff calls it A Life, and that's what he delivers—not just the facts of Benton's life, fascinating as they are, but the sense of life, the lively feel of time, history, and place. In Thomas Hart Benton, Wolff has found an ideal vehicle to document and dramatize the rapid changes that in a mere lifetime shaped the perception of an American art. This is an engaging, exemplary biography." —Stuart Dybek, author of The Coast of Chicago

"Justin Wolff's elegant life of the famously belligerent Thomas Hart Benton should be the last word on the subject. This is a fine portrait of the artist in his time—witty, scrupulous, and shrewd." —Ward Just, author of An Unfinished Season

"A marvelously thoughtful and graceful portrait of an artist who was thoughtless and graceless—albeit brilliant. Justin Wolff sees past the bluster of Benton's public image and into the heart of a complex and compelling figure whose vision helped define the can-do spirit of America in the first half of the twentieth century." —Deborah Solomon, author of Utopia Parkway: The Life and Work of Joseph Cornell

"Despite his cantankerous personality and, later, his unfashionable, often repellent views, Thomas Hart Benton was a central figure in American art in the late 1920s and 1930s. Justin Wolff's captivating biography offers a vivid account of his Midwestern roots; his long apprenticeship in Paris and New York; his influences, ideas, controversies, and friendships; and the circumstances that contributed to his great early murals. This is an engrossing story of a difficult man and an embattled artist who emerged as our most energetic, idiosyncratic figurative painter." —Morris Dickstein, author of Dancing in the Dark: A Cultural History of the Great Depression

"Justin Wolff's splendid new biography of Thomas Hart Benton is a brilliant act of artistic restoration. Wolff strips away years of caricature, legend, and neglect to reveal the sweep of his artistic life, from his youth as the misfit scion of a famed political family to his years as a Depression-era artist in New York City playing folk music with Jackson Pollock. Wolff's Benton is vibrant, contradictory, and, in our own era of partisan strife, startlingly contemporary. Thomas Hart Benton is a monumental achievement and a joy to read." —Whitney Terrell, author of The King of Kings County

"Justin Wolff has rendered a thoughtful, meticulously composed portrait of a notoriously difficult subject—a man whose life and relationships were every bit as dynamic as the murals that earned Benton fame. Untangling the contradictory elements of Benton's politics and persona, Wolff manages also to capture the complexity of the places and periods that shaped his work. Thomas Hart Benton is an impressive, and welcome, contribution to American cultural history." —R. Tripp Evans, author of Grant Wood: A Life

"The outspoken and contradictory Thomas Hart Benton gets his due in this new biography. With admirable clarity, Justin Wolff illuminates the populism of Benton's art and the painter's pugnacious stance toward other artists, museums, and the aesthetics of abstraction." —Wanda M. Corn, author of The Great American Thing: Modern Art and National Identity, 1915–1935
Advertisement