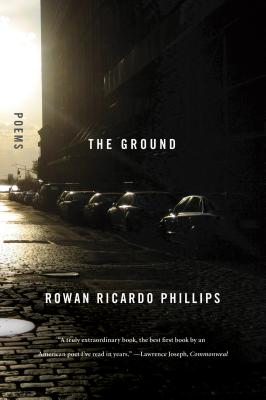 The Ground
Poems
Paperback

* Individual store prices may vary.
Description
A masterful debut from a powerfully original poetic voice
A poignant and terse vision of New York City unfolds in Rowan Ricardo Phillips's debut book of poetry. A work of rare beauty and grace, The Ground is an entire world, drawn and revealed through contemplation of the post-9/11 landscape. With musicality and precision of thought, Phillips's poems limn the troubadour's journey in an increasingly surreal modern world ("I plugged my poem into a manhole cover / That flamed into the first guitar"). The origin of mankind, the origin of the self, the self's development in the sensuous world, and––in both a literal and a figurative sense––the end of all things sing through Phillips's supple and idiosyncratic poems. The poet's subtle formal sophistication—somewhere between flair and restraint—and sense of lyric possibility bring together the hard glint of the contemporary world and the eroded permanence of the archaic one through remixes, underground sessions, Spenserian stanzas, myths, and revamped translations. These are poems of fiery intelligence, inescapable music, and metaphysical splendor that concern themselves with lived life and the life of the imagination––both equally vivid and true––as they lay the framework for Phillips's meditations on our connection to and estrangement from the natural world.
Praise For The Ground: Poems…
"Remixing myths, poetic forms, and defining moments in imperial history, Phillips poses questions about will and desire, domination and mutuality, mortmain and futurity that can only be answered by the negative capability of poetic language . . . Drawing from a decade of publication, Phillips's Ground signals the arrival of a major voice that will not submit to its inheritance or mimic the integrity of any but itself." —Heather Treseler, Harvard Review Online
"Louis Zukofsky wrote that 'the test of poetry is the range of pleasure it affords as sight, sound, and intellectuion.' 'Tonight,' the first poem in Rowan Ricardo Phillips's The Ground, easily passes the test. Its range of pleasures is wide . . . Like great poems, great books of poetry also achieve a continual growth of meaning. But the third poem in The Ground, the reader is aware that Phillips is engaged in the act of composing a book . . . Phillips's acute sense of the poet as an outsider--one who writes from what is essentially a position of critique--is an integral part of The Ground. The book is grounded not only on a brilliant sense of what the art of American poetry is today, but also on dazzling, totally original combinations of language and form, geography and autobiography, history, myth, and religion . . . A truly extraordinary book, the best first book by an American poet I've read in years." —Lawrence Joseph, Commonweal
"More like beach stones than gems, these poems are elegant, elegiac, and perfectly formed. In them, the moon can bruise, a man can stand on sound, and even beginnings need cures. Phillips can seal the promise of a story into a single sentence ('For once, I slept and you watched.') and compress sentences into images ('Talking picture. Silent poem.') . . . The Ground is poetry at its most potent, itself a celebration of the genre." —Liv Lansdale, Guernica
"This lyrical and richly allusive debut is in large part a meditative elegy for New York City in the aftermath of the September 11 attacks, but it's also restitution for losses the city has endured. 'I plugged my poem into a manhole cover,' begins 'Terra Incognita,' 'and made from where there once was/ Ground a sound instead to stand on.' To this end, we get the bluesy 'Song of Fulton and Gold,' which memorializes the towers' fall ('The eye seeking home/ has to lower/ lower/ lower') and the terrorized 'A Vision through the Smoke' ('No I I knew could clear the clouding mirror'). Yet much of the book's brilliance derives from gleeful bounding through literary history (echoes of Stevens are particularly audible) into a successful pastiche of scholarly erudition and pop culture carnivalesque. 'Purgatorio, XXVI: 135–148' slides from standard English that recalls Dante's tercets into Bob Marley's Rasta argot ('But I nah know ting bout dem but what I sing'). 'Apocalypse with Sasquatch' imagines a ruined metropolis in language redolent of Milton and in which a yeti speaks 'from the last penthouse window/ Of the crumbling co-op facing flowering Abingdon Square.' When the poems leave New York for other cities--St. Petersburg, Stockholm, Barcelona--they slow and breath more quietly, as if liberated." —Publisher's Weekly
"Writing about place is like writing about love: everyone has done it, but few can do it well. The task is made all the more daunting when the place in question is New York City, surely one of the most revisited locales in the poetic canon. Phillips (English, Stony Brook Univ.; When Blackness Rhymes with Blackness) is one of the blessed few who writes about a place as if he were writing about a lover. He does not present readers with a romanticized Big Apple or a postmodern vision of a dystopian megalopolis; instead, he affords the beautiful and the ugly equal attention, knowing that an intimate connection to place requires one to honor all aspects of it. One of this collection's most remarkable facets is Phillips's treatment of New York as a setting rather than a subject. Using a surreal line infused with music, he makes New York a force of nature, as impossible to ignore as the weather. VERDICT This debut poetry collection will appeal to a range of readers, including current and former New Yorkers, who will feel at home in its pages." —Chris Pusateri, Library Journal
"Rowan Ricardo Philips, with his first book The Ground, proves to be a master of the art. He can be visceral; he can be ethereal; he is original. All this comes from the collective power of knowing his literary antecedents and using this to find his own identity. As he finds his, we find ours because poetry articulates our needs and saves our losses. The creative life has to do with freedom but it also has to do with mechanisms. Rowan Ricardo Philips has his hand on poetic form surely but lightly and this is something that cannot be taught. His risks with the unknown (that come from knowing) coincide with respect for the past. The result is experimentation with graphic clarity." —Grace Cavalieri, The Washington Independent Review of Books
"'I had become / The injurer who makes things golden,' writes Rowan Ricardo Phillips in this elegant debut collection. His is a world steeped in history and myth, both classical and urban, and his voice is almost exotic in its marriage of the formal with the demotic. Though Orpheus, Apollo, Eurydice inhabit these poems, the most prominent presence is the spirit of New York--its gold and mist and din, its injury, its beauty." —Lucie Brock-Broido
"The Ground is a strong achievement that will secure Rowan Ricardo Phillips a place on the map of American poetry. Like all good poets, he writes from a zone of his own creation, mixing the traditions of his West Indian ancestry with American poetry. His poems have a calm, metaphysical colloquialism with tragedy at their center. Love, death, and human frailty may yoke us to violence, but Phillips is interested--like Emerson--in the idea of survival. He is a hopeful poet, a rising star." —Henri Cole
"The ground in Rowan Ricardo Phillips's debut collection is constantly shifting, highly unstable. It is Ground Zero, Tribeca, Harlem, the West Indies, and Barcelona, among other places; it is physical and metaphysical, geographical, metaphorical, and, at times, mythical. Phillips's aesthetic locations, his acknowledged and perceivable influences, are equally multifarious. The poems in The Ground carry the authoritative descriptions and rhythms of Walcott, the philosophical and symbolic flights of Stevens, the subtle humor and cosmopolitanism of Dove, but in a language whose musical blend of the contemporary and the timeless is all Phillips's own. These poems assert cycles--they repeat, recur, and return--but where we end up is not where we started. They give us 'where there once was / Ground a sound instead to stand on.'" —Evie Shockley
"Rowan Ricardo Phillips' debut collection The Ground marks the arrival of a virtuoso poetic voice. From New York in the often surreal aftermath of 9/11, to the deep underworlds of ancient mythology, to the trans-continental heritage and childhood of Phillips himself, these are poems with a restless agility that make the terrain beneath your feet more mysterious." —Granta
Farrar, Straus and Giroux, 9780374533847, 96pp.
Publication Date: June 4, 2013
About the Author
Rowan Ricardo Phillips is the author of Heaven (FSG, 2015) and The Ground (FSG, 2012). He is the recipient of a a Whiting Writers' Award, the PEN/Joyce Osterweil Award, and the GLCA New Writers Award for Poetry, and a Guggenheim Fellowship. He lives in New York City.