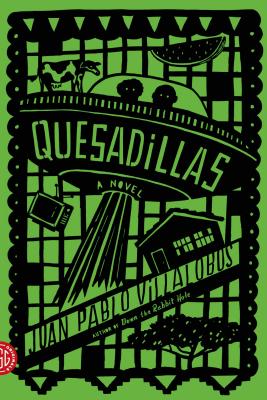 Quesadillas
A Novel
Paperback

* Individual store prices may vary.
Description
A brilliant new comic novel from "a linguistic virtuoso" (José Antonio Aguado, Diari de Terrassa)



It's the 1980s in Lagos de Moreno—a town where there are more cows than people, and more priests than cows—and a poor family struggles to overcome the bizarre dangers of living in Mexico. The father, a high-school civics teacher, insists on practicing and teaching the art of the insult, while the mother prepares hundreds of quesadillas to serve to their numerous progeny: Aristotle, Orestes, Archilochus, Callimachus, Electra, Castor, and Pollux. Confined to their home, the family bears witness to the revolt against the Institutional Revolutionary Party and their umpteenth electoral fraud. This political upheaval is only the beginning of Orestes's adventures and his uproarious crusade against the boredom of rustic life and the tyranny of his older brother.
Both profoundly moving and wildly funny, Mexican author Juan Pablo Villalobos's Quesadillas is a satiric masterpiece, chock-full of inseminated cows, Polish immigrants, religious pilgrims, alien spacecraft, psychedelic watermelons, and many, many "your mama" insults.
Praise For Quesadillas: A Novel…
"Villalobos is one tablespoon Eugene Ionesco, desperately but hopefully advocating nihilism; a dash of Harold Pinter, catapulting his characters into oblivion; and a pinch of Suzan Lori-Parks, igniting political allegory with sibling rivalry . . . Pure fantastical rapture." —Julie Morse, The Rumpus

"Quesadillas is fast-paced and colloquial; it is troubling and funny all at once . . . Quesadillas is an unusual and important novel that deserves to be read." —Arthur Dixon, World Literature Today

"Mr. Villalobos's novels are short, dark, comic, ribald and surreal. They aren't so much manic-depressive as they are, to borrow Delmore Schwartz's phrasing, manic-impressive. This writer stares down serious issues--poverty, class, systemic violence--and doesn't analyze them so much as sneeze all over them . . . It's all delicious, and resonant." —Dwight Garner, The New York Times Book Review

"[A] vibrant, comic novel." —Leigh Newman, Oprah.com

"A wildly funny farce that's also surprisingly moving." —BookPage

"Wonderful . . . This is a rich book--an inflationary quesadilla, overflowing with cheese." —Benjamin Rybeck, Three Guys One Book

"It's a trick to use the f-word three times in a novel's first sentence and still be as charming and disarming as Juan Pablo Villalobos manages to be in the delightful Quesadillas. . . Quesadillas is frequently laugh-out-loud funny." —Nick DiMartino, Shelf Awareness

"If you haven't expanded your horizons by reading literature from around the globe in 2014, Juan Pablo Villalobos, the Mexican-born writer living in Brazil, might be your best place to start." —Jason Diamond, Flavorwire

"Quesadillas . . . does for magic realism what Down the Rabbit Hole did for 'narco-literature' . . . The high-keyed domestic comedy is enjoyable for its own sake, but provides cover for a satirical assault on the mendacity of Mexican politics." —Alfred Hickling, The Guardian

"Riotous . . . Villalobos has inaugurated a new kind of avant-garde novel, one whose grasp of certain dehumanizing political realities never erodes the power to dream something better." —Kirkus (starred review)
FSG Originals, 9780374533953, 192pp.
Publication Date: February 11, 2014
About the Author
Juan Pablo Villalobos was born in Guadalajara, Mexico, in 1973. He studied marketing and Spanish literature. He has researched such diverse topics as the influence of the avant-garde on the work of César Aira and the flexibility of pipelines for electrical installations. He is the author of books including Down the Rabbit Hole and Quesadillas. He lives in Barcelona, Spain.
or
Not Currently Available for Direct Purchase