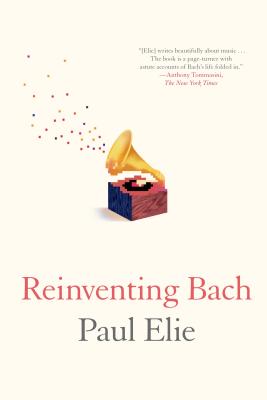 Reinventing Bach
Paperback

* Individual store prices may vary.
Other Editions of This Title:
Hardcover (9/18/2012)
Description
The story of a revolution in classical music and technology, told through a century of recordings of the music of Johann Sebastian Bach
In Reinventing Bach, his remarkable second book, Paul Elie tells the electrifying story of how musicians of genius have made Bach's music new in our time, at once restoring Bach as a universally revered composer and revolutionizing the ways that music figures into our lives.
As a musician in eighteenth-century Germany, Bach was on the technological frontier—restoring organs, inventing instruments, and perfecting the tuning system still in use today. Two centuries later, pioneering musicians began to take advantage of breakthroughs in audio recording to make Bach's music the sound of modern transcendence. The sainted organist Albert Schweitzer played to a mobile recording unit set up at London's Church of All Hallows in order to spread Bach's organ works to the world beyond the churches. Pablo Casals, recording at Abbey Road Studios, made Bach's cello suites existentialism for the living room; Leopold Stokowski and Walt Disney, with Fantasia, made Bach the sound of children's playtime and Hollywood grandeur alike. Glenn Gould's Goldberg Variations opened and closed the LP era and made Bach the byword for postwar cool; and Yo-Yo Ma has brought Bach into the digital present, where computers and smartphones put the sound of Bach all around us. In this book we see these musicians and dozens of others searching, experimenting, and collaborating with one another in the service of Bach, who emerges as the very image of the spiritualized, technically savvy artist.
Reinventing Bach is a gorgeously written story of music, invention, and human passion—and a story with special relevance in our time, for it shows that great things can happen when high art meets new technology.
Praise For Reinventing Bach…
"This intelligent, wide-ranging book brings Bach's eternal music into conjunction with the forces of history. Paul Elie makes us realize how even great music, if it is to last over time, must change in order to stay the same." —Wendy Lesser
"By juxtaposing the LP and the iPod, Elie reminds us of how technology has democratized and universalized Bach . . . Elie has many strengths and strands: detailed and beautifully described moments of listening, engagingly narrated summaries of scholarship, alert attention to telling facts, and a loving knowledge of many different kinds of music, including Robert Johnson and Led Zeppelin. There's plenty of audiophile information--wax cylinder, recording, mono, stereo, different kinds of tape, 78s, long-playing records, CD's, iPods--and a lot on the placement of microphones. Wearing his learning lightly (with wonderful endnotes as a ground), Elie is polyphonic and contrapuntal . . . Elie's book is held together by chain of voices following one other as they make an entrance, step back, overlap, and enter again to reveal a new aspect against the changing conversation: Schweitzer to Casals to Stokowski to Gould to Ma. Other voices too move in and out, filling out the progressions: Tureck, Schoenberg, Einstein, Jobs, even the musically fantastic Mickey Mouse. The voice hovering over all is Elie's own, modest, serious, attuned to the whole . . . It is a pleasure to read such a serious and inventive book on Bach, and that's saying something." —Alexandra Mullen, Barnes and Noble Review
"Thoughtful and elegant . . . Elie remains throughout a thoughtful guide." —Guy Dammann, The Guardian
"In Reinventing Bach, Elie weaves . . . several lives together in order to make an effective case that Bach's music, like all classical music, can never be 'played' exactly, with total fidelity to the source; fidelity isn't even the goal. Performed live, it has always been 'interpreted' by conductors, musicians, singers, and scholars. In other words, no one plays like anyone else, and everyone's interpretation is inflected by his or her time and character . . . Recording technology is also what makes Elie's story about more than the interpretation and reinterpretation of musical compositions by Bach . . . Passing from shellac discs and the gramophone through LPs, cassette tapes, compressed digital files, YouTube, and smartphones, Elie assembles a satisfying history of audio recording that's as concerned with reasonable explanations of how vacuum tubes work and how to splice tape as it is with a tour of Abbey Road Studios and a description of Glenn Gould's trusty 'wood-framed, slender-legged' folding chair . . . Conventional wisdom suggests that as a result 'our lives are half-lives, our experience mediated, and so diminished, by technology.' What holds this new book together is Elie's belief--and here I'm tempted to call it a religious belief--that, 'to this conviction, the recorded music of Bach is contrary testimony. It defies the argument that experience mediated through technology is a diminished thing.' Our lives are whole lives--a modern reality that recordings of Bach make obvious . . . Having arrived at the end of a several year journey, 'touching the keys again and again with the ten digits of my two hands,' he writes, 'putting one word after another in the hope that a couple hundred thousand of them, mastered and sequenced, will amount to a kind of music,' Elie completes what he calls a 'spirituality of technology': his very own reinvention of Bach." —Scott Korb, The Los Angeles Review of Books
"From the stately 'Sheep Shall Safely Graze' and the solemn St. Matthew Passion to the wildly exuberant Fantasia and Gould's Goldberg Variations, the music of Bach often serves as a listener's introduction to classical music. In this brilliant and passionate appreciation, Elie (The Life You Save May Be Your Own) offers not only a brief biography of the great musician but an exceptional study of the ways that numerous musicians have rendered Bach's music through the years through various technologies. Bach's music has been interpreted to suit new inventions, from the 78-rpm record, the LP, and headphones and Walkman to the compact disc and digital file. These inventions have taken the music into new contexts, from the living room to the open road to outer space (Voyager carried a recording of the first prelude of book one of The Well-Tempered Clavier). Bach himself was an inventor, fashioning a new musical instrument, the lautenwerk, or lute-harpsichord, and composing "Inventions," short, tight keyboard pieces. Elie devotes chapters to various artists who used the technologies of their time to reconsider Bach and introduce his music to a new audience. The famed medical missionary Albert Schweitzer, for example, was also an accomplished organist whose biography of Bach as well as his recordings of Bach's Fugue in D Minor on wax-cylinder recordings introduced Bach's music to a world beyond the church. Pablo Casals recorded Bach's cello suites on 78-rpm record albums, bringing Bach into living rooms everywhere. Reading Elie's stately and gorgeous prose is much like losing oneself in Glenn Gould's Goldberg Variations, for his study convincingly demonstrates that the music of Bach is the most persuasive rendering of transcendence there is." —Publishers Weekly (starred review)
"The author of The Life You Save May Be Your Own (2003) returns with a tour de force about Johann Sebastian Bach and a description and assessment of the recordings that have made his work an essential part of our culture. Elie, a former senior editor with FSG and now a senior fellow at Georgetown University's Berkley Center for Religion, Peace, and World Affairs, tells a polyphonic tale, weaving throughout his narrative a history of the recording industry and brisk biographies of Bach and the 20th-century performers who first recorded his work for mass audiences, including Albert Schweitzer, Leopold Stokowski, Pablo Casals and Glenn Gould. The author begins with a snapshot of Bach's pervasive presence today, then takes us back to 1935 and Schweitzer's recordings of Bach's organ works on wax cylinders. Throughout the text, Elie moves us forward in the history of technology--from 78s to LPs to tapes to CDs to MP3s, showing how Bach managed to remain relevant. We also follow the careers of his principals; Elie's treatment of the talented and troubled Gould is especially sensitive and enlightening. Occasionally, the author enters the narrative for a personal connection, perhaps nowhere more affectingly than in his account of the time he danced in the rain on the Tanglewood grass while Yo-Yo Ma played a Bach cello suite. Elie also tells us how other cultural figures have employed the music and the man--e.g., Douglas Hofstadter's 1979 book Gödel, Escher, Bach, the 1968 album Switched-On Bach and the use of Bach in films and on TV. The author's passion, thorough research and imaginative heart produce one revelation after another." —Kirkus (starred review)
"Fascinating and engagingly written, [Reinventing Bach] emphasizes that Bach--whose greatness as a composer, for Mr. Elie, is 'total and inviolable'--was also a pioneer of technology: not just a master organist but a master organ builder and repairer; a theoretician who investigated the possibilities of a tuning system that changed the way music sounds and is still in use; a composer who embraced the art of transcription and would not have minded at all, and maybe anticipated, that his pieces would one day be reconceived for Moog synthesizers and small ensembles of swinging, scatting singers . . . [Elie] writes beautifully about music . . . the book is a page-turner with astute accounts of Bach's life folded in." —Anthony Tommasini, The New York Times
"[Reinventing Bach is] erudite, poetic and occasionally provocative . . . Elie, an author and editor, is the kind of listener-enthusiast who once rode a train from New York to Durham, N.C., with no other company than a multidisc set of the St. Matthew Passion and an album by B.B. King. And his enthusiasm is catching." —Bill Marvel, The Dallas Morning News
"[Reinventing Bach] is structured around a well-informed and empathetic biography of Bach, intercut with lively accounts of five pioneering performers who made famous Bach recordings: Albert Schweitzer, Pablo Casals, Leopold Stokowski, Glenn Gould and Yo-Yo Ma. Linking them through their love of Bach is intriguing, even if in other respects they are slightly strange bedfellows. Elie interweaves their stories, cutting-and-pasting them into a vivid mosaic, though his sudden juxtapositions can be as jarring as they are stimulating. Elie is an acute and passionate listener, writing sensitively about music's impact on him." —Susan Tomes, The Independent
"Paul Elie's passionate and grand book . . . is a weave of stories, emulating the play of voices in Bach's music . . . Elie places a lot of faith in recordings, and writes wonderfully about their power and their atmosphere." —Jeremy Denk, New Republic
"[Reinventing Bach] is an . . . ultimately impressive testimony to Bach's power to speak to successive generations." —The New Yorker
"An appreciation of Bach that is both impassioned and subtle." —Ivan Hewett, Reinventing Bach
"Paul Elie's new book on Johann Sebastian Bach is a wonderful piece of writing that's hard to categorize: a biography of Johann Sebastian Bach, a history of recorded sound, an analysis of Bach's interpreters over the years, and a virtuoso attempt to explain why Bach is simply the greatest composer of all time . . . None of these descriptions does justice to Elie's Reinventing Bach, which is written like a great piece of music--with its own rhythm, counterpoint, moments of deep reflection, and spectacular flourishes of verbal dexterity. Elie . . . accomplishes all this by following the classic advice to writers: show, don't tell . . . Elie's felicitous word choices make this compendium consistently entertaining . . . Through all these recordings, as he notes, 'the dead continue to speak,' and Elie's book has brought the composer and his interpreters brilliantly alive." —Melinda Bargreen, The Seattle Times
"[Reinventing Bach] is a book of epic sweep, like a novel made up of multiple strands . . . Elie deploys considerable scholarship . . . and he writes beautifully. He makes a strong case that within less than a century a succession of new recording media . . . have brought Bach's music, in multiple versions, to vast numbers of new listeners at the press of a button. It is a luxury previously unavailable even to princes, who in order to enjoy live performances had to employ entire orchestras. Recording technology has made a monarch of everyone. A chapter or two into the book, you will find yourself reaching out for your 'Goldberg Variations.'" —The Economist
"Confident and informative, unafraid to judge but never polemical, Elie's big book shows how, and asks why, Bach's works have been so valuable, and so adaptable . . . Elie gives fluent force to Bach's biography . . . You can learn a great deal of music history--and of other history: the wars of religion, the civil war in Spain, the history of television--from Elie, but he has not simply told good stories. Instead, he uses these stories (including Bach's own) to make his own always attentive and sometimes exultant claims about how Bach's compositions work, and about what great performers have done with and for them . . . Elie's 'gratitude for the music of Bach' (as he puts it), and his attention to others' gratitude, has an inevitable spiritual cast, one consonant with Bach's writings and with Bach's life: if this music, so "manifestly a source of transcendence," does not require us to thank a Creator, its power and its persistence can make us feel glad and grateful nevertheless." —Stephen Burt, National Book Critics Circle
"Reinventing Bach is a curious and wonderful book, delightful and challenging at the same time. Among musicologists and classical music lovers, Johann Sebastian Bach's place in the canon of western music is secure, but what Paul Elie demonstrates is that Bach has a place much bigger than that . . . [Elie's prose] is cognate with the musical forms and procedures that Bach used in his own creative and very personal vein. At the end of Reinventing Bach Elie says, '...our experience of the [Bach] recordings, as the recorded life of Bach reveals, has made us fluent in the practices that traditions of the spirit prize: scrutiny of the past, communication across the ages, a reluctance to judge by appearances, and the recognition that the dead continue to speak and the sounds they make, amplified right, are a kind of music.'
This is the meaning of this curiously inventive book, a book that performs a literary counterpoint among the various stories that the author tells to enlighten our hearts and minds with the depth and spirituality of the music of Bach-but not only that. The author imitates in his craft that spirit of invention that he carefully shows characterized the music of the great master. It takes some time before the reader understands why in any deep way the personalities he chooses and their stories are allowed to invade this life of Bach, but eventually the literary invention becomes clear. It is a vehicle to engage the invention of Bach himself. The book itself is not about only the music of J. S. Bach and the effect of his music through the centuries since his death. The book is also a narrative of the technology of recording and how various well-known musicians contributed in astounding ways to the historical narrative around that technology that we usually take for granted . . . [works] are woven into the narrative, but Elie often gives interpretation and commentary that is usually spot on . . .The kaleidoscopic perspective of this book is thrilling and very satisfying." —T. Frank Kennedy, S.J., America Magazine
"Elie . . . has the ability to weave together many small stories to narrate a big story . . . Elie's narrative is like a well-crafted oratorio." —Christian Century
Farrar, Straus and Giroux, 9780374534042, 512pp.
Publication Date: September 17, 2013
About the Author
Paul Elie, for many years a senior editor with FSG, is now a senior fellow with Georgetown University's Berkley Center for Religion, Peace, and World Affairs. His first book, The Life You Save May Be Your Own, received the PEN/Martha Albrand Prize and was a National Book Critics Circle award finalist in 2003. He lives in New York City.