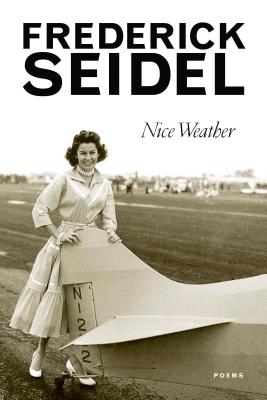 Nice Weather (Paperback)
Poems
Farrar, Straus and Giroux, 9780374534059, 112pp.
Publication Date: September 10, 2013
Other Editions of This Title:
Hardcover (9/4/2012)
* Individual store prices may vary.
Description
A stunning new collection from the "beguiling and magisterial" poet (The New York Times Book Review)

"Something is going on. Something is wrong."
Frederick Seidel—the "ghoul" (Chicago Review), the "triumphant outsider" (Contemporary Poetry Review)—returns with a dangerous new collection of poems. Nice Weather presents the sexual and political themes that have long preoccupied Seidel—and thrilled and offended his readers. Lyrical, grotesque, elegiac, this book adds new music and menace to his masterful body of work.
About the Author
Frederick Seidel's books of poems include Final Solutions; Sunrise, winner of the Lamont Prize and the 1980 National Book Critics Circle Award; These Days; My Tokyo; Going Fast; The Cosmos Poems; Life on Earth; Ooga-Booga; and Poems 1959-2009.
Praise For Nice Weather: Poems…
"There is no contemporary poet writing in English as witty, as shrewd, as touching and as debonair as Frederick Seidel. That's a lot of praise, but he surely merits it . . . [His] is the best kind of flippancy, informed by melancholy, anger at the technological wizardry more potent than faith, and a sense--echoed throughout the collection--of the imminence of death . . . If Seidel resembles anyone, it is Frank O'Hara, who died as a result of an absurd accident on the beach at Fire Island while still a young man. O'Hara was gay and Seidel is most decidedly not, but they both appear to be living in, and for, the moment as they explore the delights and horrors of New York City. I love the pair of them, especially for their refusal to indulge in vain pedantry or seriousness too solemn to account for the daily comedy of our lives." —Paul Bailey, The Independent
"[Seidel's] use of expressive language to describe grotesque scenes adds a certain lyrical menace to his established body of work . . . In the opening poem, 'Night,' Seidel writes 'Something is going on. Something is wrong,' as vignettes of a night in the city unfold. Indeed, Nice Weather is an eloquent exploration of the 'cruel, corrupt, horrifying' topics that plague Seidel's mind. Heralded by The New York Times as a 'triumphant outsider in American poetry,' Seidel's latest release makes for a riveting reading experience, filled with witty social criticisms and eloquent reflections." —Malibu Magazine
"In all his work, Seidel remains a larger than life figure, full of vice, menace, and power, and capable of uttering the most shocking thoughts. He writes with the same risky power as John Berryman and Sylvia Plath in their confessional poems. Berryman, however, wrote of his inner torments by inventing a surrogate named Henry, while Plath incarnated herself in a series of voracious, quasi-mythical speakers. Seidel, by writing under his own name yet predicating such impossible and scandalous things of himself, raises the stakes of confessional poetry to a new level . . . His new collection, Nice Weather, out this week from Farrar, Straus and Giroux, betrays no falling off in daring or up-to-the-moment engagement . . . What is new is the sense, pervasive in Nice Weather, that he is coming to the end of his life and, what may be worse, of his potency. Like the late work of Robert Lowell, Nice Weather confronts these losses with a combination of nostalgic resignation and fierce defiance . . . The most moving poems in Nice Weather, however, are those in which Seidel reflects on his artistic accomplishment and how it weighs in the balance with death. At times he is cynical and dismissive . . . In other poems, he seems to regret the way the persona he has constructed in his work will replace him in the world after he disappears . . . But it is not for a writer like Seidel to ask for the reader's pity. He remains, even now, a poet of wonderful fearlessness and daring, and he deserves to be remembered as the transgressive adventurer he is: 'A Jew found frozen on the mountain at the howling summit,/ Immortally preserved singing to the dying planet from it.'" —Adam Kirsch, Tablet Magazine
"The most frightening American poet ever--phallus-man, hangman of political barbarism--Seidel is the poet the twentieth century deserved." —Calvin Bedient, Boston Review on Frederick Seidel
"[Seidel is] a carnivore if not a cannibal in the blandly vegan compound of contemporary poetry . . . Thank God for Fred Seidel." —Michael Hofmann, Poetry on Frederick Seidel
"There had never been a poet like this one before: the poet of a new contemporary form, a highlight reel--one spectacular feat after another, with all the humdrum stuff spliced out." —Dan Chiasson, The New York Review of Books on Frederick Seidel
"Frederick Seidel, for fifty years and across ten collections, has been writing our most serious, beautiful, and essential poems, poems that are shocking in their art and astonishing in their truth, and that remind us, in their forms, why poetry was once a vital part of cultural life." —Wyatt Mason, Harper's Magazine on Frederick Seidel
"In the desert of contemporary American poetry, Frederick Seidel's work awaits the weary reader like an oasis." —James Lasdun, The Guardian
or
Not Currently Available for Direct Purchase