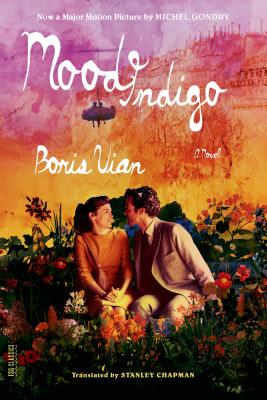 Mood Indigo (Paperback)
A Novel (FSG Classics)
Farrar, Straus and Giroux, 9780374534226, 224pp.
Publication Date: June 24, 2014
* Individual store prices may vary.
Description
The basis of the new major movie from Michel Gondry, starring Audrey Tautou, the beloved French modern classic hailed as "the most poignant love story of our time" by Raymond Queneau

The story is simple: Boy meets girl; boy marries girl; girl falls ill on their honeymoon with a water lily on the lung, which can only be treated by being surrounded by flowers; boy goes broke desperately trying to keep his true love alive.
First published in 1947, Mood Indigo perfectly captures the feverishly creative, melancholy romance of mid-century Saint-Germain-des-Prés. Recently voted number ten on Le Monde's list of the 100 Books of the Century (the top ten also included works by Camus, Proust, Kafka, Hemingway, and Steinbeck), Boris Vian's novel has been an icon of French literature for fifty years—the avant-garde, populist masterpiece by one of twentieth-century Paris's most intriguing cultural figures, a touchstone for generations of revolutionary young people, a jazz-fueled, science-fiction-infused, sexy, fantastical, nouveau-decadent tear-jerker that has charmed and beguiled hundreds of thousands of readers around the world. With the help of Michel Gondry and Audrey Tautou, it is set to seduce many, many more.
About the Author
Boris Vian was a novelist (Mood Indigo), poet, jazz trumpeter, singer, translator, critic, actor, inventor, and engineer. He was the emblematic figure of the postwar Paris cultural milieu: friend to Camus, de Beauvoir, and Sartre (until Sartre seduced his wife); the Parisian champion of Duke Ellington and Miles Davis; the inspiration for and mentor to Serge Gainsbourg; the French translator of Raymond Chandler. Vian, who had suffered a pulmonary edema in 1956, died of cardiac arrest in 1959, at age thirty-nine, during a screening of a Hollywood adaptation of one of his novels, outraged at the American interpretation of his novel, set in America, where he had never been. His last words were reportedly: "These guys are supposed to be American? My ass!"

Stanley Chapman was a British architect, designer, writer, and translator, most notably of Vian (Mood Indigo) and Raymond Queneau. He was the founder of Outrapo and a member of Oulipo, the Collège de 'Pataphysique (of which Vian was also a member), and the Lewis Carroll Society. He died in 2009.
Praise For Mood Indigo: A Novel (FSG Classics)…
"This is a great novel . . . Your heart will be broken. You will be confused and confounded. You will laugh aloud. And at least for a time, however hard you try, your own world will refuse to be what you think it is." —James Sallis, author of Drive, in the Los Angeles Times Book Review