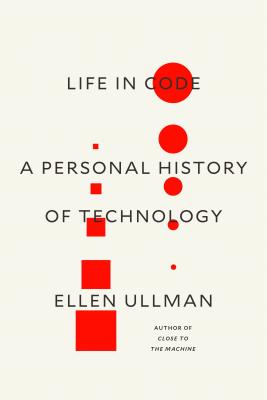 Life in Code
A Personal History of Technology
Hardcover

* Individual store prices may vary.
Other Editions of This Title:
Digital Audiobook (8/7/2017)
Paperback (8/7/2018)
Description
Named one of the best books of 2017 by The New York Times Book Review, GQ, Slate, San Francisco Chronicle, Bookforum, and Kirkus

The never-more-necessary return of one of our most vital and eloquent voices on technology and culture, the author of the seminal Close to the Machine

The last twenty years have brought us the rise of the internet, the development of artificial intelligence, the ubiquity of once unimaginably powerful computers, and the thorough transformation of our economy and society. Through it all, Ellen Ullman lived and worked inside that rising culture of technology, and in Life in Code she tells the continuing story of the changes it wrought with a unique, expert perspective.

When Ellen Ullman moved to San Francisco in the early 1970s and went on to become a computer programmer, she was joining a small, idealistic, and almost exclusively male cadre that aspired to genuinely change the world. In 1997 Ullman wrote Close to the Machine, the now classic and still definitive account of life as a coder at the birth of what would be a sweeping technological, cultural, and financial revolution.

Twenty years later, the story Ullman recounts is neither one of unbridled triumph nor a nostalgic denial of progress. It is necessarily the story of digital technology's loss of innocence as it entered the cultural mainstream, and it is a personal reckoning with all that has changed, and so much that hasn't. Life in Code is an essential text toward our understanding of the last twenty years—and the next twenty.
Praise For Life in Code: A Personal History of Technology…
"This book is an original. It reads like a memoir, personal and compelling. But it's also a set of savvy reflections about the unfolding of digital culture as it became mainstream culture and we all learned to live with its aesthetic, values, and politics. Here, nothing about the inevitability or the virtue of these three are taken for granted. The question of our 'post-humanity' is tackled as just that, a question for human beings to discuss rather than a technical problem for programmers to dispense with. Life in Code will launch the most interesting conversations!" —Sherry Turkle, author of Alone Together and Reclaiming Conversation

"[Life in Code] manages to feel like both a prequel and a sequel to [Close to the Machine] . . . In addition to writing code in multiple computer languages, Ullman has an Ivy League degree in English and knows how to decode her tech-world adventures into accessible narratives for word people . . . The philosophical questions posed--like those on robotics and artificial intelligence-- . . . resonate." —J. D. Biersdorfer, The New York Times Book Review

"The fierce intelligence of Ellen Ullman's writing has reached cult-like status . . . What elevates [Ullman] and this new book, Life in Code, is its sense of timing . . . The book is remarkable in the way it illustrates how much has changed, but maybe more stunningly, how little has changed at all." —Kevin Nguyen, GQ.com

"Life in Code is a consummate insider's take, rich with local color and anecdotes . . . Ullman has a pure passion for computing that doesn't stop her from recognizing all the ways it can isolate and intimidate . . . Like all great writers, she finds the universal in the specific, mixing memoir with industry gossip . . ." —Leah Greenblatt, Entertainment Weekly

"What is most engaging about this collection is that Ullman, an expert in the field, allows readers access to sometimes highly technical material, never pandering to the most obvious topics. For example, she does talk about the struggles of women in tech, but doesn't generalize. It would be too simple, too expected to rehash that story line . . ." —Rebekah Miel, Bust

"Ullman is a rare breed . . . She offers a vivid, gripping window into what it is to be shaped by keyboard characters and machine . . . Ullman relishes tech's beauty while also fearing what it has created." —Jessica Bennett, Elle

"Ullman's takes on tech's gaines (iPhones, endless information) and drawbacks (decision paralysis, loneliness) are often witty and always accessible." —Real Simple

"Sharply written, politically charged . . . What Anthony Bourdain did for chefs, Ullman does for computer geeks." —Kirkus (starred review)

"Ullman maintains a healthy skepticism regarding the notion that technology will cure all that ails us . . . she brilliantly questions the computer's capacity for sentience." —Ben Segedin, Booklist

Praise for Ellen Ullman

"Ullman is that rare member of the coding tribe: a translator who deeply understands the world we live in and the worlds we build with software . . . Her insights are finely wrought, philosophical, and lasting." —Anna Wiener, The New Republic

"No one writes more eloquently than Ullman . . . about the peculiar mind-set of the people who create the digital tools we use every day." —Laura Miller, Salon

"Ellen Ullman writes unsparingly of the vivid, compelling, emotionally driven souls who gave us our new machines." —Geraldine Brooks, Pulitzer Prize-winning author of March

"[Ullman is] a strong woman standing up to, and facing down, 'obsolescence' in two different, particularly unforgiving worlds: modern technology and modern society." —J. D. Biersdorfer, The New York Times Book Review

"Ullman comes with her tech bona fides intact (she is, after all, a seasoned software engineer). But she also comes with novel material . . . We see the seduction at the heart of programming: embedded in the hijinks and hieroglyphics are the esoteric mysteries of the human mind." —Constance Hale, Wired
MCD, 9780374534516, 320pp.
Publication Date: August 8, 2017
About the Author
Ellen Ullman is the author of The Bug, a New York Times Notable Book and runner-up for the PEN/Hemingway Award, and the cult classic memoir Close to the Machine, based on her years as a rare female computer programmer in the early years of the personal computer era. She lives in San Francisco.