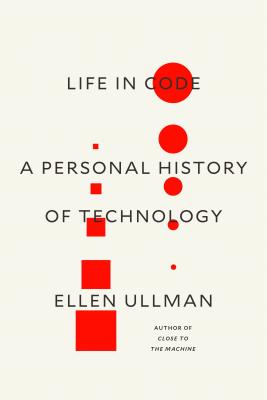 Life in Code: A Personal History of Technology (Hardcover)
A Personal History of Technology
MCD, 9780374534516, 320pp.
Publication Date: August 8, 2017
Description
The never-more-necessary return of one of our most vital and eloquent voices on technology and culture, from the author of the seminal Close to the Machine
When Ellen Ullman moved to San Francisco and became a computer programmer in the late 1970s, she was joining an idealistic, exclusive, and almost exclusively male cadre that had dreams and aspirations to change the world. In 1997 she wrote the now classic and still definitive account of life as a coder at the birth of what would be a sweeping technological, cultural, and financial revolution.
The intervening twenty years has seen, among other things, the rise of the Internet, the ubiquity of once unimaginably powerful computers, and the thorough transformation of our economy and society as Ullman's clique of socially awkward West Coast geeks became our new elite, elevated for and insulated by a technical mastery that few could achieve.
In Life in Code, her first book of nonfiction since Close to the Machine, Ullman unlocks and explains and does not always celebrate how we got to now, as only she can, with a fluency and expertise that's unusual in someone with her humanistic worldview, and with the sharp insight and personal storytelling that are uniquely her own. Life in Code is an essential text toward our understanding of the last twenty years and the next twenty.
About the Author
Ellen Ullman wrote her first computer program in 1978. She went on to have a twenty-year career as a programmer and software engineer. Her essays and books have become landmark works describing the social, emotional, and personal effects of technology. She is the author of two novels: By Blood, a New York Times Notable Book; and The Bug, a runner-up for the Pen/Hemingway Award. Her memoir, Close to the Machine, about her life as a software engineer during the internet's first rise, became a cult classic. Her new book, Life in Code: A Personal History of Technology, tells a continuing story of the technical world as she experienced it while living in its midst for more than two decades. She is based in San Francisco.
Advertisement