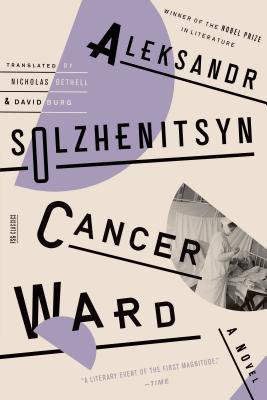 Cancer Ward (Paperback)
A Novel (FSG Classics)
Farrar, Straus and Giroux, 9780374534714, 544pp.
Publication Date: April 14, 2015
* Individual store prices may vary.
Description
The Russian Nobelist's semiautobiographical novel set in a Soviet cancer ward shortly after Stalin's death
One of the great allegorical masterpieces of world literature, Aleksandr Solzhenitsyn's Cancer Ward is both a deeply compassionate study of people facing terminal illness and a brilliant dissection of the cancerous Soviet police state.

Cancer Ward, which has been compared to the masterpiece of another Nobel Prize winner, The Magic Mountain by Thomas Mann, examines the relationship of a group of people in the cancer ward of a provincial Soviet hospital in 1955, two years after Stalin's death. While the experiences of the central character, Oleg Kostoglotov, closely reflect the author's own—Solzhenitsyn became a patient in a cancer ward in the mid-1950s, on his release from a labor camp, and later recovered—the patients, as a group, represent a remarkable cross section of contemporary Russian characters and attitudes, both under normal circumstances and then reexamined at the eleventh hour of illness. A seminal work from one of the most powerful voices in twentieth century literature, Cancer Ward offers an extraordinary portrait of life in the Soviet Union.
About the Author
Aleksandr Solzhenitsyn, winner of the 1970 Nobel Prize in Literature, was born in 1918. In February 1945, while he was captain of a reconnaissance battery of the Soviet Army, he was arrested and sentenced to an eight-year term in a labor camp and permanent internal exile, which was cut short by Khrushchev's reforms, allowing him to return from Kazakhstan to Central Russia in 1956. Although permitted to publish One Day in the Life of Ivan Denisovich in 1962—which remained his only full-length work to have appeared in his homeland until 1990—Solzhenitsyn was by 1969 expelled from the Writers' Union. The publication in the West of his other novels and, in particular, of The Gulag Archipelago, brought retaliation from the authorities. In 1974, Solzhenitsyn was arrested, stripped of his Soviet citizenship, and forcibly flown to Frankfurt. Solzhenitsyn and his wife and children moved to the United States in 1976. In September 1991, the Soviet government dismissed treason charges against him; Solzhenitsyn returned to Russia in 1994. He died in Moscow in 2008.
Praise For Cancer Ward: A Novel (FSG Classics)…
"A literary event of the first magnitude." —Time
"The most moving of Solzhenitsyn's novels." —Clifton Fadiman