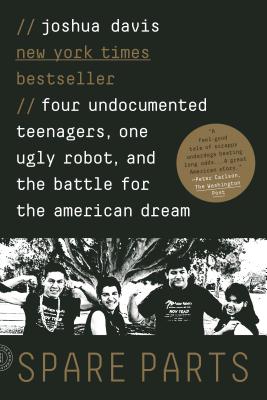 Spare Parts
Four Undocumented Teenagers, One Ugly Robot, and the Battle for the American Dream
Paperback

* Individual store prices may vary.
Other Editions of This Title:
Digital Audiobook (12/1/2014)
Prebound (12/2/2014)
Hardcover (12/2/2014)
Description
Finalist for the J. Anthony Lukas Book Prize

New York Times Best Seller

Four undocumented Mexican American students, two great teachers, one robot-building contest . . . and a major motion picture

In 2004, four Latino teenagers arrived at the Marine Advanced Technology Education Robotics Competition at the University of California, Santa Barbara. They were born in Mexico but raised in Phoenix, Arizona, where they attended an underfunded public high school. No one had ever suggested to Oscar, Cristian, Luis, or Lorenzo that they might amount to much—but two inspiring science teachers had convinced these impoverished, undocumented kids from the desert who had never even seen the ocean that they should try to build an underwater robot.

And build a robot they did. Their robot wasn't pretty, especially compared to those of the competition. They were going up against some of the best collegiate engineers in the country, including a team from MIT backed by a $10,000 grant from ExxonMobil. The Phoenix teenagers had scraped together less than $1,000 and built their robot out of scavenged parts. This was never a level competition—and yet, against all odds . . . they won!

But this is just the beginning for these four, whose story—which became a key inspiration to the DREAMers movement—will go on to include first-generation college graduations, deportation, bean-picking in Mexico, and service in Afghanistan.

Joshua Davis's Spare Parts is a story about overcoming insurmountable odds and four young men who proved they were among the most patriotic and talented Americans in this country—even as the country tried to kick them out.
Praise For Spare Parts: Four Undocumented Teenagers, One Ugly Robot, and the Battle for the American Dream…
"Perhaps the most gripping popular-science book I have read." —Noel Sharkey, Nature

"A great feel-good tale of scrappy underdogs beating long odds. But there's more to the story, and Spare Parts illuminates the human side of two polarizing political issues: immigration and education . . . Spare Parts is a delightful book . . . A great American story." —Peter Carlson, The Washington Post

"Spare Parts is an unforgettable tale of hope and human ingenuity. Against a backdrop of urban desert decay, a faltering school system, and our country's cutthroat immigration policies, Joshua Davis offers a moving testament to how teamwork, perseverance, and a few good teachers can lift up and empower even the humblest among us." —Héctor Tobar, author of Deep Down Dark

"It's the most American of stories: how determination and ingenuity can bring triumph over long odds. There are too few stories like these written about Latino students. Poignant and beautifully told, Spare Parts makes you feel their frustration at the obstacles and indignities faced by Cristian, Lorenzo, Luis, and Oscar--and to cheer as they rise to overcome each one of them. " —Sonia Nazario, author of Enrique's Journey

"Spare Parts is one of those rare stories that grabs hold and doesn't let go. It's hilarious, sad, and beautifully told. It will make you think hard about what it means to be American and where we will find the next generation of talent." —Chris Anderson, author of The Long Tail

"This is hands down my favorite kind of story: underdogs plus ingenuity plus pluck and dedication equals a deeply moving and touching narraitive. I love these kids!" —Adam Savage, cohost of MythBusterst

"This is important reading." —Booklist (starred review)
FSG Originals, 9780374534981, 240pp.
Publication Date: December 2, 2014
About the Author
Joshua Davis is a contributing editor at Wired, cofounder of Epic magazine, and the author of The Underdog, a memoir about his experiences as an arm wrestler, backward runner, and matador. In 2014, he was nominated for a National Magazine Award for feature writing. He has also written for The New Yorker and other periodicals, and his writing is anthologized in the 2012 edition of Best American Science and Nature Writing as well as in the 2006, 2007, and 2009 editions of Best Technology Writing. The movie Spare Parts is based on his reporting. He lives in San Francisco, California.