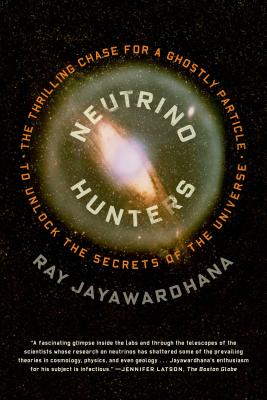 Neutrino Hunters
The Thrilling Chase for a Ghostly Particle to Unlock the Secrets of the Universe
Paperback

* Individual store prices may vary.
Other Editions of This Title:
Hardcover (12/10/2013)
Compact Disc (12/10/2013)
MP3 CD (12/10/2013)
Compact Disc (12/10/2013)
Description
Winner of the Canadian Science Writers Association 2014 Science in Society Book Award
A Publishers Weekly Top 10 Science Book of the Season
A Book to Watch Out For, The New Yorker's Page-Turner Blog
A Los Angeles Times Gift Guide Selection
One of the Best Physics Books of 2013, Cocktail Party Physics Blog, Scientific American

Detective thriller meets astrophysics in this adventure into neutrinos and the scientists who pursue them

The incredibly small bits of matter we call neutrinos may hold the secret to why antimatter is so rare, how mighty stars explode as supernovae, what the universe was like just seconds after the big bang, and even the inner workings of our own planet.

For more than eighty years, adventurous minds from around the world have been chasing these ghostly particles, trillions of which pass through our bodies every second. Extremely elusive and difficult to pin down, neutrinos are not unlike the brilliant and eccentric scientists who doggedly pursue them.

In Neutrino Hunters, the renowned astrophysicist and award-winning writer Ray Jayawardhana takes us on a thrilling journey into the shadowy world of neutrinos and the colorful lives of those who seek them. Demystifying particle science along the way, Jayawardhana tells a detective story with cosmic implications—interweaving tales of the sharp-witted theorist Wolfgang Pauli; the troubled genius Ettore Majorana; the harbinger of the atomic age Enrico Fermi; the notorious Cold War defector Bruno Pontecorvo; and the dynamic dream team of Marie and Pierre Curie. Then there are the scientists of today who have caught the neutrino bug, and whose experimental investigations stretch from a working nickel mine in Ontario to a long tunnel through a mountain in central Italy, from a nuclear waste site in New Mexico to a bay on the South China Sea, and from Olympic-size pools deep underground to a gigantic cube of Antarctic ice—called, naturally, IceCube.

As Jayawardhana recounts a captivating saga of scientific discovery and celebrates a glorious human quest, he reveals why the next decade of neutrino hunting will redefine how we think about physics, cosmology, and our lives on Earth.
Praise For Neutrino Hunters: The Thrilling Chase for a Ghostly Particle to Unlock the Secrets of the Universe…
"In this concise history, non-experts get a fascinating glimpse inside the labs and through the telescopes of the scientists whose research on neutrinos has shattered some of the prevailing theories in cosmology, physics, and even geology . . . Jayawardhana's enthusiasm for his subject is infectious." —Jennifer Latson, The Boston Globe

"An intriguing story, deftly told… with commendable brevity and clarity… comprehensive without being overburdened with detail or weighed down with too much theory… the book's neat pen portraits of the men and women who tracked down the poltergeist particle give it added depth. Think of this as a great ghost story and a thumping good piece of science writing rolled into one." —Robin McKie, The Observer (UK)

"Jayawardhana's storytelling skill shines." —Ernie Mastroianni, Discover Magazine

"[A] spry and readable primer . . . Jayawardhana likes to go big, and this time he does so by going extremely small, into the weird realm of subatomic particles." —Karen Long, Los Angeles Times

"Jayawardhana goes a step further than just tracking the scientific progress made in the neutrino search: he tells a story . . . paced perfectly, with some very in-depth topics covered in a compelling and easily understandable way . . . This is a well-written and gripping history." —Nicky Guttridge, Sky at Night (UK)

"Common yet coy, neutrinos are a mystery. But they are important . . . [Neutrino Hunters is] comprehensive on the potential use of neutrinos in examining the innards of the sun, of distant exploding stars or of Earth, as well as more practical uses such as fingering illicit nuclear-enrichment programs." —The Economist

"[Ray Jayawardhana] approachably and accessibly explains the search for the 'pathologically shy' elementary particles that zip through the universe without so much as an electric charge." —Harvard Magazine

"[A] fascinating account of the disputes between the theorists and experimentalists in this epic scientific adventure story." —Kirkus Reviews

"With clarity and wry humor, Jayawardhana relates how Wolfgang Pauli 'invented' the neutrino to explain where missing energy went during beta decay . . . From deep underground in South Dakota's Homestake Gold Mine to Antarctica's IceCube, currently the world's largest neutrino detector, Jayawardhana vividly illuminates both the particle that has 'baffled and surprised' scientists, and the researchers who hunt it." —Publishers Weekly

"A tale of revolutionary science and of the colorful personalities of those who did it--must-reading for armchair physicists!" —Booklist

"A bow to Jayawardhana's skill in explaining how we've gotten as far as we have in understanding [neutrinos]." —Laurence A. Marschall, Natural History

"Everything about neutrinos is fascinating. The various dramas associated with their discovery, our efforts to understand their very weird properties, and what they have taught us about fundamental physics are remarkable. Jayawardhana is the perfect person to convey these exciting stories, and Neutrino Hunters should be of broad interest." —Lawrence M. Krauss, theoretical physicist and bestselling author of The Physics of Star Trek and A Universe from Nothing

"Neutrino Hunters is a riveting mix of science and biography, providing both entertainment and painlessly assimilated information. Jayawardhana makes clear that the story is just beginning, as neutrino astronomy is starting to provide new insights into the nature of the universe. Fascinating." —John Gribbin, author of In Search of Schrödinger's Cat

"With his typical blend of scientific insight and storytelling verve, Jayawardhana vividly, colorfully, and humorously captures the often offbeat characters who, over the past century, have pursued one of the most elusive--and significant--mysteries in the history of physics." —Richard Panek, author of The 4% Universe

"From the Earth's core to exploding stars, vanishing scientists, and the very essence of matter in the universe, Neutrino Hunters is a wild and immensely satisfying ride." —Caleb Scharf, author of The Copernicus Complex

"Move over, Neil deGrasse Tyson and Brian Greene! Ray Jayawardhana is the new dean of popular science. Neutrino Hunters is a wonderful read from start to finish." —Robert J. Sawyer, Hugo Award–winning author of Red Planet Blues

"This is science from the front lines. But it's not just science: Neutrino Hunters also illuminates the thinkers and tinkerers who have made the quest for the neutrino their life's work. We are lucky to have Jayawardhana--a first-rate storyteller who also knows the physics inside out--to guide us through this remarkable story." —Dan Falk, author of In Search of Time

"Neutrino Hunters is an excellent overview of a vibrant and vital area of research." —Lee Billings, author of Five Billion Years of Solitude

"Jayawardhana tells a whopping good ghost story. In recent years, researchers have discovered that neutrino particles, the poltergeists of physics that go right through us with nary a bump, promise to reveal much about the Earth, stars, and our cosmic origins. Beautifully written, Neutrino Hunters paints a vivid portrait of this new astronomy for the twenty-first century and the fascinating scientists who put it into place." —Marcia Bartusiak, author of The Day We Found the Universe

"Neutrino Hunters is a fascinating, comprehensive look at the monumental efforts to detect the least understood particle known to physics. While the Higgs boson might be more famous, Jayawardhana reveals that neutrinos are far more mysterious, and that they may hold the key to the next breakthroughs in the field." —Chad Orzel, author of How to Teach Physics to Your Dog
Scientific American / Farrar, Straus and Giro, 9780374535216, 256pp.
Publication Date: January 13, 2015
About the Author
Ray Jayawardhana is a professor and the Canada Research Chair in Observational Astrophysics at the University of Toronto. His writing has appeared in The New York Times, The Economist, Scientific American, and more. He is the author of Strange New Worlds, named one of Library Journal's best science books of 2011, and Neutrino Hunters, from SciAm/FSG. In 2014, he was named a Guggenheim fellow in the field of natural sciences. He lives in Toronto.