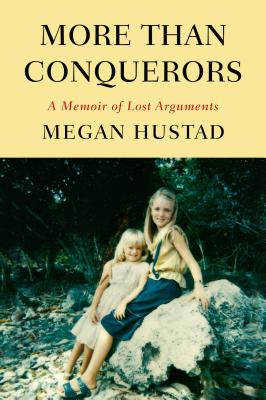 More Than Conquerors (Paperback)
A Memoir of Lost Arguments
Farrar, Straus and Giroux, 9780374535254, 240pp.
Publication Date: February 17, 2015
Other Editions of This Title:
Hardcover (2/11/2014)
* Individual store prices may vary.
Description
Megan Hustad and her family try to reconcile an evangelical upbringing in a post-Christian America

When Megan Hustad and her sister were children, their parents decided to quit their jobs and become evangelical missionaries. Nine years later, after stints on the Caribbean island of Bonaire and the outskirts of Amsterdam, they returned to the Midwest, where cracks in the family mythologies started to show. If the four of them could not agree on God's love, there was no agreeing on the moral of their story. One version portrayed them as well-meaning naïfs. In the other they were suckers.
In this searing, candid account of culture wars fought within a loving but conflicted family, Hustad explores what happens once a person decides that jettisoning religious faith will deliver the life she desires—and then realizes it's more complicated. More Than Conquerors tackles class, politics, the slipperiness of memory, the promises of a particular brand of American faith, the seductions of cities, and the chasing of grace in all its guises. It is the story of a family that feels at home anywhere and nowhere, sufficiently unusual to be perfectly ordinary, doubtful enough to be true believers.
About the Author
Megan Hustad has written articles, essays, and commentary for The New York Times, New York Post, Salon, Slate, The Big Money, The Daily Beast, The Awl, and American Public Media's Marketplace, and is the author of How to Be Useful. She has lived in Minneapolis, London, the Caribbean, and Amsterdam, and currently lives and works in New York City.
Praise For More Than Conquerors: A Memoir of Lost Arguments…
"Humane . . . Nuanced . . . Incisive . . . Generous and arresting." —Justin St. Germain, The New York Times Book Review
"Where does the family end and the self begin? When does a religious upbringing end and a life of considered belief begin? Few of us get to the bottom of those questions in our own lives, but Megan Hustad has sought to answer them with clarity and bravery." —Paul Elie, author of The Life You Save May Be Your Own
"Sensitive, intelligent, and deeply empathetic, More Than Conquerors is the story of a family that is both unusual and utterly relatable. As Megan Hustad tells us early on, this is not a book about abuse or neglect but about four very different and yet well-intentioned people who struggle to do the best they can by one another without renouncing their own beliefs or their own dreams. Hustad narrates her parents' lives with such maturity and compassion that she gives the lie to the idea of the memoir as a self-obsessed genre." —Adelle Waldman, author of The Love Affairs of Nathaniel P.
"Megan Hustad examines the world of international Christian evangelism as only an insider can. With fierce wit and relentless scrutiny, she reveals all the good intentions and bitter disappointments of a problematic movement--all the hope, naïveté, and ingenuity required of her family as they spread the good news abroad. What endures is the tremendous love the Hustads share for one aother. Somewhere between skepticism and faith is one American family's commitment to one another." —Domenica Ruta, author of With or Without You
"An eloquent exploration of one family's realization that they're unreconciled to the world as is, but that trying to change the world might break them. More Than Conquerors is a fully rounded portrayal of belief and doubt in contemporary America." —Julia Scheeres, author of Jesus Land
"You'll find no better correspondent for an account of the culture wars here and abroad than the deeply embedded Megan Hustad. Equal parts travelogue, family memoir, coming-of-age story, and philosophical reflection, More Than Conquerors tells her story well. It is the story of a little girl who grows up on the frontlines of the missionary movement to become a cosmopolitan New York book editor--one who can't quite stop pleading her case with God and with that self-same little girl who lives on in her head." —Dalton Conley, author of Parentology
"Radically compassionate, extraordinarily eloquent, deeply insightful, and utterly necessary in shining a light on a relatively unexplored corner of the American religious psyche, More Than Conquerors goes beyond memoir to be a work of ethnographic history written with a novelist's eye for details and a poet's ear for gorgeous turns of phrase. Megan Hustad writes with such easy command that it feels as if she has been explaining America to itself and the world for years, but the bracing vitality in her voice sounds like nothing we've ever heard before." —Matthew Thomas, author of We Are Not Ourselves
"In More Than Conquerors, Megan Hustad distills from her unique and various upbringing a deceptively vital story of family and faith in transit. Searching, elegant, and rendered with striking, witty melancholy, her memoir of the displacements of missionary life is a balm to the essential problems of home, forgiveness, longing, and belonging." —Michelle Orange, author of This Is Running For Your Life