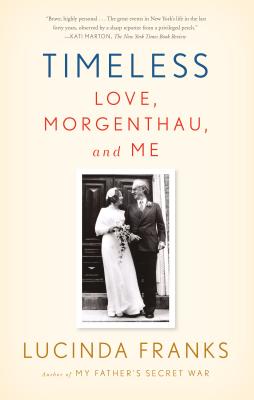 Timeless
Love, Morgenthau, and Me
Paperback

* Individual store prices may vary.
Other Editions of This Title:
Hardcover (8/19/2014)
Description
In this beautifully rendered literary memoir, Lucinda Franks, a Pulitzer Prize-winning journalist, tells the intimate story of her marriage to Manhattan District Attorney Robert Morgenthau, one of the great men of our time.
"Words by the millions have been printed about you, but none have revealed your real life, your secret life--which is that you belong to me."
After Lucinda interviewed Bob for The New York Times in 1973, the two took a while to understand that they had fallen in love. Franks was a self-styled radical who marched with protesters and chained herself to fences. Morgenthau was a famous lawyer, a symbol of the establishment, who could have helped put her in jail. She was twenty-six. He was fifty-three. Now, thirty-six years into a marriage that was never supposed to happen, one between two people as deeply in love as they are different, they are living proof that opposites can forge an unbreakable life bond.
In Timeless, Franks offers a confidential tour of their unconventional years together, years that are both hilarious and interlaced with suspense. At the same time, she takes us behind the scenes to reveal the untold stories behind some of Morgenthau's most famous cases, many of which she helped him brainstorm for.
A compelling memoir with piercing insights into how a relationship grows and develops over a lifetime, Timeless grants us an enlightening window into one of New York's most famous yet defiant and iconoclastic couples, and the trials and successes of their union.
Praise For Timeless: Love, Morgenthau, and Me…
"engaging memoir… brave, highly personal…. A love story in a political context: the great events in New York's life in the last 40 years, observed by a sharp reporter from a privileged perch." —The New York Times Book Review
"[T]he book chronicles not only a marriage but an era." —Boston Globe
"This fascinating personal and political history has a great love story at its heart." —MORE Magazine
"[An] earnest and candid memoir." —Denver Post
"Timeless has something for everyone--sections custom-made for lawyers, for historians, lovers, psychologists and more . . . We are blessed to have this full accounting of Franks' [marriage]." —The Buffalo News
"wondrously moving work. . . . Franks writes passionately of this 'love of two eccentrics' . . . in her rather miraculous story of a transcendent love that is imperiled only the specter of mortality." —Publishers Weekly
"Franks' chiseled prose demonstrates her chops as a veteran journalist... The boldface names give the book curb appeal, but this memoir's hidden strength is its testimony to the beauty and difficulty of a long-term marriage." —Kirkus
"A tender portrait of devotion. . .This is an intimate and revealing look at a high-profile couple, nurturing and supporting each other in a swirl of New York politics, media, marriage, and family." —Booklist
"Happy families may be all alike, as Tolstoy has remarked, but happy marriages are not, as Lucinda Franks allows us to know in this beautifully composed, painfully candid, and often very funny double portrait of the author (Pulitzer Prize–winning journalist, writer, radical activist) and Robert Morgenthau (legendary District Attorney of Manhattan for thirty-five years), who were married in defiance of nearly everyone who knew them after Franks, a young woman of twenty-six, met Morgenthau, a widower of fifty-three. Timeless is something of a defiant memoir as well, yet it also brims with tenderness, good humor, and a good deal of inside information about a number of Morgenthau's most famous criminal cases, including something of the background of 9/11. As an intimate depiction of an unusual marriage, Timeless is unique; yet, in its delineation of the ever-shifting contours of married love, it is universal and archetypal--indeed, 'timeless.'" —Joyce Carol Oates
"This book is a treasure: a shining love story, a fascinating slice of history, a paean to an extraordinary man. And a terrific read--honest, funny, daring, and beautifully wrought." —Francine Klagsbrun, author and columnist for The Jewish Week
"It's rare for a book this candid and revealing to be so well written. The combination makes this a marvelous memoir, one with honesty and exuberance that are unforgettable. With a reporter's eye for detail and the narrative talents of a novelist, Lucinda Franks brings alive a love story, a behind-the-scenes look at a high-profile marriage, and the inside secrets of headline-connected criminal investigations. This is a book you don't want to put down, one you will wish were longer when you finish it." —Dan Rather, newscaster and author of 'Rather Outspoken'
"There is a surprise on almost every page of this book. It is a remarkably intimate tale of passion and politics, of growing old and staying young. Lucinda Franks's life and love will engage you as fully as those of a great fictional heroine. And my guess is, by the end, you will turn the last page and shed tears of satisfaction." —Chris Wallace, Emmy Award–winning political journalist and anchor of Fox News Sunday with Chris Wallace
Sarah Crichton Books, 9780374535292, 400pp.
Publication Date: August 18, 2015
About the Author
Lucinda Franks is the author of the memoirs My Father's Secret War and Timeless: Love, Morganthau, and Me. A former staff writer for The New York Times, she has also written for The New Yorker, The New York Times Magazine, and The Atlantic. She won a Pulitzer Prize for her reporting on the life and death of Diana Oughton, a member of the Weathermen. A graduate of Vassar College, Franks lives in New York City. Her husband, the former longtime district attorney for New York County Robert M. Morgenthau, died in 2019.