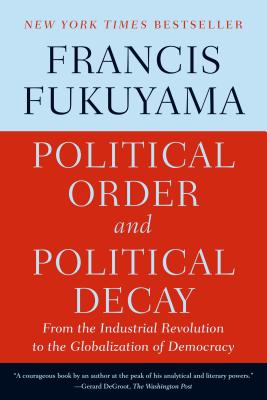 Political Order and Political Decay
From the Industrial Revolution to the Globalization of Democracy
Paperback

* Individual store prices may vary.
Other Editions of This Title:
Hardcover (9/30/2014)
MP3 CD (11/1/2014)
Description
The second volume of the bestselling landmark work on the history of the modern state

Writing in The Wall Street Journal, David Gress called Francis Fukuyama's Origins of Political Order "magisterial in its learning and admirably immodest in its ambition." In The New York Times Book Review, Michael Lind described the book as "a major achievement by one of the leading public intellectuals of our time." And in The Washington Post, Gerard DeGrott exclaimed "this is a book that will be remembered. Bring on volume two."
Volume two is finally here, completing the most important work of political thought in at least a generation. Taking up the essential question of how societies develop strong, impersonal, and accountable political institutions, Fukuyama follows the story from the French Revolution to the so-called Arab Spring and the deep dysfunctions of contemporary American politics. He examines the effects of corruption on governance, and why some societies have been successful at rooting it out. He explores the different legacies of colonialism in Latin America, Africa, and Asia, and offers a clear-eyed account of why some regions have thrived and developed more quickly than others. And he boldly reckons with the future of democracy in the face of a rising global middle class and entrenched political paralysis in the West.
A sweeping, masterful account of the struggle to create a well-functioning modern state, Political Order and Political Decay is destined to be a classic.
Praise For Political Order and Political Decay: From the Industrial Revolution to the Globalization of Democracy…
"Straightforward and sensible . . . Fukuyama is nothing if not ambitious." —Sheri Berman, The New York Times Book Review

"It is not often that a 600-page work of political science ends with a cliffhanger. But the first volume of Francis Fukuyama's epic two-part account of what makes political societies work, published three years ago, left the big question unanswered . . . Political Order and Political Decay is his answer . . . Fukuyama's wealth of insights [are] worthy of the greatest writers about democracy." —David Runciman, Financial Times

"Political Order and Political Decay is a courageous book by an author at the peak of his analytical and literary powers. This project started as an attempt to rewrite and update Samuel Huntington's classic Political Order in Changing Societies, published in 1968. Yet Fukuyama has what Huntington sorely lacked, namely the ability to communicate complex ideas through engaging prose. He's both a perceptive political analyst and a wonderful storyteller. Clearly, something has indeed gone haywire in our world: Serious political science is not supposed to be so enjoyable." —Gerard de Groot, The Washington Post

"[A] monumental study [that] rest[s] on an astonishing body of learning." —The Economist

"Fukuyama has been both a policy maker and adviser . . . His latest opus [seeks] to clarify the fundamental problems of political order." —David Polansky, Wall Street Journal

"Fukuyama's brilliant work on political orders [is] cogent, clear, and often intellectually thrilling account of the development of the state . . . There is simply no way to do full justice in a review." —Zach Dorfman, The Los Angeles Review of Books

"This and the earlier volume, viewed as a single work, will remain vital contributions to the literature on democracy and government for some time to come." —Earl Pike, Plain Dealer

"Fukuyama has succeeded in proving, with a formidable display of erudition, that anyone who wants to reform American democracy had better start by reading his latest book." —Michael Ignatieff, The Atlantic

"Learned and lucid, Political Order and Political Decay is jam-packed with insights about political development." —Glenn C. Altschuler, San Francisco Chronicle

"This bold political scientist limns the transformation of societies politically galvanized by eighteenth-century revolutions and financially enriched by nineteenth-century industry . . . Strikingly ambitious and provocative." —Booklist (starred review)

"[Fukuyama's] superb synthesis of political science and history will be useful to experts as well as students and laypeople." —Publishers Weekly (starred review)

"Th[is] deeply engaged political scientist offers a compelling historical overview . . . Systematic, thorough and even hopeful fodder for reform-minded political observers." —Kirkus Reviews (starred review)
Farrar, Straus and Giroux, 9780374535629, 688pp.
Publication Date: October 13, 2015
About the Author
Francis Fukuyama is the Olivier Nomellini Senior Fellow at Stanford University's Freeman Spogli Institute for International Studies. He has previously taught at the Paul H. Nitze School of Advanced International Studies of Johns Hopkins University and at the George Mason University School of Public Policy. He was a researcher at the RAND Corporation and served as the deputy director in the State Department's policy planning staff. He is the author of The End of History and the Last Man, Trust, and America at the Crossroads: Democracy, Power, and the Neoconservative Legacy. He lives with his wife in California.