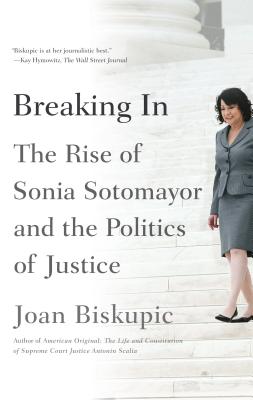 Breaking In
The Rise of Sonia Sotomayor and the Politics of Justice
Paperback

* Individual store prices may vary.
Other Editions of This Title:
Digital Audiobook (12/15/2014)
MP3 CD (12/16/2014)
Compact Disc (12/16/2014)
Description
I knew she'd be trouble."

So quipped Antonin Scalia about Sonia Sotomayor at the Supreme Court's annual end-of-term party in 2010. It's usually the sort of event one would expect from such a grand institution, with gentle parodies of the justices performed by their law clerks, but this year Sotomayor decided to shake it up—flooding the room with salsa music and coaxing her fellow justices to dance.
It was little surprise in 2009 that President Barack Obama nominated a Hispanic judge to replace the retiring justice David Souter. The fact that there had never been a nominee to the nation's highest court from the nation's fastest growing minority had long been apparent. So the time was ripe—but how did it come to be Sonia Sotomayor?
In Breaking In: The Rise of Sonia Sotomayor and the Politics of Justice, the veteran journalist Joan Biskupic answers that question. This is the story of how two forces providentially merged—the large ambitions of a talented Puerto Rican girl raised in the projects in the Bronx and the increasing political presence of Hispanics, from California to Texas, from Florida to the Northeast—resulting in a historical appointment. And this is not just a tale about breaking barriers as a Puerto Rican. It's about breaking barriers as a justice.
Biskupic, the author of highly praised judicial biographies of Justice Antonin Scalia and Justice Sandra Day O'Connor, now pulls back the curtain on the Supreme Court nomination process, revealing the networks Sotomayor built and the skills she cultivated to go where no Hispanic has gone before. We see other potential candidates edged out along the way. And we see how, in challenging tradition and expanding our idea of a justice (as well as expanding her public persona), Sotomayor has created tension within and without the court's marble halls.
As a Supreme Court justice, Sotomayor has shared her personal story to an unprecedented degree. And that story—of a Latina who emerged from tough times in the projects not only to prevail but also to rise to the top—has even become fabric for some of her most passionate comments on matters before the Court. But there is yet more to know about the rise of Sonia Sotomayor. Breaking In offers the larger, untold story of the woman who has been called "the people's justice.
Praise For Breaking In: The Rise of Sonia Sotomayor and the Politics of Justice…
"A veteran Supreme Court reporter charts Sotomayor's evolution from a poor Puerto Rican girl living in the Bronx to the first Latina Justice on the Supreme Court. Sotomayor's sense of ethnic identity, Biskupic argues, may be as important a legacy as the Justice's legal contributions." —Time

"Ms. Biskupic sets out to chronicle Justice Sotomayor's career and, in a parallel narrative, to trace the growing influence of the Hispanic population in the United States. ... Ms. Biskupic succeeds at both her tasks. ... Ms. Biskupic is at her journalistic best when she describes this federal judicial-nomination process, one that former Attorney General Richard Thornburgh once described as possessing the 'intricacies of chess and audacity of old-fashioned hardball.'" —Wall Street Journal

"[Biskupic] begins with ... Sotomayor's salsa dance at an end-of-term party for the court's justices and staff. ... [T]he vignette introduces the book's theme: that Sotomayor 'spent a lifetime challenging boundaries and disrupting the norm' and that, because she 'was not one to wait her turn,' she was able to exploit 'the cultural and political shifts that merged with [her] life and led to her appointment. ... In the end, Sotomayor does stand out, both as a courageous justice, as able as any of those who joined the court before her, and as an inspiring public figure. ... As Biskupic recognizes, [her public] message is likely to prove as powerful a measure of Sotomayor's impact on our national future as will her contributions to the work of the Supreme Court." —Washington Post

"[Breaking In is] an examination of what it means to become a celebrity; a deeply reported study of how to concoct a strategy maximizing the chance of a presidential appointment to the Supreme Court; and a journalistic analysis of Sotomayor's court performance so far. ... Biskupic clearly and compellingly recounts how Sotomayor plotted her rise to the pinnacle of the judicial branch of government. ... Most important for the future of the USA, Biskupic explains why Sotomayor is sui generis on a court of nine justices, how she cares more about interpreting the Constitution and court precedent according to what's best for society rather than becoming a coalition builder." —Seattle Times

"The book's strong suit is a wealth of detail about the race between Republicans and Democrats for the prize of appointing the first Hispanic justice. It is a primer for anyone with large ambitions, as well as a cautionary tale, since the message conveyed is that skillful manipulation of identity politics may carry the day over more substantial achievement. This is, of course, an old story for both parties, which have at times filled regional, religious, racial, and gender slots with candidates who eclipsed other, arguably better qualified, aspirant. Biskupic's book is well balanced, setting forth an array of views on Justice Sotomayor. ... The book opens with an arresting account of Sotomayor in a bold charm offensive at the 2010 Supreme Court end-of-term party. The story has to be read in full to be believed...." —National Review

"One U.S. Supreme Court justice's passionate behind-the-scenes fight to allow race to be considered in college admissions rescued the University of Texas from a historic legal defeat in 2013, according to a book released Tuesday. Offering a rare look into the secret deliberations of the nation's highest court, author Joan Biskupic's biography of Justice Sonia Sotomayor details for the first time how the court's first Hispanic member helped turn an initial 5-3 defeat for UT into a 7-1 decision." —Austin American Statesmen

"A fascinating account of the political machinations involved in achieving a Supreme Court judgeship and of Sotomayor's juridical decisions and actions since her appointment… [Biskupic's] skill as a journalist enlivens [her] sources with vivid anecdotal detail" —Publishers Weekly

"Biskupic offers a compelling look at a justice who continues to face challenges to her right to sit on the bench." —Booklist

"Biskupic combines scholarly rigor with a bit of human admiration in this cleareyed account of how someone advances a judicial career in 21st-century America… A balanced but also admiring portrait of a Latina, a jurist and a trailblazer." —Kirkus

"This is a remarkable book about an extraordinary woman in very challenging times. Sonia Sotomayor's memoir is not complete without Breaking In. Joan Biskupic has done a wonderful and insightful job writing about the most influential Latina ever. She puts together three incredibly complex elements: Sotomayor's life of struggle, the rise of the Latino community, and the intricacies of the Supreme Court. The result is superb. Sotomayor's mission--that a single person can make a difference in the cause of justice--is transforming our country. You have to read it to know us." —Jorge Ramos, anchor, Univision/Fusion

"If you think books about Supreme Court justices are only for lawyers, think again. Joan Biskupic has written a fascinating story, at once shrewd and sympathetic, about overcoming the fear of failure. Biskupic takes you into the head and the heart of the most interesting Supreme Court justice since . . . well there's never been a justice like Sotomayor." —Evan Thomas, author of Ike's Bluff: President Eisenhower's Secret Battle to Save the World

"It's hard to write a fair-minded biography of such a polarizing figure, but that's what Joan Biskupic has done with American Original . . . Impressively balanced and well reported." —Jeffrey Rosen, The New York Times Book Review on American Original

"American Original is full of strong reporting. It is scrupulously even-handed, which may irritate partisans on both sides of the Scalia divide--there are few fence-straddlers when it comes to him . . . Biskupic's larger accomplishment is to present the recent evolution of the Supreme Court through the prism of its most colorful member." —Jim Newton, Los Angeles Times on American Original

"A timely and important book . . . Illuminating." —Anthony Lewis, The New York Review of Books on Sandra Day O'Connor

"Superbly thorough and perceptive." —David J. Garrow, The New Republic on Sandra Day O'Connor
Sarah Crichton Books, 9780374535667, 288pp.
Publication Date: October 13, 2015
About the Author
Joan Biskupic has covered the Supreme Court since 1989 and currently writes for USA Today. Previously the Supreme Court reporter for The Washington Post, she is a frequent panelist on PBS's Washington Week. Biskupic holds a law degree from Georgetown University and previously authored a biography of Sandra Day O'Connor.
or
Not Currently Available for Direct Purchase