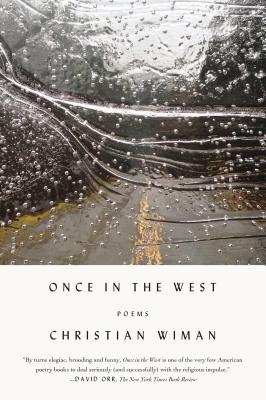 Once in the West (Paperback)
Poems
Farrar, Straus and Giroux, 9780374535704, 128pp.
Publication Date: September 15, 2015
Other Editions of This Title:
Hardcover (9/9/2014)
* Individual store prices may vary.
Description
One of The New York Times' 10 Favorite Poetry Books of 2014
National Book Critics Circle Award Finalist
Winner of the 2015 Philosophical Society of Texas Award of Merit in Poetry


A searing new collection from one of our country's most important poets

Memories mercies
mostly aren't

but there were
I swear
days
veined with grace

—from "Memory's Mercies"
Once in the West, Christian Wiman's fourth collection, is as intense and intimate as poetry gets—from the "suffering of primal silence" that it plumbs to the "rockshriek of joy" that it achieves and enables. Readers of Wiman's earlier books will recognize the sharp characterizations and humor—"From her I learned the earthworm's exemplary open-mindedness, / its engine of discriminate shit"—as well as his particular brand of reverent rage: "Lord if I implore you please just please leave me alone / is that a prayer that's every instant answered?" But there is something new here, too: moving love poems to his wife, tender glimpses of his children, and, amid the onslaughts of illness and fear and failures, "a trace / of peace."
About the Author
Christian Wiman is the author of seven previous books, including a memoir, My Bright Abyss: Meditation of a Modern Believer (FSG, 2013); Every Riven Thing (FSG, 2010), winner of the Ambassador Book Award in poetry; and Stolen Air: Selected Poems of Osip Mandelstam. From 2003 to 2013, he was the editor of Poetry magazine. He currently teaches religion and literature at the Yale Institute of Sacred Music and Yale Divinity School. He lives in Connecticut.
Praise For Once in the West: Poems…
"By turns elegiac, brooding and funny, Once in the West is one of the very few American poetry books to deal seriously (and successfully) with the religious impulse." —David Orr, The New York Times
"Once in the West is Mr. Wiman's fourth book of poems, and his best. While reading it, I was reminded of something John Updike said about the theologian Karl Barth. 'Really, Barth's mind, so invariably earnest, always penetrates to some depth tonic for me,' Updike wrote. 'He makes me feel that rare thing, with authors, called love--one loves a man for thinking and writing so well.' Mr. Wiman is only rarely earnest in his new book, but at times his writing made me feel something similar." —Dwight Garner, The New York Times
"As Wiman puts it, there are church-curdled hymns, gear grinding tenors and here and there, that rapt, famished look that leaps from person to person, year-to-year like a holy flu. . . Amid lonely and painful landscapes, he's mixed terse speech and lyric leaps to record unpredictable dialogues between body and soul. To be sure, there's a lot of ugly sadness in these poems - cheerless men or, as he says, cancer on a slow boil in the bones of a woman who sleeps five feet from the widescreen. But there's also a raw bareback grabbing at joy. Even in the grittiest spots, Wiman has got a knack for sounding metaphysical. Like the percolator described in one poem, these verses hold and withhold. They speak to the need - as Wiman puts it - to befriend one's own loneliness, to make of the ache of inwardness something - music, maybe. And they speak to the improbable places we're unaccountably called to love. For what does the chigger-bit and muddy-buttocked body of a former lover teach us about how to live? Can it be tragedy, asks Wiman in one poem. But here, there's such fervent prayer to exist - to know. In that raw hunger, we feel the redemption too." —Tess Taylor, National Public Radio
"Wiman's book confronts illness, loneliness, doubt, economic hardship and aging, as well as the suddenness of death, which makes no accommodation for young or old. . . This complicated attitude shapes the spiritual questioning in the book, resulting in such striking and roguish lines as these, 'Sunday zombies // chewing chewing our little cuds of God,' and, 'We lived in the long intolerable called God.' . . . The songs are not plaintive. There is too much edge to the voice for that. Wiman's penchant for crafting novel compound words adds another obvious musical quality to the poems. Unique verbal constructions, like 'everair,' 'laughteryawn,' 'quicklicks,' and 'razormusic,' appear in the book as poetic turns of phrase that indulge in the resonant sounds of words. However, these compound words, like kennings in Old English poetry, are jettisoned beyond music to the metaphorical evocations of such combinations. Wiman's poems sing to us in the face of uncertainty, urging us towards our task through song." —Paul Otremba, Houston Chronicle
"The speakers and people populating Christian Wiman's Once in the West suffer the loss of lovers, childhood friends, family, and even a landscape made nostalgic by time and distance (West Texas), but Wiman offers more than lines of longing and absence: he looks at his own mortality, the pain rising from all gradations of unknowns and imminence, and then subverts the elegiac from memorial to electricity. . . Throughout Wiman's work, in both his poetry and prose, mortality confronts art, the human condition of limitation and finitude challenging aestheticism. And vice versa; art confronts our condition. This poem especially, but throughout Once in the West, Wiman embraces loneliness, that nuisance we seemingly always want to reject, dismiss, even annihilate. . . Once in the West is populated by noise, chaos, things that recede and undulate. There is fire, burning, dawning, electricity, climbing--constant movement, though it isn't always linear, momentous, or climatic. Religion is a system straining against this chaos; and Wiman fights religion and its failure to answer its own silence." —Caitlin MacKenzie, The Rumpus
"In his fourth poetry collection, Once in the West, Wiman explores the 'hard horizonless country' of his West Texas roots, his religion, his family and the joy of being alive. Here, [Wiman] proves himself to be a writer who can show us the world poetically from a metaphysical, mystical, religious viewpoint. His poetry can sustain, lift up, support--it is sustenance for the soul . . . His is an intense, intimate poetry, employing surprising meter, rhyme and word juxtaposition to share ideas, opinions and memories. . . Wiman's poetry shows us how to experience and confront the fear of death, and the sustenance of a faith in something greater." —Tom Lavoie, Shelf Awareness
"The first half or so of this harsh and sometimes masterful fourth outing from poet, memoirist, and editor Wiman (Every Riven Thing) might represent the best verse he has yet penned . . . A former editor of Poetry magazine, Wiman's wide reading there perhaps helped him develop his serious, careful, and widely admired technique . . . These poems of anger and devotion . . . [are] part of a serious poet's lifelong thought about life and death, about body and soul, about memory and family, about this world and what is beyond." —Publishers Weekly
"Christian Wiman, former editor of Poetry magazine and now lecturer in religion and literature at Yale Divinity School and the Yale Institute of Sacred Music, offers further evidence that his voice is among the most compelling in contemporary poetry. . .These poems are filled with delightful language play, with coined words that are just about perfect, and lyrical flights that make the reader stop and pronounce them aloud." —Jill Peláez Baumgaertner, Christian Century