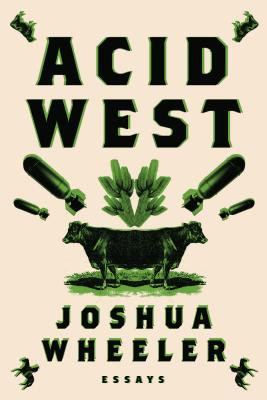 Acid West
Essays
Paperback

* Individual store prices may vary.
Other Editions of This Title:
Digital Audiobook (4/16/2018)
Compact Disc (4/17/2018)
MP3 CD (4/17/2018)
Compact Disc (4/17/2018)
Description
A rollicking debut book of essays that takes readers on a trip through the muck of American myths that have settled in the desert of our country's underbelly

Early on July 16, 1945, Joshua Wheeler's great grandfather awoke to a flash, and then a long rumble: the world's first atomic blast filled the horizon north of his ranch in Alamogordo, New Mexico. Out on the range, the cattle had been bleached white by the fallout.

Acid West, Wheeler's stunning debut collection of essays, is full of these mutated cows: vestiges of the Old West that have been transformed, suddenly and irrevocably, by innovation. Traversing the New Mexico landscape his family has called home for seven generations, Wheeler excavates and reexamines these oddities, assembling a cabinet of narrative curiosities: a man who steps from the stratosphere and free-falls to the desert; a treasure hunt for buried Atari video games; a village plagued by the legacy of atomic testing; a lonely desert spaceport; a UFO festival during the paranoid Summer of Snowden.

The radical evolution of American identity, from cowboys to drone warriors to space explorers, is a story rooted in southern New Mexico. Acid West illuminates this history, clawing at the bounds of genre to reveal a place that is, for better or worse, home. By turns intimate, absurd, and frightening, Acid West is an enlightening deep-dive into a prophetic desert at the bottom of America.
Praise For Acid West: Essays…
Joshua Wheeler's essay collection Acid West is alive, unglamorous, funny, visceral, American, a Martin Parr-esque look at a country that has always been in the business of redefining itself. —Literary Hub

"His narrative voice is funny and approachable throughout, which keeps the book lively and light even while demonstrating Wheeler's intelligence... His prose is superb... Acid West stays engaging and Wheeler's confidence in his wordsmithing never wanes. Wheeler is artful with such nonchalance that he can focus his writing on crafting imagery and constructing metaphors." —Spectrum Culture

"Wheeler's essays limn this American outback and its unsettled and sometimes-unsettling ways . . . In a dusty rejoinder to Chuck Klosterman's Fargo Rock City, Wheeler shows a fine eye for the stranger aspects of this country . . . His account of digging ditches in the caliche soil to repair water lines is a masterpiece of proletarian wistfulness.." —Kirkus

"Acid West is a freaky, stylish, heart-cracking-open book about the beautiful and bonkers badlands of the Southwest. Josh Wheeler's essays throb with radioactive resonance and the Technicolor brilliance of a desert sunset. I'm in awe of this book." —Claire Vaye Watkins

"It's been a long wait for Joshua Wheeler's first book, but it would have been worth the wait even if we'd had to wait twice as long. Full of fine lines mined by a still-young writer, Acid West is worth its weight in gold." —Geoff Dyer

"In a captivating, beautifully wrought voice, Joshua Wheeler creates precise, intuitive essays about his Land of Enchantment that reveal its haunted and marginalized history. Acid West is a protest love song by a virtuosic storyteller who makes me laugh and marvel at the overlooked wonders and weirdness of New Mexico and its borderlands." —Carmen Giménez Smith

"Joshua Wheeler and his marauding curiosity make a spectacular debut in Acid West, a collection of essays that raids American history, cosmology, family lore, Hollywood, aeronautics, video games, and even the landscape itself in order to fashion for his beloved Southern New Mexico a vision of the world that could not exist without it. And in the thrall of Wheeler's beautiful, bawdy, and roguishly charming essays, you're going to believe it." —John D'Agata
MCD x FSG Originals, 9780374535803, 416pp.
Publication Date: April 17, 2018
About the Author
Joshua Wheeler is from Alamogordo, New Mexico. His essays have appeared in many literary journals, including The Iowa Review, Sonora Review, PANK, and The Missouri Review. He's written feature stories for BuzzFeed and Harper's Magazine online and is a coeditor of the anthology We Might as Well Call It the Lyric Essay. He is a graduate of the University of Southern California, New Mexico State University, and has an MFA in nonfiction writing from the University of Iowa. He teaches creative writing at Louisiana State University.