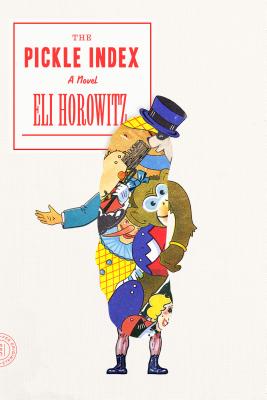 The Pickle Index (Paperback)
A Novel
FSG Originals, 9780374535810, 224pp.
Publication Date: November 3, 2015
Other Editions of This Title:
Boxed Set (11/3/2015)
* Individual store prices may vary.
Description
"The Pickle Index is full of life and everything else—it's rowdy and sweaty and heartbreaking, and by heartbreaking I mean funny, and by funny I mean laugh-until-you're-exhausted-and-leaking-and-hungry."
—Miranda July
Zloty Kornblatt is the hapless ringmaster of an even more hapless circus troupe. But one fateful night, Zloty makes a mistake: he accidentally makes his audience laugh. Here on the outskirts of Burford—where both the cuisine and the economy, such as they are, are highly dependent on pickled vegetables—laughter is a rare occasion. It draws the immediate attention of the local bureaucracy, and by morning Zloty has been branded an instigator, conspirator, and fomentor sentenced to death or worse.
His only hope lies with his dysfunctional troupe—a morose contortionist, a strongman who'd rather be miming, a lion tamer paired with an elderly dog—a ragged band of misfits and failures who must somehow spring Zloty from his cell at the top of the Confinement Needle. Their arcane skills become strangely useful, and unlikely success follows unlikely success. Until, suddenly, the successes end—leaving only Flora Bialy, Zloty's understudy and our shy narrator, to save the day.
Punctuated with evocative woodcuts by Ian Huebert, Eli Horowitz's The Pickle Index is a fast-moving fable, full of deadpan humor and absurd twists—and an innovative, exhilarating storytelling experience.
About the Author
Eli Horowitz was the managing editor and then publisher of McSweeney's. He is the co-author of The Clock Without a Face, a treasure-hunt mystery; Everything You Know Is Pong, an illustrated cultural history of Ping-Pong; and The New World, a collaboration with Chris Adrian, from FSG.
Praise For The Pickle Index: A Novel…
"The Pickle Index is full of life and everything else-it's rowdy and sweaty and heartbreaking, and by heartbreaking I mean funny, and by funny I mean laugh-until-you're-exhausted-and-leaking-and-hungry." —Miranda July, author of The First Bad Man
"You know when you find a book that feels original and fresh and weird in just the right way? The Pickle Index is such a book. Eli Horowitz has created a carnival world a little like that amazing place Katherine Dunn took us to in Geek Love. But this book has more laughs. It's a crazy caper!" —Arthur Bradford, author of Turtleface and Beyond
"This novel takes absurdity to new heights and reflects the author's McSweeney's roots, but for all its silliness, it is at its heart a tale of hope and friendship." —Julia Smith, Booklist
"[The Silent History] handsomely fashions a relationship between digital and print media; but most of all this is a compelling story about difference, rights and power." —Richard House, The Guardian
"Ingenious . . . [The Silent History is] a richly textured vision of a dystopian future." —Publishers Weekly (starred review)