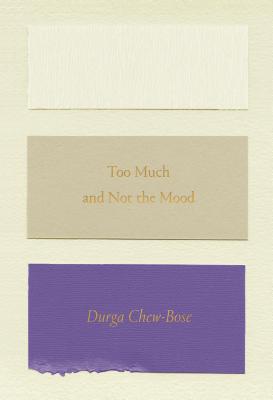 Too Much and Not the Mood
Essays
Paperback

* Individual store prices may vary.
Other Editions of This Title:
Digital Audiobook (2/10/2020)
Description
Named a best book of 2017 by NPR, The Guardian, Slate, NYLON and The Globe and Mail (Canada)

From Durga Chew-Bose, "one of our most gifted, insightful essayists and critics" (Nylon), comes "a warmly considered meld of criticism and memoir" (New Yorker), a lyrical and piercingly insightful debut collection of essays about identity and culture.

Too Much and Not the Mood is a beautiful and surprising exploration of what it means to be a first-generation, creative young woman working today. On April 11, 1931, Virginia Woolf ended her entry in A Writer's Diary with the words "too much and not the mood" to describe her frustration with placating her readers, what she described as the "cramming in and the cutting out." She wondered if she had anything at all that was truly worth saying.

The attitude of that sentiment inspired Durga Chew-Bose to gather own writing in this lyrical collection of poetic essays that examine personhood and artistic growth. Drawing inspiration from a diverse group of incisive and inquiring female authors, Chew-Bose captures the inner restlessness that keeps her always on the brink of creative expression.
Praise For Too Much and Not the Mood: Essays…
"A warmly considered meld of criticism and memoir, a self-portrait of the writer as intrepid mental wanderer. [Chew-Bose's] enthusiasms for art, literature, movies, friendship, and family life are as broad as they are deeply felt. This is a book to slip into your pocket for company during a day of solitary walking." —Alexandra Schwartz, New Yorker

"If you admire Maggie Nelson's ability to combine the personal and the academic into a thrilling new art form, Durga Chew-Bose will be your next favorite writer. Her remarkable debut essay collection touches on art and literature and pop culture, but also feels intensely intimate, filled with stunning insights both large in scale, and small." —Maris Kreizman, Vulture

"Too Much makes looking seem extravagant, and in Chew-Bose's hands looking is a tool for cultivating intimacy with the world . . . This is a form that turns the vulnerability inherent in being a woman of color into strength and constructs connections between things that we rarely think of as connected . . . The dissonance Chew-Bose brings to the table has never felt more necessary." —Ismail Muhammad, Slate

"When the world seems to be on fire, intuitive essays that focus on miniature aspects of the ordinary-everyday can serve as a balm. Chew-Bose turns all her associative musings into a melancholy self-portrait of the highest order . . . Her sentences show tremendous promise, coming as close as language can to how it feels to be alive as a young woman, at a time in your life when every detail matters." —Anita Felicelli, San Francisco Chronicle

"[Too Much and Not the Mood] is a skilled and evocative contribution to a genre that has long frustrated definition by critics and practitioners alike . . . Chew-Bose's collection bristles with slow and tender inquisitiveness, carefully wrought anecdotes and character studies, devotion to detail, and nuanced structure in which form engages with content." —Emily LaBarge, Los Angeles Review of Books

"Chew-Bose is one of our most gifted, insightful essayists and critics, and her first collection of essays is bound to contain a wealth of her singularly lyrical and profound prose, as she meditates on topics like identity and art, as well as culture and belonging. [Too Much and Not the Mood is] a must-read" —Kristin Iversen, Nylon

"This slim collection of essays ushers in the start of what will hopefully be a long run of books by essayist and critic Durga Chew-Bose. Picking apart art and literature and blending it with observations from everyday life, Chew-Bose could make even the grayest day seem beautiful and fascinating." —Rolling Stone

"[Chew-Bose's] first book is already earning her comparisons to the likes of Zadie Smith and Lena Dunham . . . In this lyrical collection of personal musings, she delves into the connections between identity and culture from the perspective of a self-reflective, first-generation Indian-Canadian living in Brooklyn and writing for a living. This book's worth of poignant pieces from someone so talented and self-assured is well worth your weekend." —Carolyn L. Todd, Refinery29

"A collection of delightfully insightful essays . . . Whether Chew-Bose is riffing about her own difficult-to-pronounce name or dead squirrels, the bounty of the book lies below the surface, in the subterranean underworld of each essay. . . Chew-Bose seems to pay close attention while everyone else races ahead to the next thing, and she's generous with her findings. " —Amanda Stern, Interview

"Too Much and Not The Mood comes as a welcome reprieve at a moment when personal essays are often cloyingly concrete. . . Chew-Bose's writing complicates and unravels takeaways . . . The writing, while concise, is beautiful. [She] approaches the word essay less as a noun and more as a verb. . . Chew-Bose is a writer who will last, because she has the interior reserve, the collected goods, she has spent the time and filled the well, a well that she can draw from, for as long as she feels so the mood." —Anisse Gross, The Rumpus

"[Chew-Bose] traverses the mazes of [mental] pathways like a brain archeologist, returning with shining fragments of memory . . . which she places next to, on top of, and inside of critical observations and feelings. In Too Much and Not the Mood, she is also a skilled analyst, articulating precisely concepts of daughterhood, friendship, and solitude . . . But Chew-Bose also allows herself to meander—to explore, as we all do in our most private moments, how her mind associates the immediate and the corporeal with the otherworldly." —Vrinda Jagota, LitHub

"Chew-Bose uses her words carefully, with a rare beauty and precision . . . Chew-Bose takes a defiant, devious and delightful turn with these essays, highlighting the necessity of looking to every moment . . . These essays, quixotic and quirky in every measure, have a quiet intelligence." —Anu Kumar, Scroll (India)

"Reading Too Much and Not the Mood has the satisfying sensation of watching liquid being spilled from a container in slow motion . . . The reader knows immediately that this collection is the product of an observant and inventive mind, someone with a knack for breaking down big ideas and expanding on minor details in a way that makes them meaningful – even revelatory. . . If it is possible for a book to be both transcendent and grounding, this is it." —Stacey May Fowles, Globe and Mail (Canada)

"[Too Much and Not the Mood] looks like a work of art and is a work of art." —PBS NewsHour

"Our generation has no one else like Durga Chew-Bose: a cultural critic who isn't afraid to get personal, a romantic nostalgic with a lemony twist who applies her brilliance to life as it is currently lived. It's a profound and glorious relief to encounter this book." —Lena Dunham

"Durga Chew-Bose is our artist of beautifully distracted attention. Her sentences are like a procession of stills from the films she loves so much: each is a field of vivid color; a fraction as worthy of scrutiny as the whole; a delivery system for poetry as well as plot. To read Chew-Bose on Allen Iverson's annoyance, or on a premonitory twinge in the gut, or on the joys of living alone, is to be convinced—and, in the end, grateful—that good writing is a kind of sight. Chew-Bose sees unfailingly well. Too Much And Not the Mood is a stunning debut and, to me, the perfect paperback—it is the work of a mature and individual mind, insistent on the personal as well as the coolly philosophical, crafted to be carried around in pockets for years to come." —Vinson Cunningham

"This sharp and astute debut essay collection reveals a young author who is wise beyond her years and whose keen eye moves beyond tired tropes about identity struggles . . . brilliantly eloquent . . . [Chew-Bose] is an expert assessor—of moods, of situations, of her own writing, and her relationships . . . Her ample talent and keenly observed essays will surely win her followers, especially at a time and place when authenticity is a rare and much-valued currency." —Poornima Apte, Booklist (starred review)

"I admire the fine and detailed quality of Durga Chew-Bose's prose, and her modesty of ego, which lingers in the mind. These essays are a refreshing contrast to those loud and showy voices, which are so common. One wants to lean closer to hear her." —Sheila Heti

"Too Much and Not the Mood is a tremendous comfort and a transporting experience. Durga Chew-Bose's stunning prose elevates the subtleties of existence to a sphere that is both otherworldly and painfully recognizable, offering a panoramic view of her whole heart and mind. She is sure to leave her readers stunned." —Tavi Gevinson
FSG Originals, 9780374535957, 240pp.
Publication Date: April 11, 2017
About the Author
Durga Chew-Bose is a Montreal-born writer. Her work has appeared in The Globe and Mail, Hazlitt, Filmmaker, The New Inquiry, and The Guardian, among other publications. She is the author of Too Much and Not the Mood.