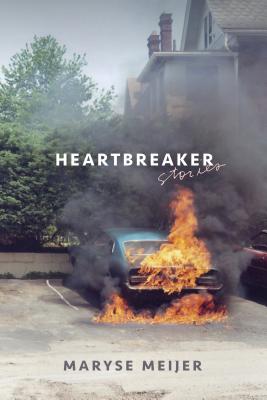 Heartbreaker (Paperback)
Stories
FSG Originals, 9780374536060, 208pp.
Publication Date: July 12, 2016
* Individual store prices may vary.
Description
In her debut story collection Heartbreaker, Maryse Meijer peels back the crust of normalcy and convention, unmasking the fury and violence we are willing to inflict in the name of love and loneliness. Her characters are a strange ensemble—a feral child, a girl raised from the dead, a possible pedophile—who share in vulnerability and heartache, but maintain an unremitting will to survive. Meijer deals in desire and sex, femininity and masculinity, family and girlhood, crafting a landscape of appetites threatening to self-destruct. In beautifully restrained and exacting prose, she sets the marginalized free to roam her pages and burn our assumptions to the ground.
About the Author
Maryse Meijer's work has appeared in Meridian, The Saint Ann's Review, Reunion: The Dallas Review, Portland Review, and actual paper. She lives in Chicago.
Praise For Heartbreaker: Stories…
The Chicago Review of Books Best Fiction Books of 2016
Electric Literature 25 Best Short Story Collections of 2016
Largehearted Boy's Favorite Short Story Collections of 2016
"Meijer's stories are intense and threatening, with language that invigorates the senses. Like the writers of her ilk — [Lindsay] Hunter, Amelia Gray, Laura van den Berg — Meijer makes the dangers of girlhood come alive, crafting characters who flirt with violence." —Maddie Crum, The Huffington Post
"[Meijer] reaches into the darkest parts of the human psyche where sexuality, vulnerability, and violence commingle and simmer . . . Beneath these incendiary premises, the characters' relationships engender genuine empathy; Meijer is extraordinarily adept at tapping into a well of existential loneliness brought on by civilization's tendency and shame." —Publishers Weekly
"Meijer's unerring knack for finding the pure shape of a story—for lining up the component images and complications in the just the right order—marks her as something quite rare. Her stories captivate in the way that urban legends do, splicing the sensational into the fearfully mundane. Even as they subvert the expectations of various relationships, the stories don't feel new. They feel lived in, re-discovered, like old stories being told for the first time in a long time." —Michael Deagler, The Rumpus
"The edgy stories in Meijer's debut collection cut like so many wild teeth: sharp, deep, and unforgiving . . . Meijer breaks open taboos about sex, disability, melancholy, and violence with the careful precision of a teenager egging the house of her mortal enemy. Here is all the raw anger, fear, malice, lust, and confusion of women used to threats, stalking, and ceaseless observation, who live with their lives hanging every day in the balance. In fiction, Meijer seems to say, they have a shot at making their own rules—and the results are strange, unsettling, and addictive . . . In deft, clear prose, Meijer takes everyday moments of loss and loneliness and threads them through with elements of the gothic, fantasy, and fairy tale . . . Taut and ruthless, Meijer's tales somehow manage to be both believable in their strangeness and recognizable in their pointed cruelties. Here are the misfits, the overweight, and the lonely. The obsessives and the broken. Here are the monsters—and they look an awful lot like you. A dark and surprising new voice in short fiction." —Kirkus Reviews (starred review)
"The characters in Meijer's debut collection of short stories are defined by their obsessions and are brought to life in quick, deft strokes. To enter their lives, however briefly, is to enter a warped world in which convention is upended and consequences only implied. Meijer's writing is arresting and disturbing, burning with clarity at even the most complex moments . . . The sharpness with which these people are drawn, largely without context beyond the immediate situation, only reinforces the strangeness of the tales they inhabit, and leaves the reader with burning questions unanswered." —Bridget Thoreson, Booklist
"This blurred line between animal and woman, and the notion that these hybrid women cannot and will not be domesticated, runs through every story in Heartbreaker. Yet each iteration feels freshly uncomfortable, each rabid girl uniquely resistant to laws of man or nature that might bind them. So untethered are these girls and women that the stories more often than not occupy a surreal space between reality and fable. But forget the kind of magical realism that plays heavy with sentimentality or sweetness; any magic in a Meijer story serves only to reveal its raw, ugly underbelly . . . The stories in this collection are as frank and strange and unpredictable as the girls and women they are about. The writing, never indulgent, takes sharp turns and steep drops, with flashes of Joy Williams and Eudora Welty in its unapologetic nakedness." —Aja Gabel, Southern Humanities Review
"The thirteen stories in Maryse Meijer's Heartbreaker are defiant to their type and bold within their bounds. They thrust themselves onto your lap and stay on your mind for days . . . Meijer writes with the controlled restraint of an explosives expert wiring a building for collapse. Reading her work is like taking a seat in that abandoned place and listening to the eerie shifting sounds. Soon enough, the whole thing will come down around you." —Amelia Grey, Electric Literature
"Maryse Meijer has written a scowl of a book, a gleaming hungry mouth, a chomp. You feel lucky to get out alive, and then you just feel lucky. There you are, missing the danger, longing again for its toothed beauty. Heartbreaker is a bright and dark joy." —Lindsay Hunter, author of Ugly Girls
"Reading Heartbreaker gives you the feeling of a sucker punch with the attendant knowledge that you deserved it." —Amelia Gray, author of Gutshot
"The finely etched stories of Heartbreaker are glorious with menace and mystery. Maryse Meijer writes straight into the fire to retrieve the violent ache, the insatiable desire, the trembling love at its hot, hot center. These are terrifying, surprising, beautiful stories, for which I couldn't be more grateful." —Maud Casey, author of The Man Who Walked Away