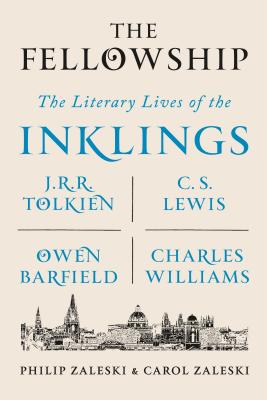 The Fellowship
The Literary Lives of the Inklings: J.R.R. Tolkien, C. S. Lewis, Owen Barfield, Charles Williams
Paperback

* Individual store prices may vary.
Other Editions of This Title:
Digital Audiobook (6/1/2015)
Description
Best Book of June 2015 (The Christian Science Monitor)

Book of the Year by the Conference on Christianity and Literature

C. S. Lewis is the 20th century's most widely read Christian writer and J.R.R. Tolkien its most beloved mythmaker. For three decades, they and their closest associates formed a literary club known as the Inklings, which met every week in Lewis's Oxford rooms and in nearby pubs. They discussed literature, religion, and ideas; read aloud from works in progress; took philosophical rambles in woods and fields; gave one another companionship and criticism; and, in the process, rewrote the cultural history of modern times.

In The Fellowship, Philip and Carol Zaleski offer the first complete rendering of the Inklings' lives and works. The result is an extraordinary account of the ideas, affections and vexations that drove the group's most significant members. C. S. Lewis accepts Jesus Christ while riding in the sidecar of his brother's motorcycle, maps the medieval and Renaissance mind, becomes a world-famous evangelist and moral satirist, and creates new forms of religiously attuned fiction while wrestling with personal crises. J.R.R. Tolkien transmutes an invented mythology into gripping story in The Lord of the Rings, while conducting groundbreaking Old English scholarship and elucidating, for family and friends, the Catholic teachings at the heart of his vision. Owen Barfield, a philosopher for whom language is the key to all mysteries, becomes Lewis's favorite sparring partner, and, for a time, Saul Bellow's chosen guru. And Charles Williams, poet, author of "supernatural shockers," and strange acolyte of romantic love, turns his everyday life into a mystical pageant.

Romantics who scorned rebellion, fantasists who prized reality, wartime writers who believed in hope, Christians with cosmic reach, the Inklings sought to revitalize literature and faith in the twentieth century's darkest years-and did so in dazzling style.
Praise For The Fellowship: The Literary Lives of the Inklings: J.R.R. Tolkien, C. S. Lewis, Owen Barfield, Charles Williams…
Named Book of the Year by the Conference on Christianity and Literature

"The husband-and-wife team of Philip and Carol Zaleski bring to bear both extensive scholarship and a neatly interwoven narrative; this is a story about storytellers, and it shows . . . In The Fellowship, the authors never cease to feel for the Inklings, particularly sympathizing with their yearnings for spiritual and professional fulfillment, with occasional wry asides on the nature of their marriages and their politics to take note of shortcomings both personal and institutional. Taken together, it makes the overarching life of the group something greater than the sum of its parts." —Genevieve Valentine, The New York Times Book Review

"The Zaleskis have produced a major work of biography and criticism, and if you are a devotee of any of the Inklings, you will want to read it." —Michael Dirda, The Washington Post

"The Zaleskis deftly interweave the four stories [of Lewis, Tolkien, Barfield, and Williams], showing how, when read together, these very different men can help us more clearly see the state of literary and religious culture in mid-century England and beyond." —Anthony Domestico, Christian Science Monitor

"A fascinating overview of this 'intellectual orchestra' . . . a captivating story of young writers finding their literary footing while trying to rectify competing desires for happiness, love, fame, and faith." —Ethan Gilsdorf, The Boston Globe

"The Fellowship makes a convincing case that [the Inklings's] cultural legacy deserves comparison with that of the less Christian, more intellectually austere Bloomsbury group." —Lev Grossman, Time Magazine

"A gutsy, glorious adoration of the English fantasy and faerie traditions, which celebrates what sometimes seems like a fantastical time when religion didn't destroy art but created it." —Joshua Cohen, Harper's Magazine

"A highly readable group biography . . . The Zaleskis do an impressive job." —Elizabeth Hand, Los Angeles Times

"This is a long overdue study of an abidingly fascinating and creative group of writers. There has not been a serious treatment of the whole group and their interactions for more than thirty years, and this excellent book brings together a great deal of new discussion and discovery in a lively, readable, sympathetic but not uncritical survey that allows these remarkable figures to emerge in all their human complexity and diverse gifts. The authors deserve warm congratulations." —Rowan Williams, former Archbishop of Canterbury and author of The Lion's World: A Journey into the Heart of Narnia

"It's difficult to overstate the influence of the two most famous Inklings, Tolkien and C.S. Lewis, on varied fields including Christian apologetics and fantasy writing. The Zaleskis trace the history of this informal club of Oxford-educated, Christian intellectuals, which first coalesced in the early 1930s, by focusing on four of the most prominent Inklings: Tolkien, Lewis, mystic Charles Williams, and philosopher Owen Barfield. As scholarship, the book is immensely successful, describing its protagonists' strengths and shortcomings with insight and facility." —Publishers Weekly (starred review)

"Like expert commentators at a fencing match, Philip Zaleski and Carol Zaleski give a sparkling account of how J.R.R. Tolkien and C. S. Lewis, those friendly duelists, and their eager teammates, Owen Barfield and Charles Williams, sharpened one another's wits and dazzled the world with words. The Inklings were that rare thing, an elite with an inclusive spirit, and the Zaleskis share the same ethos, brilliantly mastering the details of their brief but never forgetting to be readable. Thorough, lucid, balanced, and well judged, this is literary biography of the very best kind." —Michael Ward, University of Oxford, author of Planet Narnia: The Seven Heavens in the Imagination of C.S. Lewis

"[A] well-researched, consistently engaging group biography . . . richly detailed . . . A bountiful literary history." —Kirkus

"[A] prodigious work . . . [The Fellowship,] which is extensively researched, provides a fascinating look at British literary society during the first half of the 20th century. . . For all fans of Tolkien and Lewis, this excellent title will also appeal to readers interested in Christian scholarship and 20th-century British literature and history." —Erica Swenson Danowitz, Library Journal (starred review)

"The Fellowship . . . is a mental map, a religious journey, and the biography of a brotherhood. Plenty of distinguished Inklings came and went over the years . . . but the Zaleskis zoom in on (and out from) the primary axis of Tolkien, Lewis, Williams, and Barfield . . . . Christians all, these men formed what the Zaleskis call 'a perfect compass rose of faith': Barfield the proto-New Ager, Tolkien the rather prim orthodox Catholic, Lewis the noisy and dogmatically ordinary layman and popular theologian, Williams the ritualistic Anglican with a taste for sorcery . . . . Who can compare with these writers? . . . . The Inklings . . . are still gathering steam." —James Parker, The Atlantic
Farrar, Straus and Giroux, 9780374536251, 656pp.
Publication Date: June 7, 2016
About the Author
Philip Zaleski and Carol Zaleski are the coauthors of Prayer: A History and The Book of Heaven. Philip is also the former editor of the Best American Spiritual Writing series.

Philip Zaleski and Carol Zaleski are the coauthors of Prayer: A History and The Book of Heaven. Carol is the author of several books and a professor of religion at Smith College.