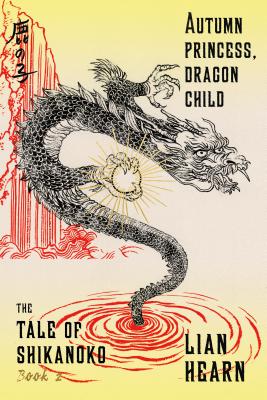 Autumn Princess, Dragon Child (Paperback)
Book 2 in the Tale of Shikanoko (The Tale of Shikanoko series #2)
FSG Originals, 9780374536329, 288pp.
Publication Date: June 7, 2016
Other Editions of This Title:
CD-Audio (6/7/2016)
* Individual store prices may vary.
Description
Shikanoko has been humbled by failure, and his once clear destiny has become clouded . . .
The Autumn Princess and the boy who is the true emperor are fugitives in the forest, alone and unprotected . . .
In the mountain sorcerer's hut a new generation of the Old People is born—the Spider Tribe, not quite human, not quite demons, and quickly coming of age . . .
One clan is in retreat, the other holds the capital, and natural disasters follow one upon another. Will Heaven ever be placated?
In Autumn Princess, Dragon Child, the old order has come unsettled and the weave of destiny has become unpredictable as it is pulled tighter, sharper, faster, by the instincts for vengeance and redemption, loyalty and survival. The battle for the Lotus Throne has begun in earnest.
In this medieval Japan of Lian Hearn's peerless imagination—so full of magic, beauty, violence, love, and sorrow—the only thing truly inevitable is that these forces are building to a brutal climax, though who the players will be and what the stakes will be cannot yet be told.
The Tale of Shikanoko
Book One: Emperor of the Eight Islands
Book Two: Autumn Princess, Dragon Child
Book Three: Lord of the Darkwood
Book Four: The Tengu's Game of Go
About the Author
Lian Hearn is the pseudonym of a writer--born in England, educated at Oxford, currently living in Australia--who has a lifelong interest in Japan, has lived there, and studies Japanese. She is the author of the bestselling series Tales of the Otori and the Tale of Shikanoko series, which begins with Emperor of the Eight Islands.
Praise For Autumn Princess, Dragon Child: Book 2 in the Tale of Shikanoko (The Tale of Shikanoko series #2)…
"In Autumn Princess, Dragon Child, Lian Hearn's mythic Japan fully unfurls, expansive and engrossing, rendered in crystal-clear prose that reads like the translation of a book from outside of time. This kind of story, written with this kind of craft, has become rare. There are fugitive royals and evil monks; there is forest magic and high politics. The swords all have names. There's a name for this genre, even if you don't see the label stuck to shelves much anymore. The word for The Tale of Shikanoko is: adventure!" —Robin Sloan, author of Mr. Penumbra's 24-Hour Bookstore
"Lian Hearn has written a one-of-a-kind epic series brimming with spirits, demons, and warriors. The story is as deeply imagined and immersive as it is addictive. One doesn't know whether to give in to the desire to turn the pages as quickly as possible or to linger and savor Hearn's crystalline prose and striking emotional observations. Hearn's characters grab you by the hand on page 1 and whisper, 'Follow me.' It's a pleasure to obey." —Kelly Luce, author of Three Scenarios in Which Hana Sasaki Grows a Tail
Praise for The Tale of Shikanoko
"[Emperor of the Eight Islands is] a thrilling, fast-paced fantasy with plot twists, political intrigue, romance, and a richly detailed setting that will appeal to a variety of readers, especially those with an interest in Japanese mythology and otherworldly influences."—Karin Thogersen, Library Journal
"Hearn's new series is off to an exciting and promising start." —Kristine Huntley, ALA Booklist
"Hearn begins her new series, The Tale of Shikanoko, by introducing the primary characters while setting up conflicts and relationships that will evolve in the three volumes to follow, all to be published this year . . . he fluid prose and morally ambiguous characters are magically seductive." —Kirkus Reviews
"With meticulous attention to detail for the period, along with a bone-deep appreciation of Japanese culture, Hearn's homage to those masterpieces is as close as we're going to get for the moment and tremendously entertaining in its own right. 'The Tale Of Shikanoko' has romance, intrigue, fantasy, passion, betrayal, sacrifice and the old-fashioned pleasure of truly having no idea what will happen next. Now where the heck are Volumes 3 and 4?" —Michael Giltz, BookFilter