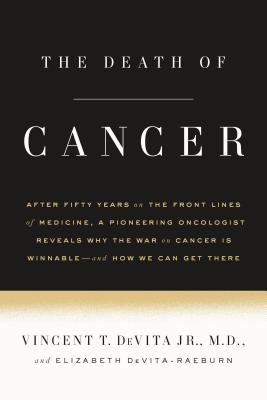 The Death of Cancer
After Fifty Years on the Front Lines of Medicine, a Pioneering Oncologist Reveals Why the War on Cancer Is Winnable--and How We Can Get There
Paperback

* Individual store prices may vary.
Other Editions of This Title:
Digital Audiobook (11/2/2015)
Hardcover (11/3/2015)
Description
The true story of the war on cancer from one of its generals
Cancer touches everybody's life in one way or another. But most of us know very little about how the disease works, why we treat it the way we do, and the personalities whose dedication got us where we are today. For fifty years, Dr. Vincent T. DeVita Jr. has been one of those key players: He has held just about every major position in the field, and he developed the first successful chemotherapy treatment for Hodgkin's lymphoma. As one of oncology's leading figures, DeVita knows what cancer looks like from the lab bench and the bedside. The Death of Cancer is his illuminating and deeply personal look at the science and the history of one of the world's most formidable diseases. In his hands, even the most complex medical concepts are comprehensible.
Cowritten with his daughter, the science writer Elizabeth DeVita-Raeburn, The Death of Cancer is also a personal tale about the false starts and major breakthroughs, the strong-willed oncologists who clashed with conservative administrators (and one another), and the courageous patients whose willingness to test cutting-edge research helped those oncologists find potential treatments.
With historical depth and authenticity, DeVita reveals the true story of the fight against cancer. The Death of Cancer is an ambitious, vital book about a life-and-death subject that touches us all.
Praise For The Death of Cancer: After Fifty Years on the Front Lines of Medicine, a Pioneering Oncologist Reveals Why the War on Cancer Is Winnable--and How We Can Get There…
"This riveting, beautifully written, and poignant memoir takes us on an enormous journey—from cancer's past to its future. Vincent T. DeVita Jr. brings us behind the scenes to the invention of breakthrough therapies for some forms of cancer in the 1960s and '70s. He also provides a much-needed manifesto for the future." —SIDDHARTHA MUKHERJEE, Pulitzer Prize–winning author of The Emperor of All Maladies
"The Death of Cancer is an astonishingly good read. Written by a cancer expert who happens to be a cancer survivor as well, it deftly explains the treatments that have turned this insidious disease from a death sentence into a manageable chronic condition for millions of people—and what yet remains to be done. I devoured the book in two sittings, struck, page after page, by its insight, honesty, compassion, and plain common sense." —DAVID M. OSHINSKY, Pulitzer Prize–winning author of Polio: An American Story
"The Death of Cancer is a fascinating insider history of the long battle against one of the world's most feared diseases, told with both insight and frustration, and ultimately with hope. This collaboration between the former National Cancer Institute director Vincent T. DeVita Jr. and his talented science writer daughter, Elizabeth DeVita-Raeburn, results in a wonderfully human portrait of the scientists who join the fight and a wonderfully smart look at the ways we might actually win it." —DEBORAH BLUM, New York Times–bestselling author of The Poisoner's Handbook
"Superb science writing . . . One of the most absorbing and empowering science histories to hit the shelves in recent years." —Kirkus Reviews (starred review)
"DeVita blends crisp writing and a gift for explaining complicated scientific concepts clearly with deep knowledge, passion, and wit. The book is by turns entertaining and maddening, but always fascinating. Highly recommended" —Library Journal (starred review)
"DeVita, an oncologist and professor at Yale School of Medicine, collaborates with his daughter DeVita-Raeburn on this engaging, informative, and inspiring history of DeVita's prominent role in developing innovative cancer treatments . . . They also unveil some startling insights [and] offer salient advice . . . This remarkable memoir doesn't just urge the public to have hope: it showcases the exciting evidence that we may finally be winning the war on cancer."
—Publishers Weekly (starred review)
"[A] straight-talking, optimistic memoir."
—Booklist
Sarah Crichton Books, 9780374536480, 336pp.
Publication Date: November 1, 2016
About the Author
Vincent T. DeVita Jr., M.D. is a professor of medicine, epidemiology, and public health at the Yale School of Medicine. He was the director of the National Cancer Institute and the National Cancer Program from 1980 to 1988. In 1988 he joined Memorial Sloan Kettering Cancer Center as the physician in chief. In 1993 he became the director of the Yale Cancer Center. At the NCI, he developed a cure for Hodgkin's lymphoma with combination chemotherapy, proving that advanced cancers can be cured by drugs. He is a former president of the American Cancer Society and the coeditor of Cancer: Principles & Practice of Oncology, a textbook of cancer medicine.

Elizabeth DeVita-Raeburn has written about medicine, science, and psychology for many publications. She is the author of The Empty Room: Understanding Sibling Loss. She lives in New York City with her husband, the writer Paul Raeburn, and their two sons.