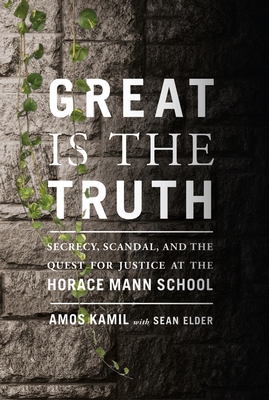 Great Is the Truth
Secrecy, Scandal, and the Quest for Justice at the Horace Mann School
Paperback

* Individual store prices may vary.
Other Editions of This Title:
Hardcover (11/3/2015)
Description
A shocking exposé of sexual abuse and the struggle for justice at one of America's most prestigious schools
In June 2012, Amos Kamil's New York Times Magazine cover story, "Prep-School Predators," caused a shock wave that is still rippling. In his piece, he detailed a decades-long pattern of sexual abuse at the highly prestigious Horace Mann School in the Bronx. After the article appeared, Kamil closely observed the fallout. While the article revealed the misdeeds of three teachers, this was just the beginning: An extraordinary twenty-two former Horace Mann teachers and administrators have since been accused of abuse.
In Great Is the Truth, Kamil and his coauthor, Sean Elder, tell the riveting story of how one of the country's leading schools was beset by scandal. They relate what happened as survivors of abuse came forward and sought redress. We see the school and its influential backers circle the wagons. We meet Horace Mann alumni who work to change New York State's sexual abuse laws. And we encounter a former teacher who candidly recalls his inappropriate relationships with students.
"Great is the truth and it prevails" may be the motto of Horace Mann, but for many alumni the truth remains all too hard to come by. This book is essential reading for anyone trying to understand how an elite institution can fail those in its charge, and what can be done about it.
Praise For Great Is the Truth: Secrecy, Scandal, and the Quest for Justice at the Horace Mann School…
"To Kamil's credit, he never attacks his alma mater for its handling of the sex scandal, but he uses his narrative to bring truth out of darkness and let it prevail, just as it does in the words of Horace Mann's school song. A disturbing but necessary book." —Kirkus Reviews
"Kamil's deep roots in the Horace Mann community allowed him to draw on numerous interviews with alumni and teachers. Essential for academic and public libraries." —Seth Kershner, Library Journal
"Yes, Amos Kamil and Sean Elder's Great Is the Truth is shocking, riveting, and appalling, but it is also much more: a cautionary tale of how an elite, privileged institution can lose its way, not realize it, and, even after the corruption is revealed, still be incapable of doing the right thing. A must-read!" —William D. Cohan, author of The Price of Silence: The Duke Lacrosse Scandal, the Power of the Elite, and the Corruption of Our Great Universities
"Great Is the Truth is a terrific, probing tale of an important subject. In the best journalistic tradition, Amos Kamil and Sean Elder have combined a penetrating investigation with a moving and intimate narrative. They have revealed the previously hidden culture of sexual predation at one of our leading private schools, and, more frightening still, the culture of complicity of what seems at times the school's entire professional community. This is a powerful, harrowing book. Everyone should pay attention." —Steve Fishman, writer at New York magazine
"There is something inexhaustibly mysterious about our infamous pedophilia contagions. How exactly did so very many Catholic priests get away with it? Does the serial molester Jerry Sandusky really believe he was framed for forty-five guilty counts, as he insists to this day? And when Amos Kamil's New York Times Magazine story about teachers molesting students at the elite New York prep school Horace Mann appeared, it was as if a many-roomed mansion bright with sunlight went suddenly dark, moldy, and rotten. Great Is the Truth reopens each shrouded room and every last closet. Kamil and Sean Elder have walked straight into the darkness and come back with a fearless, revelatory book." —Lorraine Adams, author of Harbor
"Amos Kamil made headlines when he broke three decades of silence surrounding the sexual abuse of students at one of the nation's top prep schools. Now, with a rigorous passion for the truth, he and Sean Elder explore why the school he loved has refused to look into its shocking past. This book, brimming with empathy for schoolmates who were betrayed by the teachers they trusted, is a righteous demonstration that the truth is great-if only we have the courage to tell it." —Marc Fisher, senior editor at The Washington Post
"Part memoir, part investigative reporting, Great Is the Truth is a richly layered and ultimately balanced account of the decades-long trend of sexual abuse at Horace Mann. Kamil's deeply personal perspective and his and Elder's dogged research enhance each other, conflicting emotion and comprehensive information blending to create a compelling narrative." —Sarah Saffian, author of Ithaka: A Daughter's Memoir of Being Found
"Predators. Pedophiles. Rapists. No sum of money, no apology, can right the wrongs that were committed against the students of Horace Mann. But Great Is the Truth is the next best thing: a clear-eyed account of the institutional corruption that made the abuse possible." —James S. Hirsch, author of Willie Mays: The Life, the Legend and Hurricane: The Miraculous Journey of Rubin Carter
Farrar, Straus and Giroux, 9780374536503, 256pp.
Publication Date: November 15, 2016
About the Author
Amos Kamil is a playwright, screenwriter, and investigative reporter. His 2012 cover story in The New York Times Magazine brought the Horace Mann scandal to light.

Sean Elder has written for Newsweek; New York; National Geographic; O, The Oprah Magazine; and numerous other publications. He lives in Mill Valley, California.