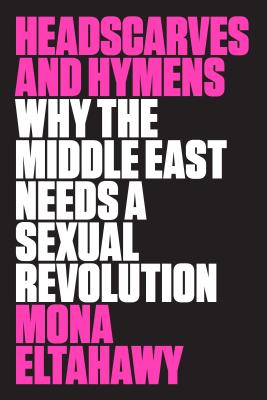 Headscarves and Hymens
Why the Middle East Needs a Sexual Revolution
Paperback

* Individual store prices may vary.
Other Editions of This Title:
Digital Audiobook (4/20/2015)
Hardcover (4/21/2015)
Description
The journalist Mona Eltahawy is no stranger to controversy. Through her articles and actions she has fought for the autonomy, security, and dignity of Muslim women, drawing vocal supporters and detractors. Now, in her first book, Headscarves and Hymens, Eltahawy has prepared a definitive condemnation of the repressive forces--political, cultural, and religious--that reduce millions of women to second-class citizens.

Drawing on her years as a campaigner for and commentator on women's issues in the Middle East, she explains that since the Arab Spring began in 2010, women in the Arab world have had two revolutions to undertake: one fought alongside men against oppressive regimes, and another fought against an entire political and economic system that represses women in Egypt, Saudi Arabia, Tunisia, Libya, Yemen, and other nations.

Eltahawy has traveled across the Middle East and North Africa, meeting with women and listening to their stories. Her book is a plea for outrage and action on their behalf, confronting a "toxic mix of culture and religion that few seem willing or able to disentangle lest they blaspheme or offend." A manifesto motivated by hope and fury in equal measure, Headscarves and Hymens is as illuminating as it is incendiary.
Praise For Headscarves and Hymens: Why the Middle East Needs a Sexual Revolution…
"Turn to any page of Headscarves and Hymens and you'll find a statistic or anecdote to make your blood boil . . . [Eltahawy] has now expanded that [Foreign Policy] article into a book,Headscarves and Hymens: Why the Middle East Needs a Sexual Revolution, which blends her own story-an ideological journey toward feminism while growing up in Egypt, England and Saudi Arabia-with a sweeping portrait of what life is like for women in the Middle East. The same righteous anger that propelled her essay fuels her book. It's easy to see why she's so incensed." —Bari Weiss, The Wall Street Journal

"Headscarves and Hymens is a small but packed manifesto, incendiary by design . . . With this book, [Mona Eltahawy] is wisely exploiting her fame to further her cause, which is the physical and emotional emancipation of Arab women . . . Eltahawy is a relentless cataloguer of all the ways the Arab world continues to cloak misogyny in religious fervor." —Connie Schultz, The Washington Post

"Eltahawy has issued a bold manifesto for women's rights . . . For the sake of the 'double revolution' for women in the Middle East, it's a good thing that Eltahawy has remained fearless." —Asra Q. Nomani, Ms. Magazine

"Eltahawy exposes hard truths about the current state of gender equality in the Arab world. She is brutally honest in her accounts of the oppression and violence that women regularly face . . . Eltahawy issues a rallying cry in hopes of ending the silence that too often surrounds women's issues globally. . . Eltahawy is unflinching in her look at the oppression of women in the Middle East and North Africa, but she reminds us that women are subjugated across cultures and that it should not be used as an excuse to demonize Islam." —Stephanie Long,Bustle

"This is a timely and provocative call to action for gender equality in the Middle East." —Publishers Weekly

"A remarkable book . . . Eltahawy is brave, determined, and at times deliberately provocative . . . Eltahawy's voice is full of energy, purposefulness and courage. Her rightful anger helps her to not shy away from difficult questions . . . Headscarves and Hymens is timely, important and much needed." —Elif Shafak, Literary Review

"This is a powerful global feminist demand for equal rights." —Vanessa Bush, Booklist

"In her debut book, Egyptian-American journalist and commentator Eltahawy mounts an angry indictment of the treatment of women throughout the Arab world." —Kirkus Review

"This is not an easy book to read-why should it be? Eltahawy's Headscarves and Hymens is a story of terrorism and torture endured by bodies as fragile as that of a five-year-old girl and as vulnerable as that of protestor splayed by soldiers stomping her bared chest. Why should it be easy to encounter Eltahawy's own testimony of sexual and physical assault meted out as punishment for resisting totalitarianism? This book is not easy because it is born out of the ongoing struggle of how women can bear witness to their own abuse and oppression while trying to shield their families, communities, nations, and faith from the ugly and dangerous presumptions of Muslim barbarism that fuel Islamaphobia. It is not easy because it forces all of us to examine our ignorance, our complicity, our silence in the face of gender violence perpetrated in the name of religion, culture, and tradition.This book is not easy to read, but it is necessary. Necessary because the warrior journalist who is Mona Eltahawy refuses to leave women crushed beneath the feet of their abusers or hidden behind their veils. Eltahawy recovers women's activism, art, voices, humanity, and demands for a revolution that makes a material difference for them, their daughters, sisters, friends, lovers, and teachers." —Melissa Harris-Perry, host of MSNBC's "Melissa Harris-Perry"

"'The most subversive thing a woman can do is talk about her life as if it really matters,' says Mona Eltahawy in this courageous blend of the personal and the academic and the political. In the hands of Eltahawy, so many silences are opened. She writes about what others have largely feared: the body politic and the body sexual. This is a ground-shaping book that defines the edge of so many vital contemporary debates. Hers is a voice simultaneously behind and beyond the veil." —Colum McCann, author of TransAtlantic

"Mona Eltahawy brings a journalist's keen eye, a revolutionary's prophetic courage, and a feminist's incendiary intellect to this work, demolishing the last cultural relativist myths. And she writes so well that it's hard to put down this audacious, information-packed treasure about the half of the Arab world that's female. Miss this book--the real key to the Middle East--at your peril." —Robin Morgan

"One of the most powerful books I've ever read. And will ever read. No matter where she is-in Cairo during the Arab Spring, in the Saudi Arabia of her adolescence, in Oklahoma talking about American 'purity balls' with students, in a dozen countries across the Middle East and North Africa-Mona Eltahawy skilfully dismantles the religious, political, and familial machines that maim and silence girls and women everywhere. She is fearlessly honest about her own struggles as an Arab Muslim woman-to tell or not to tell when men accosted her in public, to wear or to not wear hijab (and how to take the hijab off), to wait or not to wait to have sex until marriage. She challenges men and boys, too, to transform themselves and their societies. Her honesty, her anger, and her unrepentant joy in being alive make Headscarves and Hymensmore than an important feminist manifesto. It is a meticulously, beautifully drawn map to freedom." —Karen Connelly

"Headscarves and Hymens is a call to arms by a woman who's plainly proud of her justified rage . . . "It is the job of a revolution to shock, to provoke, and to upset," Eltahawy writes, "not to behave or be polite." Mission accomplished." —Marcia Kaye, The Toronto Star
Farrar, Straus and Giroux, 9780374536657, 256pp.
Publication Date: May 10, 2016
About the Author
Mona Eltahawy is an Egyptian American freelance journalist and commentator. Her essays and op-eds on Egypt, the Islamic world, and women's rights have appeared in The Washington Post, The New York Times, The Christian Science Monitor, The Miami Herald, and other publications. She has appeared as a guest commentator on MSNBC, BBC, CNN, PBS, Al-Jazeera, NPR, and dozens of other television and radio networks. She lives in New York.
or
Not Currently Available for Direct Purchase