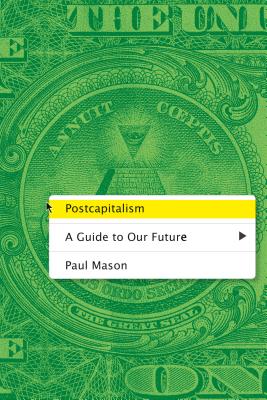 Postcapitalism
A Guide to Our Future
Paperback

* Individual store prices may vary.
Other Editions of This Title:
Digital Audiobook (2/8/2016)
Compact Disc (2/9/2016)
MP3 CD (2/9/2016)
Compact Disc (2/9/2016)
Description
We know that our world is undergoing seismic change—but how can we emerge from the crisis a fairer, more equal society?

Over the past two centuries or so, capitalism has undergone profound changes—economic cycles that veer from boom to bust—from which it has always emerged transformed and strengthened. Surveying this turbulent history, Paul Mason's Postcapitalism argues that we are on the brink of a change so big and so profound that this time capitalism itself, the immensely complex system within which entire societies function, will mutate into something wholly new.

At the heart of this change is information technology, a revolution that is driven by capitalism but, with its tendency to push the value of much of what we make toward zero, has the potential to destroy an economy based on markets, wages, and private ownership. Almost unnoticed, in the niches and hollows of the market system, swaths of economic life are beginning to move to a different rhythm. Vast numbers of people are changing how they behave and live, in ways contrary to the current system of state-backed corporate capitalism. And as the terrain changes, new paths open.

In this bold and prophetic book, Mason shows how, from the ashes of the crisis, we have the chance to create a more socially just and sustainable economy. Although the dangers ahead are profound, he argues that there is cause for hope. This is the first time in human history in which, equipped with an understanding of what is happening around us, we can predict and shape the future.
Praise For Postcapitalism: A Guide to Our Future…
"Even readers not quite persuaded will appreciate Mason's readable, reportorial style, his use of a wide range of economists, business gurus, and economic thinkers to help support his thesis, and his deft treatment of sometimes-difficult economic theories . . . A radical diagnosis and a bold prognostication bound to energize progressives." —Kirkus Reviews

"[Postcapitalism]'s vision for the future . . . is absorbing and provocative." —Publishers Weekly

"Mason weaves together varied intellectual threads to produce a fascinating set of ideas . . . The thesis about 'postcapitalism' deserves a wide readership among right and left alike . . . Politicians of all stripes should take note. And so should the people who vote for them." —Gillian Tett, Financial Times

"Deeply engaging . . . [Mason] is asking the most interesting questions, unafraid of where they might lead. What's more, he writes with freshness and insight on almost every page . . . I can't remember the last book I read that managed to carve its way through the forest of political and economic ideas with such brio . . . As a spark to the imagination, with frequent x-ray flashes of insight into the way we live now, it is hard to beat. In that sense, Mason is a worthy successor to Marx." —David Runciman, The Guardian

"Ecological crisis signals the death knell for an economic system that was already profoundly failing us, as Paul Mason mercilessly illustrates in these pages. Building on a remarkable career's worth of reporting on the frontlines of global capitalism and worker resistance, this book is an original, engaging, and bracingly-articulated vision of real alternatives. It is sure to many spark vigorous debates, and they are precisely the ones we should be having." —Naomi Klein

"After postmodernism and all other fashionable post-trends, Mason fearlessly confronts the only true post-, postcapitalism. While we can see all around us ominous signs of the impasses of global capitalism, it is perhaps more than ever difficult to imagine a feasible alternative to it. How are we to deal with this frustrating situation? Although Mason's book is irresistibly readable, this clarity should not deceive us: it is a book which compels us to think!" —Slavoj Žižek
Farrar, Straus and Giroux, 9780374536732, 368pp.
Publication Date: February 21, 2017
About the Author
Paul Mason is the award-winning economics editor of Channel 4 News. His books include Meltdown: The End of the Age of Greed and Why It's Kicking Off Everywhere: the New Global Revolutions. He writes for, among others, The Guardian and the New Statesman.
or
Not Currently Available for Direct Purchase