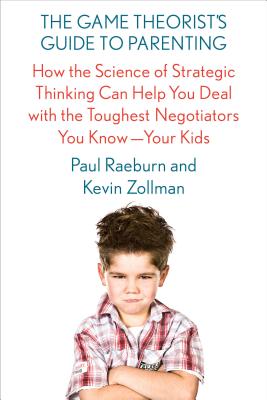 The Game Theorist's Guide to Parenting (Paperback)
How the Science of Strategic Thinking Can Help You Deal with the Toughest Negotiators You Know--Your Kids
Scientific American / Farrar, Straus and Giro, 9780374536909, 240pp.
Publication Date: April 11, 2017
Other Editions of This Title:
Hardcover (4/5/2016)
Compact Disc (4/5/2016)
MP3 CD (4/5/2016)
Compact Disc (4/5/2016)
* Individual store prices may vary.
Description
"I absolutely loved this book, both as a parent and as a nerd." —Jessica Lahey, author of The Gift of Failure
As every parent knows, kids are surprisingly clever negotiators. But how can we avoid those all-too-familiar wails of "That's not fair!" and "You can't make me!"? In The Game Theorist's Guide to Parenting, the award-winning journalist and father of five Paul Raeburn and the game theorist Kevin Zollman pair up to highlight tactics from the worlds of economics and business that can help parents break the endless cycle of quarrels and ineffective solutions. Raeburn and Zollman show that some of the same strategies successfully applied to big business deals and politics—such as the Prisoner's Dilemma and the Ultimatum Game—can be used to solve such titanic, age-old parenting problems as dividing up toys, keeping the peace on long car rides, and sticking to homework routines.
Raeburn and Zollman open each chapter with a common parenting dilemma. Then they show how carefully concocted schemes involving bargains and fair incentives can save the day. Through smart case studies of game theory in action, Raeburn and Zollman reveal how parents and children devise strategies, where those strategies go wrong, and what we can do to help raise happy and savvy kids while keeping the rest of the family happy too.
Delightfully witty, refreshingly irreverent, and just a bit Machiavellian, The Game Theorist's Guide to Parenting looks past the fads to offer advice you can put into action today.
About the Author
Paul Raeburn is a journalist and blogger and the author of four books, including Acquainted with the Night: A Parent's Quest to Understand Depression and Bipolar Disorder in His Children. Raeburn's stories have appeared in Discover, The Huffington Post, The New York Times Magazine, Scientific American, and Psychology Today, among many others. A past president of the National Association of Science Writers, Raeburn has been the chief media critic at the Knight Science Journalism Tracker; the science editor at BusinessWeek and the Associated Press; and the creator and host of Innovations in Medicine and The Washington Health Report on XM satellite radio. A native of Detroit, Raeburn now lives in New York City with his wife, the writer Elizabeth DeVita-Raeburn, and their two children.

Kevin Zollman is a game theorist and an associate professor of philosophy at Carnegie Mellon University. His work has been covered in The Wall Street Journal, The New Yorker, Scientific American, and elsewhere.
Praise For The Game Theorist's Guide to Parenting: How the Science of Strategic Thinking Can Help You Deal with the Toughest Negotiators You Know--Your Kids…
"Unlike most parenting books . . . this one is based on actual research into how humans behave . . . in the home it should increase the odds that there will be less whining for all involved." —Laura Vanderkam, The Wall Street Journal
"[Raeburn and Zollman] join a welcome trend of academics pairing up with writers (or comedians!) to create a true crossover offering, one that marries rigorous research and real scholarship with a compelling style and narrative arc that human beings actually want to read on purpose." —Rebecca Schuman, Slate
"Kids are master manipulators. They play up their charms, pit adults against one another, and engage in loud, public wailing. So it's your job to keep up with them . . . The Game Theorist's Guide to Parenting . . . explains how." —Chelsea Leu, Wired
"[Notes] all the ways dealing with kids might go more smoothly if only parents knew a little bit about game theory." —Leanne Italie, Associated Press
"Raeburn and Zollman's book is a bible for every parent—and every adult who must make decisions with his or her peers." —Courtney Linder, Pittsburgh City Paper
"Suggests that tactics commonly used in business and economics transactions—a framework of strategies known as game theory—could help parents engage with their children with more confidence and success . . . [Raeburn and Zollman] offer parents a unique set of guidelines for defusing disagreements by using strategies that encourage the entire family to work together toward a common goal." —Mindy Weisberger, Live Science
"Carefully created economic approaches are given, along with incentives and bargaining to help parents successfully raise children." —Julia Harris-Parker, Atlanta Journal-Constitution
"Raeburn and Zollman put the math on the back burner and bring the commonsensicality of the theory to the fore . . . There is a fluid, natural feel to the authors' examples . . . Tantalizing perspectives on cultivating sharing, honesty, and cooperation via game theory." —Kirkus Reviews (starred review)
"Of the many parenting books on the market, it's fair to say only one invokes vampire bats and the Doomsday Machine. Not that The Game Theorist's Guide to Parenting is all bloodsucking and mutually assured destruction: It uses strategic thinking and science to help parents navigate such dreaded children's chestnuts as 'He started it!' and 'Are you saying you don't believe me?' . . . The advice they offer is grounded in reality—if derived from unexpected sources." —Mike Doherty, Maclean's
"Practical win-win parenting methods that teach kids about human nature, negotiation, and cooperation." —Modern Dads Podcast
"With a light touch and sure-footed mastery of both child-rearing and economics, Raeburn and Zollman bring humor and verve to a serious subject: How to negotiate with your kids in a way that will leave everyone . . . well, not happy, exactly, but with a sense of being treated fairly and with mutual respect. Read it and count on fewer fights at the dinner table, the TV room, and the back seat of the car!" —Robin Marantz Henig, Contributing Writer, The New York Times Magazine; coauthor, with Samantha Henig, of Twentysomething
"The small transactions of parenting—sharing, dividing, collaborating and compromising—are fraught with peril. Solutions that feel fair are not always just, particularly in the eyes of our children. Paul Raeburn and Kevin Zollman achieve two incredible feats in The Game Theorist's Guide to Parenting: they helped me find a way to be fair and just in my parenting while teaching me the basics of game theory. I absolutely loved this book, both as a parent, and as a nerd." —Jessica Lahey, author of the New York Times bestseller The Gift of Failure: How the Best Parents Learn to Let Go So Their Children Can Succeed
"The Game Theorist's Guide to Parenting will teach you useful strategies from the world of game theory to add to your parenting repertoire. Even game theorists will marvel at Raeburn and Zollman's ability to elucidate deep ideas and turn them into practical rules of thumb for raising children. Humorous, informative, and practical—you should even let your kids read it!" —Scott E. Page, Leonid Hurwicz Collegiate Professor of Complex Systems, Political Science, and Economics at the University of Michigan