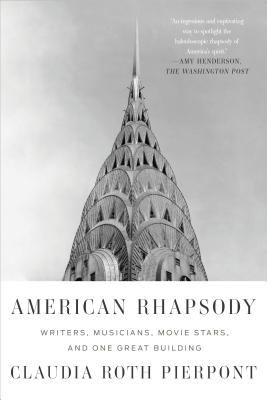 American Rhapsody (Paperback)
Writers, Musicians, Movie Stars, and One Great Building
Farrar, Straus and Giroux, 9780374536947, 320pp.
Publication Date: May 9, 2017
Other Editions of This Title:
Hardcover (5/10/2016)
* Individual store prices may vary.
Description
The stories of America's most extraordinary strivers and their failures and triumphs
Ranging from the shattered gentility of Edith Wharton's heroines to racial confrontation in the songs of Nina Simone, American Rhapsody presents a kaleidoscopic story of the creation of a culture. Here is a series of deeply involving portraits of American artists and innovators who have helped to shape the country in the modern age.
Claudia Roth Pierpont expertly mixes biography and criticism, history and reportage, to bring these portraits to life and link them in surprising ways. It isn't far from Wharton's brave new women to F. Scott Fitzgerald's giddy flappers, and on to the big-screen command of Katharine Hepburn and the dangerous dames of Dashiell Hammett's hard-boiled world. The improvisatory jazziness of George Gershwin's Rhapsody in Blue has its counterpart in the great jazz baby of the New York skyline, the Chrysler Building. Questions of an American acting style are traced from Orson Welles to Marlon Brando, while the new American painting emerges in the gallery of Peggy Guggenheim. And we trace the arc of racial progress from Bert Williams's blackface performances to James Baldwin's warning of the fire next time, however slow and bitter and anguished this progress may be.
American Rhapsody offers a history of twentieth-century American invention and genius. It is about the joy and profit of being a heterogeneous people, and the immense difficulty of this human experiment.
About the Author
Claudia Roth Pierpont is a staff writer for The New Yorker, where she has written about the arts for more than twenty years. The subjects of her articles have ranged from James Baldwin to Katharine Hepburn, from Machiavelli to Mae West. A collection of Pierpont's essays on women writers, Passionate Minds: Women Rewriting the World, was published in 2000 and was nominated for a National Book Critics Circle Award. Pierpont has been the recipient of a Whiting Writers' Award, a Guggenheim Fellowship, and a fellowship at the Cullman Center for Scholars and Writers of the New York Public Library. She has a PhD in Italian Renaissance art history from New York University. She lives in New York City.
Praise For American Rhapsody: Writers, Musicians, Movie Stars, and One Great Building…
"An ingenious and captivating way to spotlight the kaleidoscopic rhapsody of America's spirit." —Amy Henderson, The Washington Post
"Stunningly evocative … Pierpont writes with sensitivity and erudition – and always in dazzling prose … American Rhapsody is compulsively readable and fascinatingly informative. Learning this much has almost never been so much fun." —Kevin O'Kelly, Christian Science Monitor
"A kaleidoscopic mural of America's cultural coming-of-age in the early to mid-20th century . . . Pierpont's shining prose provides ... bright and memorable moments." —Publishers Weekly
"A virtuoso of the profile form . . . exquisitely precise in perception and language . . . [Pierpont] reinvigorates our appreciation for artists instrumental in shaping our culture and propelling our ongoing struggle to realize our ideals." —Donna Seaman, Booklist (starred review)
"[Pierpont's] witty but sober and evenhanded voice is a consistent pleasure, her prose is limpid and evocative, and her insights consistently dazzle. . . a refreshingly clear-eyed piece of cultural history and an inspiring paean to the American artistic spirit. As vital and entertaining as the creators and work it celebrates." —Kirkus Reviews (starred review)