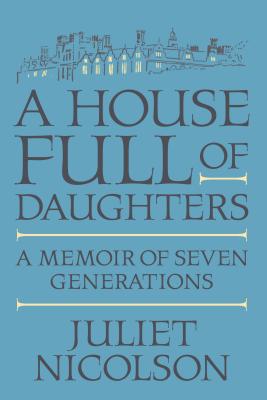 A House Full of Daughters
A Memoir of Seven Generations
Paperback

* Individual store prices may vary.
Other Editions of This Title:
Hardcover (6/14/2016)
Description
A family memoir that traces the myths, legends, and secrets of seven generations of remarkable women
All families have their myths and legends. For many years Juliet Nicolson accepted hers--the dangerous beauty of her flamenco dancing great-great-grandmother Pepita, the flirty manipulation of her great-grandmother Victoria, the infamous eccentricity of her grandmother Vita Sackville-West, her mother's Tory-conventional background. But then Juliet, a distinguished historian, started to question. As she did so, she sifted fact from fiction, uncovering details and secrets long held just out of sight.
A House Full of Daughters takes us through seven generations of women. In the nineteenth-century slums of Malaga, the salons of fin-de-siecle Washington D.C., an English boarding school during the Second World War, Chelsea in the 1960s, the knife-edge that was New York City in the 1980s, these women emerge for Juliet as people in their own right, but also as part of who she is and where she has come from.
A House Full of Daughters is one woman's investigation into the nature of family, memory, and the past. As Juliet finds uncomfortable patterns reflected in these distant and more recent versions of herself, she realizes her challenge is to embrace the good and reject the hazards that have trapped past generations.
Praise For A House Full of Daughters: A Memoir of Seven Generations…
Nicolson makes it easy to see why she would be fascinated by her family, especially the women. In quick, colorful strokes, she sketches a series of vivid portraits . . . Nicolson is a marvelous writer, with a wonderful eye for detail." —Louisa Thomas, New York Times Book Review
"Juliet Nicolson's book will engage the hearts and minds of daughters and sons everywhere. She has turned my attention to much in my life, and I am full of admiration for her clarity and gentleness." —Vanessa Redgrave
"This book is a marvellous illustration of the often forgotten fact that people in history were real, with real ambition, real passion, and real rage. All these women took life by the throat and shook it. It's a wonderful read, and a powerful reminder of the significance of our matrilineal descent." —Julian Fellowes
"A mesmerising story of daughterhood in which the personal is mixed with the historical to extraordinary effect: at times very moving, at other times darkly humourous, it has a cast of characters ranging from Spanish dancers, via English aristocrats, to the famous names of Bloomsbury. You wont be able to stop reading it." —Lady Antonia Fraser, author of Marie Antoinette
"A wonderful book. Beautifully structured and written with such honesty that it took my breath away. I loved this new view of an extraordinary family." —Miranda Seymour, author of The Bugatti Queen
"[A] vivid, personalized social history of Britain's upper class over the past century."—Brad Hooper, Booklist (starred review)
"[Nicolson] skillfully recounts the journeys of the women in her family . . . [A] fascinating reading in this intimate and well-written family history." —Publishers Weekly (starred review)
"Readers interested in 19th- and early-20th-century society, especially that of the upper classes, will enjoy this picture of the privileged life, 'where loyalty, respect and equality are all held in the highest regard.'" —Kirkus Reviews
"In her perceptive, self-aware book . . . , [Nicolson] shows exceptional emotional resilience . . . She tells [her stories] with a fresh energy, a delight in vivid detail and the flourish of a romantic novelist." —Anne Chisholm, The Spectator
"In prose that is lyrical and sometimes self-lacerating, [Nicolson] anatomises the failures of love and attention, none the less destructive for being inadvertent, from which these husbands, wives, parents and children, suffered so acutely . . . Lent grace by Nicolson's lustrous prose, and by the redemptive hope that love and forgiveness will free the latest generations from the baleful patterns of the past." —Jane Shilling, The Standard
"Original and illuminating." —Andrea Wulf, The Guardian
"A powerful contribution to her family's legacy." —Elizabeth Toohey, Christian-Science Monitor
"Nicolson's candor and realism make this legendary family accessible and sympathetic, and her book a compelling work of memoir." —Bookpage
"Nicolson's anger, tenderness and insight have resulted in an exceptionally moving book." —Miranda Seymour, The Telegraph
"Surprisingly affecting . . . Impressively understated . . . Remarkably sad." —The Sunday Times
"Candid, poignant, well-written and wonderfully life-affirming" —Sebastian Shakespeare, The Tatler
"Nicolson's aim in her meditative contribution to Nicolson studies is not so much to chronicle…as to search for patterns in the intergenerational weave… A fascinating social document."—D.J. Taylor,The Times
"Brilliant, incisive exploration of seven generations of women… A riveting read… This is an elegantly written meditation on family, identity and the impact of the past." —Juanita Coulson, Lady Magazine
"In historian Juliet Nicolson's story of seven generations of her family, it's refreshing to find the women take centre stage... for so many generations, the birth of a daughter was a disappointment, but Nicolson redresses the balance" —Charlotte Heathcote, Sunday Express
"Tense, highly personal and beautifully written... A powerful and moving family portrait" —Christena Appleyard,Literary Review
"This is Juliet Nicolson's own truth, courageously shared" —Victoria Glendinning, Oldie
"Strikingly lucid, brave and generous" —Sue Gaisford, Tablet
"This is the mesmerising, seven-generations saga of the strong women in Juliet Nicolson's family" —Iain Finlayson, Saga Magazine
"Alongside vivid portraits of Pepita, Victoria and Vita, Nicolson delivers a magnificently clear-eyed view of her mother… Lovely, elegant book, painstakingly unsentimental."—Nick Curtis, Radio Times
"She examines the pride, passion, resentment, emotional neglect, addiction and loss, and recognizes them in her own life... a treat" —Psychologies
"Few writers can boast such a literary heritage as Juliet Nicolson, granddaughter of Vita Sackville-West and Harold Nicolson, who turns her astute historian's eye onto her own family history." —Choice Magazine
Farrar, Straus and Giroux, 9780374536985, 336pp.
Publication Date: June 20, 2017
About the Author
Juliet Nicolson is the author of two works of history, The Great Silence: 1918–1920 Living in the Shadow of the Great War and The Perfect Summer: Dancing into Shadow in 1911, and a novel, Abdication. As the grand-daughter of Vita Sackville-West and Harold Nicolson and the daughter of Nigel Nicolson she is part of a renowned and much scrutinised family and the latest in the family line of record-keepers of the past. She lives with her husband in East Sussex, not far from Sissinghurst, where she spent her childhood. She has two daughters, Clemmie and Flora, and one grand-daughter, Imogen.
or
Not Currently Available for Direct Purchase